Excellence Through Diversity
Howard, Dorsey, Still Lecture and Diversity Awards celebrate benefits of inclusion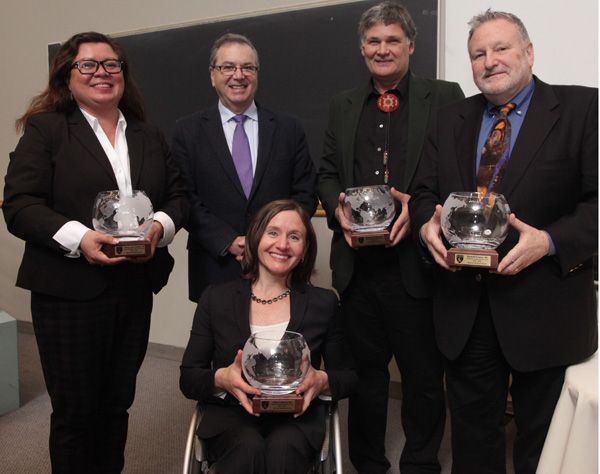 Dean Flier (second from left) with 2015-2016 Diversity Award recipients (from left) Sabune Winkler, Cheri Blauwet, Dennis Norman and Marshall Forstein. Not pictured: Ruy Mendonca. Image: Jeffrey Thiebauth
Diversity and excellence go hand in hand, speakers told an audience gathered both to honor the triumphs of the first three African-American graduates of Harvard Medical School and to pay tribute to a new generation of leaders.
"It's not just a matter of achieving fairness but also achieving excellence," Jeffrey S. Flier, dean of HMS, said in welcoming remarks at the 2015-2016 Howard, Dorsey, Still Lecture on March 28. "We believe and understand that excellence in education, excellence in patient care and excellence in research all benefit greatly from diversity."
The lecture is named after HMS alumni Edwin Howard (1869), Thomas Dorsey (1869) and James Still (1871), whose history might provoke anger or even tears at the injustices they overcame, said Joan Reede, HMS dean for diversity and community partnership.
Instead, Reede invited the audience to celebrate the three physicians' legacy while also recognizing five members of the HMS community who she said are today are moving the School toward being a more diverse and inclusive community.
"Through their vision and leadership, they have encouraged inclusion, changed the culture, and helped set the tone for future efforts that support diversity," Reede said about the 2015-2016 Diversity Award recipients.
"I know this is not an easy task, but they have shown us that through creativity, innovation and commitment, we can create a culture that is respectful and welcoming of diversity and inclusion," Reede said.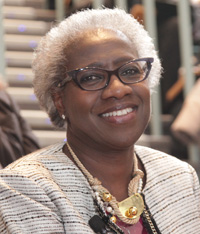 This year's lecture was delivered by Hannah Valantine, chief officer for scientific workforce diversity at the National Institutes of Health and a senior investigator in the Laboratory of Transplantation Genomics at the National Heart, Lung, and Blood Institute.
Previously a professor of cardiovascular medicine at Stanford University School of Medicine, Valantine's research has focused on the causes of heart-transplant rejection.  She joined the NIH two years ago to lead its diversity efforts.
"Diversity actually makes a difference in excellence," Valantine said, citing studies of heterogeneous groups that by their nature prompt different questions and novel perspectives. 
"Now, in many states, what was considered to be the minority group is now the majority group. How on earth can we actually consider that we are pulling from the brightest and the best—the most excellent—if we are not pulling from our entire intellectual capital?" she asked.
Valantine said her mission at NIH is to address a lack of diversity in the US scientific workforce in a strategic and evidence-based way. To understand why the biomedical career path for underrepresented minority groups narrows from a third of undergraduates to only 6 percent of faculty members, she said she has turned to studies that reveal implicit bias at many stages of educational and professional advancement.
Valantine also cited evidence for the positive difference a diverse group of people can make compared to homogeneous groups. "Diversity outperforms ability every time," she said, citing a body of research by economic sociologists across many settings.
To learn more about the problem and possible solutions, Valantine said, NIH and research universities around the country are being enlisted as laboratories to study what works to increase diversity in science.
Ongoing studies are examining methods that educate people about their unconscious assumptions and train them to overcome implicit biases, she said. Following research that identifies stereotypes as mental shortcuts, Valantine said, studies of group behavior in economic, legal and other settings have demonstrated that people are less likely to take these mental shortcuts if they are exposed to different points of view.
"Great minds think differently," Valantine said.
2015-2016 DIVERSITY AWARD RECIPIENTS
Harold Amos Faculty Diversity Award
Cheri Blauwet
HMS Instructor in Physical Medicine and Rehabilitation, Spaulding Rehabilitation Hospital
Marshall Forstein
HMS Associate Professor of Psychiatry, Cambridge Health Alliance
Dennis Norman
HMS Associate Professor of Psychology in the Department of Psychiatry, Massachusetts General Hospital
Sharon P. Clayborne Staff Diversity Award
Sabune Winkler
Director, Regulatory Affairs Operations, Clinical and Translational Science Center, HMS
Ruy Mendonca
Animal Technician II, Harvard Center for Comparative Medicine, HMS