Eliminating Health Disparities
American Muslim Health Professionals group addresses inequities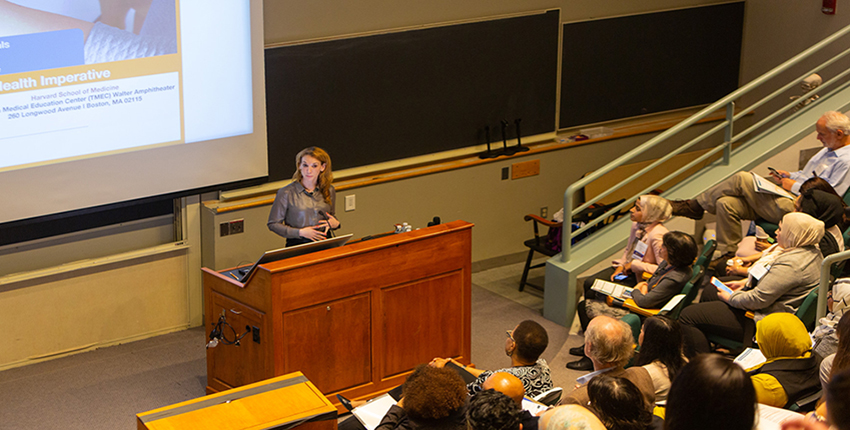 "I see many of my under- or uninsured patients making decisions about whether to get treatment versus pay the rent."
Those were the words of Zaiba Malik, an Ohio-based ophthalmologist and secretary of the American Muslim Health Professionals (AMHP), as she addressed some 200 health care professionals from more than 20 states at the group's 2019 conference at the Joseph B. Martin Conference Center at Harvard Medical School in April.
The conference, "Eliminating Health Disparities: A Public Health Imperative," was co-hosted by the HMS Office for Diversity Inclusion and Community Partnership and the Harvard T.H. Chan School of Public Health Office of Diversity and Inclusion.
"Health equity means everyone has a fair and just opportunity to be healthier," Malik said. "Health disparities are really health inequities that result in health differences among various groups of people."
Health disparities, Malik said, look like one of her elderly underinsured patients who ate cat food so he could afford the eyedrops necessary to save his vision from glaucoma. Or, she said, like another patient, a refugee who, having lost family members in the Syrian conflict, is so afraid of loud noises that she sleeps with lights on.
"This [conference] is an opportunity to bring our communities together and find strength and support in our politically charged climate, to use our voices as one to advocate against health disparities," said Wendy Jill McRae-Owoeye, Harvard Chan School dean for diversity, inclusion and belonging.
The mosque attacks in New Zealand in March were a stark reminder that Islamophobia — distrust and hostility toward Muslims — remains a reality for many, said McRae-Owoeye.
Yet, from her conversations with Muslim students at Harvard Chan School, McRae-Owoeye said she understands that many Muslims experience Islamophobia every day. It may be a woman wearing a hijab is taunted by passersby, or a Muslim man feels pressure to change his name so he can get a job interview, she said.
Educating future physicians
Joan Reede, HMS dean for diversity and community partnership, said Harvard Medical School is working to ensure that its students are prepared to deliver high quality care to all people.
"To do this they must have a thorough understanding of cultural and spiritual differences of the diverse people they will serve," Reede said.
The HMS core curriculum includes teaching the principles of health equity, health disparities and the social determinants of health, Reede said. Students can enroll in classes on global health, health policy, spirituality, health justice and LGBTQ health.
HMS students also receive health equity training beginning with their first course in medical school, she said, and throughout medical school they spend time in local communities to better understand the lives of the patients they will care for throughout their careers.
"Our guiding principle is to ensure that every patient is treated with exactly the kind of care the patient would hope to receive," Reede said.
Frederick Isasi, executive director of Families USA, a nonprofit working to increase access to high-quality, affordable health care for all Americans, put health disparities into perspective by offering some statistics: he said 44 percent of the public does not go to the doctor when needed because of the cost of care; blacks are twice as likely as whites to die of heart disease; and Hispanics are twice as likely as whites to have physical pain go untreated. Isasi also noted that 78 percent of Americans think government should ensure that everyone has access to quality equitable care, according to a 2017 Consumer Reports survey.
Health care spending per capita is at least two times higher in the U.S. than in comparable countries, according to Isasi, but higher spending doesn't necessarily translate into longer lives. The U.S. also has the highest rate of deaths before age 75 that could have been prevented with timely and effective health care, a measurement called "mortality amenable to health care," he said.
"This is unacceptable," Isasi said.
Boston Mayor Martin J. Walsh offered his support to the group, and the New Jersey Commissioner of Health Shereef Elnahal described his state's efforts to reduce disparities.
In his remarks, Walsh said that as a child, he had received lifesaving care in the Longwood Medical Area as a child dealing with Burkett lymphoma.
Pointing out that he was the son of immigrants, Walsh added, "I believe that everyone should have access to that same level of care I received."
Conference participants attended sessions on such topics as health disparities in mental health, advancing health care access through innovative technology, and acquiring the skills needed to have an impact when advocating for health equity. There was also a session for women in health care on shattering glass ceilings.
The AMHP presented William Slaughter, a part-time HMS lecturer on psychiatry, with a community service award for his commitment to wellness and inclusion initiatives for Palestinians.
"We hope you ask yourselves what you can do as a professional about health disparities," said AMHP president, Serene Katranji. "And bring your great ideas home to your communities."