Building Infrastructure to Nurture Basic, Therapeutic Science
$75M gift from Ernesto Bertarelli to create new atrium, name iconic campus building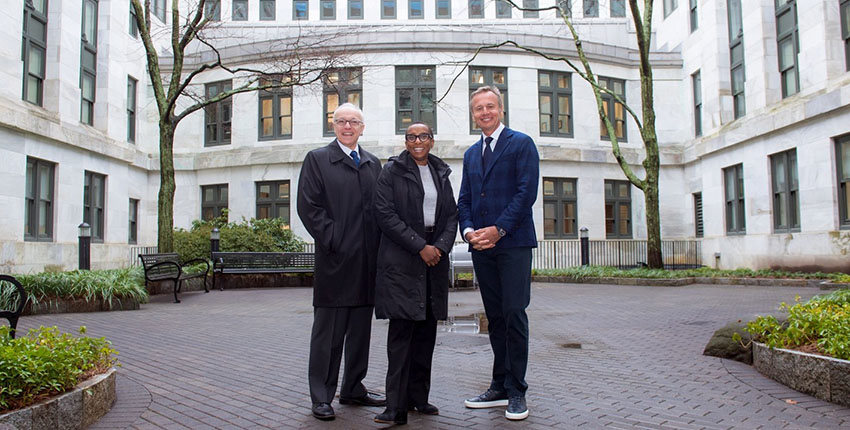 Ernesto Bertarelli (right) joins HMS Dean George Q. Daley and Harvard University President-elect Claudine Gay on the HMS campus in the courtyard of Building C, which will be enclosed to create a new skylighted atrium, thanks to a philanthropic gift from the Bertarelli family.
Image: Gretchen Ertl
Swiss biotech executive, entrepreneur, and philanthropist Ernesto Bertarelli has pledged $75 million to advance basic scientific discovery, therapeutic science, and a culture of entrepreneurship at Harvard Medical School.
The gift will set in motion plans to transform the outdoor courtyard of Building C into an expansive, skylighted atrium that will serve as convening and collaboration space for occupants of the building as well as the broader HMS community.
In recognition of this generous commitment from the Bertarelli family, Building C will be named the Bertarelli Building following completion of the atrium's construction.
"Ernesto Bertarelli is an ardent supporter of both fundamental and translational research at Harvard Medical School," said HMS Dean George Q. Daley. "He understands that in order to improve the health and well-being of patients, we must first support observations in the lab and then nurture and orient them toward interventions in the clinic. It is therefore fitting that the Bertarelli name will be inscribed in the marble of the building that personifies our commitment to both basic and therapeutic science."
In addition to housing the Departments of Cell Biology and of Biological Chemistry and Molecular Pharmacology, the building serves as a hub for the HMS Therapeutics Initiative, which aims to advance therapeutics research, accelerate translation of discoveries into medicines, and educate and train the inventors of future medicines.
Science. Medicine. Humanity.
Harvard Medicine magazine delivered to your inbox