6 New Faculty Joining HMS
International search focused on scientific achievement, commitment to HMS values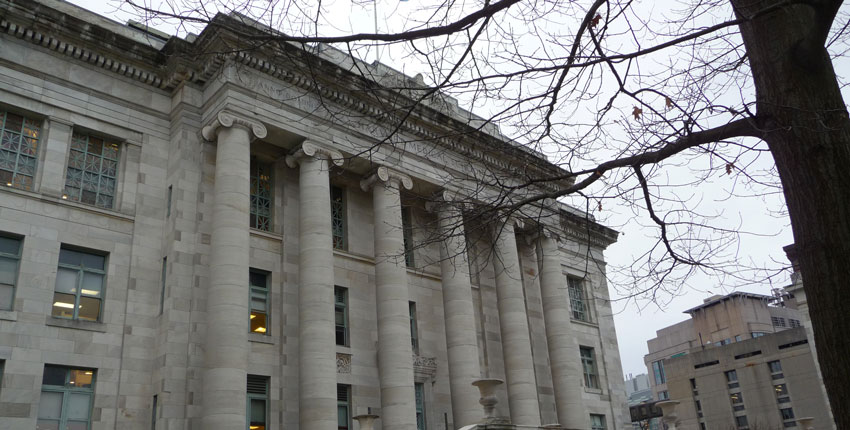 Gordon Hall on the HMS Quad.
When Carlos Ponce graduated from Harvard Medical School with joint MD-PhD degrees in 2010, he never expected that he would one day be back on the HMS Quad as a faculty member in the Neurobiology department, running his own lab.
But Ponce is now one of six new junior faculty hired at HMS this year following a major international search, with four scientists accepting new Quad-based positions and two more to be based at Boston Children's Hospital.
"It's been amazing," Ponce said of his return to HMS this September from the Washington University School of Medicine in St. Louis, where he was an assistant professor in the neuroscience department.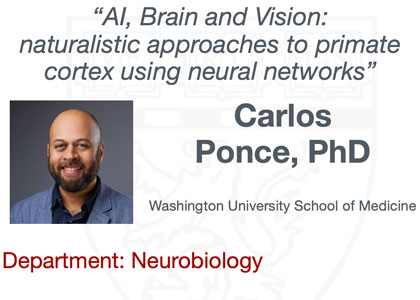 "There is something unique about Harvard Medical School that I experienced as a trainee and now I get to re-experience it. The amount of intellectual energy, coupled with the friendliness and collegiality of the entire community, makes this place unique, and I am delighted to be back."
The addition of the new faculty was the result of a novel approach in which, for the first time, HMS' eight life science departments joined together to promote a more collaborative scientific community by conducting a single search to select outstanding candidates first and identifying departmental 'homes' for them second. The search criteria prioritized scientific excellence and a demonstrated commitment to HMS's institutional values of diversity and community.
According to HMS Dean George Q. Daley, the initiative engendered so much enthusiasm that HMS-affiliated Boston Children's Hospital joined the search. Two candidates have accepted offers at Children's with additional appointments in Blavatnik Institute departments on the Quad.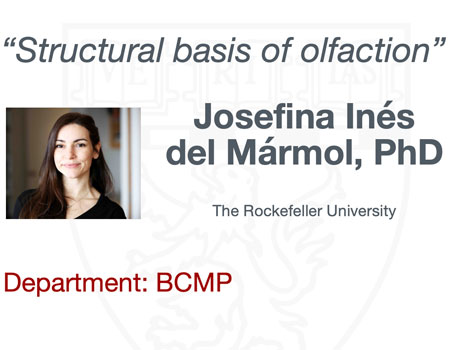 Among the new Quad-based faculty joining Ponce are Josefina Inés del Mármol, currently at Rockefeller University, who will join HMS in April 2022 as part of the Department of Biological Chemistry and Molecular Pharmacology; Aleena Garner, currently at the Friedrich Miescher Institute for Biomedical Research in Basel, Switzerland, who will join the Department of Neurobiology in July 2022; and Silvia Rouskin, who joined the HMS Department of Microbiology in September 2021 from the Whitehead Institute for Biomedical Research.
"We are elated that they will all be coming to HMS over the course of this academic year, joining the seven additional junior faculty who have established labs here since the start of the pandemic," said Daley. "All of our new faculty hires will not only receive mentorship from senior faculty, but they will have the freedom to map their own paths at HMS — and they will have the benefit of infrastructures designed to nurture their experience and stimulate their science."
Del Mármol said the vitality of HMS's scientific environment, which was evident during her interviews, was one of the primary reasons she accepted her new position.
"Everybody I talked to was genuinely interested in the problem that I am trying to address and the way that the conversations were conducted, it was very fluid, very interactive, very intellectually stimulating, very alive. Faculty at HMS had a dream range of expertise in what I'm trying to do, from neuroscience to structural biology, and the trainees are incredibly motivated ... they bring their energy, they're motivated, they're bright. It's a great place."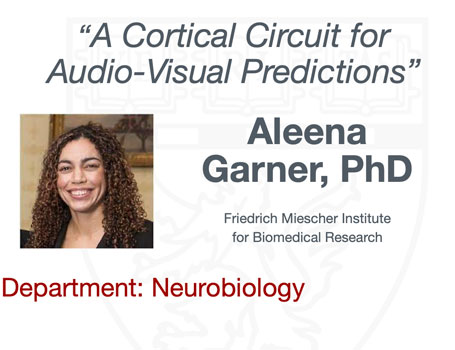 When the search began last fall, Quad faculty leadership sent out 1,600 letters to scientists around the world alerting them to the handful of new faculty positions at HMS. By mid-November HMS had received 680 applications.
"An important element of what we've done in this process is to educate our faculty on how to evaluate candidates holistically, including looking at a broad range of scientific problems well beyond what occurs within a single department," said Wade Harper, the Bert and Natalie Vallee Professor of Molecular Pathology and head of the Department of Cell Biology who, together with his fellow preclinical department chairs, conducted the search.
The search committee also took a holistic approach to evaluating candidates' in terms of their potential to support and advance the intrinsic values of the School.
"Thinking about each candidate's potential to fulfill the overall mission of HMS should be an integral part of every faculty search going forward," Harper said. "Ultimately this cultural change will be part of what we do as a school going forward."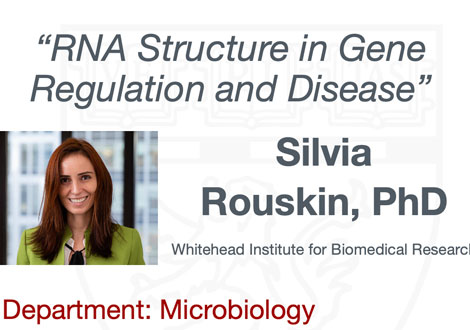 "Universities across the country are incorporating these elements within faculty searches," he added.
For Joan Reede, dean for diversity and community partnership, Ponce, del Mármol, and all the additional new faculty joining HMS will not only ensure the continued excellence of its scientific endeavors, they will further strengthen the School's commitment to cultivating an environment that promotes inclusiveness and collaboration.
"The HMS ecosystem should be one that attracts and retains top talent, not only to build upon our record of excellence in science and education, but to cultivate an environment that values, develops, and advances the diversity and inclusion that is critical to achieving that excellence," Reede said.
The Mentorship Factor
Ponce's research seeks to define how neurons from different cortical areas interact to accomplish perception of shape and motion. Del Mármol is studying the structural mechanisms of odorant recognition by olfactory receptors — how the sense of smell works at the molecular level.
"One of these olfactory applications that we will be focusing on is to look at how insect vectors of disease, like mosquitoes, use their olfactory receptors to detect humans — to find us," she said, adding, "Mosquitoes are mostly annoying to a lot of us here, but there are actually lethal to a large part of the world."
Ponce's Boston homecoming is all the more significant for him because he rose through the ranks at HMS, earning his PhD in neuroscience in 2008 from the Harvard Graduate School of Arts and Sciences, then spending two years training at Massachusetts General Hospital before focusing on research full time.
He credits two HMS mentors — Professor Margaret Livingstone, the Takeda Professor of Neurobiology, and Richard Born, HMS professor of neurobiology — for encouraging him, inspiring him, and for making his scientific career possible.
Born, he said, helped him keep his dream of being a neuroscientist alive by assisting Ponce as he navigated the complicated and expensive process of acquiring his U.S. citizenship.
Livingstone advised Ponce on ways to secure funding so that he could support his family while pursuing his science, he said, and she "was incredibly supportive in letting me pursue questions that I thought were very interesting, even if they were a little adventuresome or a little risky."
Ponce feels a strong responsibility to carry on that legacy of mentorship. As an HMS postdoc he served as a mentor in Project Success, an HMS-sponsored program that helps to open the doors to biomedical careers for Boston and Cambridge high school students, particularly those who may be disadvantaged or underrepresented in medicine. The program gives students the opportunity to participate in paid, mentored, summer research internships at HMS and its affiliated institutions.
"Growing up, I came from Mexico. I didn't know about academic careers. Then somebody just happened to tell me, 'Hey, you could get a job in a research lab.' So, I took the job," Ponce said.
"Suddenly, to understand the culture of science, the culture that combines not just creativity, but mathematical rigor ... it's a career that seemed to have it all," he said. "I was amazed that such a thing existed. Now, my goal is to try and get as many kids as possible to learn what science is, and hopefully try to replicate some of the many successes — blessings really — that I've received in my career because of that exposure."
Del Mármol has also spent much of her scientific career involved in mentorship and volunteering, beginning first as a teaching assistant in her native Buenos Aires, and then mentoring research trainees throughout her academic career.
She has served as a volunteer mentor in a Rockefeller graduate mentorship initiative called Científico Latino and as a volunteer reviewer of postdoctoral fellowships for the national Graduate Women in Science Program, as well as a member and volunteer reviewer for the Society for Advancement of Chicanos/Hispanics and Native Americans in Science (SACNAS).
As a female scientist working in the U.S., far from home and family, she said she has derived as much support from participating in these groups as she contributed, and even more gratification from helping others overcome the many challenges she herself has faced as a Latinx woman and mother pursuing science.
Sometimes, she said, researchers can spend years pursuing a scientific question that only leads to a dead end, but the time spent encouraging others always leads to a sense of accomplishment.
"I'm here to discover things, but I'm also here to contribute to the progress of science as a community ... You put in effort into mentorship, and it comes back as mentees being happy and succeeding and progressing," she said.
Both Ponce and del Mármol said they are acutely aware of the significant, long, and successful research tradition of HMS, which they are proud to advance.
"It feels like an enormous legacy to try and carry forward," said Ponce. "And the only way in which I can do so is by focusing again on the next generation, on all the trainees that we need to get involved."
Both are grateful for the opportunity to make a difference in science and to contribute to HMS's tradition of excellence.
"The demographics of the country are changing. It is becoming much more diverse," said Ponce. "And if we want to tap into the enormous potential of the population as a whole, we have to make sure that every one of these demographics has the opportunity to bring us their best to advance science and technology."