"Gluten-Free for Life" Inaugural Symposium Attracts Clinicians and Patients to Learn Latest Advances in Celiac Disease Research and Treatment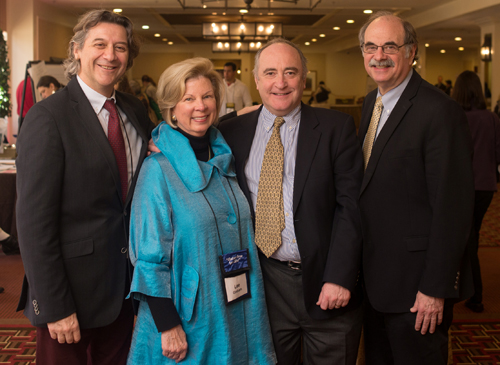 Founded in 2013, the Harvard Medical School (HMS) Celiac Research Program is a collaborative effort of the Celiac Center at Beth Israel Deaconess Medical Center (BIDMC), the Center for Celiac Research and Treatment at MassGeneral Hospital for Children (MGHfC) and Boston Children's Hospital Celiac Program (BCH). With more than 30 years of combined clinical, research and education experience, the three organizations are sharing their expertise to advance research initiatives and education about celiac disease and other gluten-related disorders, including non-celiac gluten sensitivity and wheat allergy.
The group kicked off its educational initiative with an inaugural symposium for continuing medical education and patient education in Norwood, Mass., on April 11. Before the presentations began at Four Points by Sheraton, the hotel was filled with the tantalizing smell of hazelnut croissants, blueberry pancakes and cinnamon bread—all made from gluten-free ingredients. Approximately 100 clinicians and 700 patients attended separate educational tracks with 21 presenters. Speakers included the founders of the HMS Celiac Research Program: Alessio Fasano, MD, of MGHfC; Ciarán Kelly, MD, of BIDMC; and Alan Leichtner, MD, of BCH.
"Our goal is to comprehensively improve the health and quality of life for people with these conditions," says Kelly. "Each program has strengths in different academic areas." He adds, "Boston Children's is superb at educational initiatives; Dr. Fasano's center is a world leader in basic research into celiac disease and intestinal permeability; and my group at BIDMC has a deep clinical research portfolio. By combining our groups, the sum becomes much greater than the parts."
Calling Celiac Patients for Clinical Trial
A new clinical trial is being conducted at Massachusetts General Hospital and Beth Israel Deaconess Medical Center. This study is being done in patients with celiac disease to find markers in the blood and changes in the intestine in response to gluten exposure, after a patient has been eating gluten free for an extended period. This study may allow us to discover tools that can be used to find new treatments for patients with celiac disease. You may be eligible if you have biopsy confirmed celiac disease and eat a strict gluten free diet and are otherwise healthy. Compensation for your time is available! For more information, please contact Jillian Tessing at (617)643-5546 or jtessing@mgh.harvard.edu.
National Experts Present to Professionals and Patients
In collaboration with the New England Celiac Organization, "Gluten Free for Life: A Comprehensive Toolkit for Diagnosing and Treating Celiac Disease and Other Gluten-Related Disorders," brought the latest developments in the field to the New England region. The inaugural symposium offered morning CMEs and CEUs for physicians (3.5), registered nurses (7.5) and registered dietitians (6) through BCH's Continuing Medical Education program. The separate all-day track for patients, families, registered nurses, dietitians and other interested parties included presentations on quality of life, mind-body interventions, gluten-free labeling and the psychosocial impact of gluten-related disorders.
Leichtner spearheaded the educational component of the symposium. "With the combined expertise of the celiac groups, our educational initiative and outreach will become even stronger," says Leichtner. "Patient and parent education, implemented through a variety of outreach initiatives, is a vital part of our mission. The symposium was a fantastic start to this process."
Regional and national experts in gluten-related disorders included keynote speaker Sheila Crowe, MD, professor of medicine and director of research in the Division of Gastroenterology at the University of California, San Diego. Tim Buie, MD, pediatric gastroenterologist at MGhfC's Lurie Center for Autism, spoke to patients and parents about gluten-related disorders in pediatric patients with Autism Spectrum Disorder (ASD).
Expanding Research Initiatives Into Genetics, Microbiome
Another initiative of the HMS Celiac Research Program is a joint application to the National Institutes of Health for a study on the value of screening for celiac disease in first-degree relatives of patients with the condition. A recent article by Drs. Fasano and Carlo Catassi in the New England Journal of Medicine demonstrates that children with two genetic markers for celiac disease are at a much higher risk of developing the autoimmune disorder. Training and teaching opportunities are also an aspect of the program with program clinicians sharing their expertise with visiting physicians.
The combined program will also focus on collaboration in current and future clinical trials, including the Celiac Disease Genomic, Environmental, Microbiome and Metabolomic Study, currently under way at MGHfC. "Our goals are the same," says Dr. Fasano. "Improving the lives of people with celiac disease and gluten-related disorders—whether through clinical trials of a drug to help people with celiac disease avoid cross-contamination, or basic molecular research to find a diagnostic biomarker for gluten sensitivity, or the education of parents and children about the gluten-free diet—We are all on the same page about making things easier for our patients."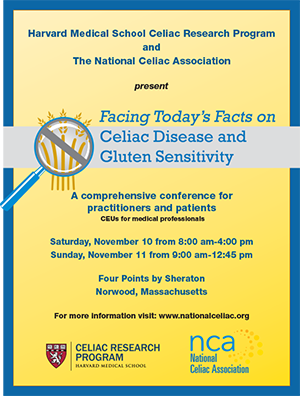 By Susie Flaherty, June 19, 2018