The Department of Pathology at Harvard Medical School consists of the Departments of Pathology at the four flagship teaching hospitals of the Medical School (Beth Israel-Deaconess Medical Center, Boston Children's Hospital, Brigham and Women's Hospital and Massachusetts General Hospital), as well as Harvard Pathology faculty situated at other Harvard institutions such as the Dana Farber Cancer Institute, Schepens Eye Research Institute, Faulkner Hospital,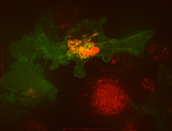 Newton Wellesley Hospital, Mt. Auburn Hospital, Cambridge Health Alliance, and the VA Boston Healthcare System. Together, our community includes more than 300 faculty members and hundreds of residents, clinical fellows, PhD graduate students and post-doctoral research fellows. We collaborate and cooperate across a broad array of clinical, education and research activities in the Harvard community and Greater Boston area. 
We are governed by the Harvard Medical School Department of Pathology Executive Committee, consisting of the Chairs of the four hospital-based Departments of Pathology, which oversees faculty recruiting, reviews and approves all academic appointments and promotions, plans joint training programs, hosts an annual community-wide retreat highlighting our achievements in all aspects of our mission, and coordinates our extensive educational commitment at Harvard Medical School, the Harvard-MIT Health Sciences and Technology Program, clinical residency and fellowship programs, and graduate student training. Collectively, we constitute a vibrant community at the cutting edge of all aspects of academic pathology.
The Pathology Departments at the four flagship hospitals provide expert clinical diagnostics and, where appropriate, therapeutics, and are internationally recognized leaders in anatomic pathology, clinical pathology (laboratory medicine), transfusion medicine, and molecular pathology. In addition to serving the diagnostic laboratory needs of the Greater Boston community, the hospital departments are central references for difficult diagnostic cases from around the United States and the world. Furthermore, we are highly engaged in the development of new diagnostic criteria and the application of cutting-edge technologies to medicine.