Support for New American Scientists
7 HMS students receive 2021 Soros Fellowships
Seven Harvard Medical School students have received 2021 Paul and Daisy Soros Fellowships for New Americans. They are among 30 graduate students to receive the merit-based award for immigrants and children of immigrants and were selected for their potential to make significant contributions to the United States.
Chosen from a pool of 2,445 applicants, the most the program has ever received, each of the Paul and Daisy Soros Fellows will receive up to $90,000 in funding to support their graduate studies. Since the program began, more than 55 students from HMS have received support from the fellowship.
Six of the HMS recipients are students in the Harvard-MIT Program in Health Sciences and Technology—four MD and two MD/PhD candidates. The seventh is a Pathways MD student.
The 2021 Soros Fellows from HMS are:
Alaleh Azhir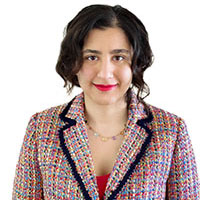 An MD student in the HST program, Alaleh Azhir has focused her research on the role of X and Y chromosomes on disease manifestations. Through medical training, she aims to build computational tools specifically for preventive care for women.
"Medicine is a field that continues to change, and I want to be part of the change, especially when it comes to improving health care for women. I'll never stop doing my favorite thing in the world, which is learning in this field. I love the human interaction side, where I will save and improve lives."
Azhir grew up in Iran and immigrated with her mother to the United States at the age of 14. Determined to overcome the strict gender roles for women that she had witnessed, Azhir is dedicated to improving health care for women.

Pursuing a passion for mathematics, Azhir graduated from Johns Hopkins University as a triple major in biomedical engineering, computer science, and applied mathematics and statistics. A Rhodes Scholar and a Barry Goldwater Scholar, she has developed novel tools for visualization and analysis of genomics data at Harvard, MIT, the National Institutes of Health, laboratories in Switzerland, and at Johns Hopkins. Her work has been cited more than one hundred times by scientists around the world. She built on a strong computational background through the master's in statistical science program at the University of Oxford.

Azhir founded and directs the nonprofit organization, Frappa, aimed at mentoring women living in Iran to emigrate through the graduate school application process. Additionally, she has worked with various student organizations mentoring middle-school students, edited a philosophy journal, ran arts programs for children in underresourced neighborhoods, and provided cooked meals for a shelter for survivors of domestic abuse.
Read more about Chandrashekar

Born in Fairfax, Virginia, Chandrashekar is the daughter of immigrants from Bangalore, India, who came to the United States to pursue their graduate educations. Chandrashekar's parents are both engineers who taught her to think critically and build solutions to problems around her. Her great-grandfather's role as a leader in the Indian independence movement inspired her commitment to equity and public service.

Chandrashekar received an AB in biomedical engineering from Harvard, where she pursued projects at the intersection of engineering and medicine, including developing a medical device to provide behavioral therapy for adolescents with autism and an online platform to detect environmental health hazards. She then pursued a Fulbright Scholarship in Goa, India, where she researched the impact of stigma on children with autism in rural communities. These experiences impressed upon her the profound impact of health inequities and led her to pursue health policy research at the U.S. Department of Health and Human Services, the National Health Service in England, and the Crimson Care Collaborative.

At CareMore Health and SCAN Health Plan, she developed recommendations for improving the care of frail and vulnerable seniors through telemedicine and home-based care. She has published more than a dozen papers in peer-reviewed journals and co-authored an upcoming book chapter on reforming the U.S. health care system for older adults. Chandrashekar also serves as the managing assistant editor for Healthcare: The Journal of Delivery Science and Innovation. Most recently, she started the COVID-19 Health Literacy Project to create and translate COVID-19 information into 40-plus languages for non-English speaking patients. For her contributions and passion for advancing health care, she was named to the 2021 Forbes 30 Under 30 Healthcare list.

Chandrashekar is an ardent advocate for education equity. She is the founder and CEO of ProjectCSGIRLS, an international nonprofit dedicated to encouraging middle-school girls in STEM, for which she received an HMS Dean's Community Service Award. To date, the organization has reached over 15,000 girls in 12 countries. Chandrashekar speaks widely about the importance of diversity in science and has given three TEDx talks on the subject.
Born in Johnson City, New York, Chang is the son of immigrants from the Shanghai municipality and Shandong Province in China. Chang's father completed his graduate studies in engineering and his mother continued her medical training when they came to the United States. While moving several times across the country, Chang grew up surrounded and inspired by his parents' love of learning.

Wandering through his father's workshops at a young age sparked an early passion for invention, leading Chang to pursue undergraduate and master's degrees in mechanical engineering at Carnegie Mellon University. After college, Chang worked at the U.S. Department of Energy's National Energy Technology Lab designing carbon capture and fuel cell technologies to decrease fossil fuel emissions.

Under the mentorship of Elazer Edelman for his doctoral work, Chang developed methods that make advanced cardiac technologies more accessible. The resulting approaches are now used in hospitals around the world. Chang published his research in eight peer-reviewed articles and has five related patents.

Seeing his graduate work implemented in the clinic, Chang realized the power of engineering to improve patient care. He became committed to breaking down the barriers of inequitable and inaccessible medical care. Toward this goal, Chang cofounded X-COR Therapeutics, a seed-funded medical device startup developing a more accessible treatment for lung failure, with the potential to support patients with severe COVID-19 and chronic obstructive pulmonary disease.

Spending time in the hospital and connecting with patients and teaching cardiovascular pathophysiology to medical students inspired Chang to attend medical school. He is eternally grateful for his parents' sacrifices and his mentors' generous support.
Diao grew up amid Chinese restaurants, street signs, and supermarkets in Houston's Chinatown. He was first raised by his grandparents, who delighted in teaching him parodies of famous poems to recite. Later, when his grandparents returned to Jiangxian, Diao continued to spend almost every summer with them and his extended family. His family in the U.S. later moved to Fort Bend, Texas, among the most diverse counties in the country, where he met classmates, teachers, and pastors with very different life experiences from his own.

Inspired by his parents' love of computer programming and their experiences under Maoism, Diao was fascinated by the responsible development of technology. These passions drove Diao throughout various work experiences: at Apple, where he led projects to validate wearable health device features in diverse populations; at PathAI, where he built deep-learning models to broaden access to pathology services; at Yale, where he worked under Mark Gerstein to standardize analyses of exRNA biomarkers; and at Harvard, where he worked under Arjun Manrai, HMS assistant professor of pediatrics at Boston Children's Hospital, to study the impacts of clinical guidelines on marginalized groups.

Diao was lead author on research published in the New England Journal of Medicine and JAMA that systematically compared race-based and race-free equations for kidney function and showed that up to one million Black Americans may receive unequal kidney care due to their race. His other works on machine learning and precision medicine have appeared in Cell, Cell Systems, Human Molecular Genetics, and Nature Communications.

Diao graduated magna cum laude and Phi Beta Kappa from Yale University with degrees in statistics and biochemistry.

Living near a large medical center initially piqued Diao's interest in health care. He found his first mentor in pediatric oncologist Rachel Rau, who introduced him to the wonders of modern molecular biology and the devastating conditions that they were poised to treat.
Born in Seoul, South Korea, Lee was 10 when his parents and younger brother immigrated to the United States in search of a new beginning. Growing up in a Korean American community in Palisades Park, New Jersey, Lee vividly remembers the acts of kindness he and his family received since the day they arrived. His fourth-grade English teacher regularly stayed after school to teach him, and his youth pastor would often care for him and his brother while his parents were at work.

While many individuals made Lee's family life as immigrants better, there was no such luck with the health care system. Lee's parents didn't have health coverage and faced persistent financial and emotional challenges as a result. The bill for his younger brother's appendectomy meant his family had to exhaust their life savings and negotiate with the collection agency. These experiences ignited Lee's initial interest in medicine: He wanted to study the reasons for the high cost of health care in the U.S. and learn how to care for uninsured families like his own who feared seeking medical attention.

Lee graduated summa cum laude in integrative biology from Harvard, where his academic work in the biomedical sciences and health policy shaped his understanding of what it meant to be a physician. He joined the Kasper Lab, where his research culminated in a senior thesis on harnessing beneficial microbes from the human gut to alleviate intestinal autoimmune disorders. For these achievements, he was awarded the Thomas Temple Hoopes Prize.

Studying novel therapies further led Lee to question how newly approved medicines that were often expensive reached patients within a broader system of health care. He later worked at the Program on Regulation, Therapeutics, and Law (PORTAL) at Brigham and Women's Hospital to study policy issues involving pharmaceutical drug pricing, drug development, and medication use and safety. Lee is the author of 10 publications, including four as first author, in journals such as JAMA, Health Affairs, and Mayo Clinic Proceedings.
Podury was born in Mountain View, California, to parents who emigrated from India in search of educational opportunities for their children. Shortly after, her family returned to India for five years so Podury could share the daily lives of her grandparents and deeply explore her heritage. With a childhood divided between two countries, Podury acutely felt her parents' selflessness as she understood the home that they gave up for their children's future.

Watching her grandmother live with neuropathic pain shaped Podury's desire to understand complex, yet perturbable, networks in the brain. As an undergraduate at Cornell University, she worked with Jesse Goldberg to study neural circuits underlying motor learning. Her growing interest in whole-brain dynamics led her to the Princeton Neuroscience Institute and Neuralink, where she discovered how brain-machine interfaces could be used to understand diffuse networks in the brain. Podury was awarded various fellowships in support of her work, including the Hunter R. Rawlings Presidential Research Scholarship.

While studying neural circuits, Podury worked at a syringe exchange in Ithaca, New York, where she witnessed firsthand the mechanics of court-based drug rehabilitation. Listening to patients' stories deepened her conviction that science alone could not capture multiple dimensions of health and disease, which paved her path toward medicine.

In the Boyden Lab at MIT's McGovern Institute, Podury is developing human brain organoid models to better characterize circuit dysfunction in neurodevelopmental disorders. Concurrently, she is working in the Dhand Lab at Brigham and Women's to apply network science tools to understand how patients' social environments influence their health outcomes following acute neurological injury.
Toloza was born in Los Angeles, the child of two immigrants: one from Colombia, who had come to the United States to study for her PhD, and the other from the Philippines, who grew up in California and went on to medical school. Their literal marriage of science and medicine left an early mark on Toloza, and from a young age he aspired to become a physician-scientist.

Toloza majored in physics and Spanish literature at the University of North Carolina at Chapel Hill, where he was awarded the Daniel C. Johnson Award for Outstanding Junior in Physics and the Sterling A. Stoudemire Award for Excellence in Spanish. He worked in three research labs, eventually settling on an interest in theoretical neuroscience after a summer research internship at MIT and completing an honors thesis on noninvasive brain stimulation.

After college, Toloza joined Mark Harnett's laboratory at MIT for a gap year, during which he coauthored publications in Cell and Neuron. Enrolling in the MD/PhD program, Toloza rejoined Harnett as a graduate student in physics at MIT to conduct research on the biophysics of dendritic integration and the contribution of dendrites to cortical computations in the brain.

In college, he led the interpreting team at UNC-Chapel Hill's student-run health clinic, which initially supported only Spanish interpreting. Toloza's efforts were pivotal in establishing a new interpreting service for Mandarin-speaking patients. At HMS, he has continued to work with Spanish-speaking patients, this time as a student clinician.

In his free time, Toloza plays rock and metal guitar. He owes everything, including his scientific curiosity, his love of Spanish and sci-fi literature, and his taste in music (good and bad) to his parents.