Promising New American Physician-Scientists
Five HMS students receive 2020 Soros Fellowships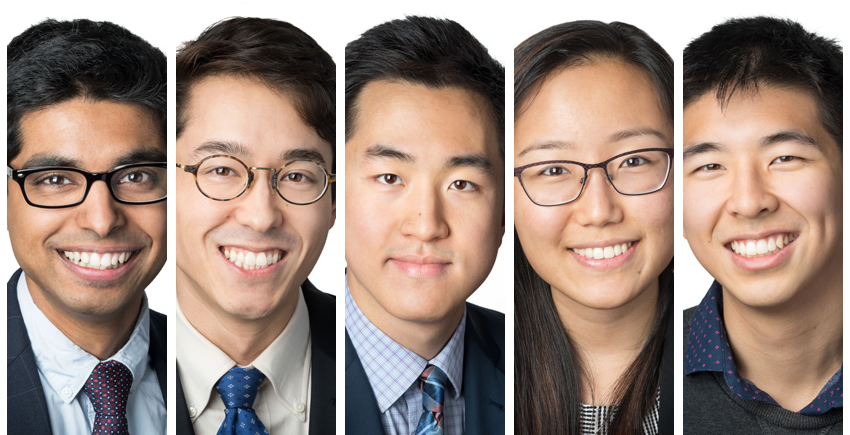 Two MD and three MD/PhD candidates at Harvard Medical School are among 30 U.S. graduate school students to receive 2020 Paul and Daisy Soros Fellowships for New Americans, a program for immigrants and children of immigrants.
Shyam Kiran Akula was born in Arcadia, California, to Indian parents who immigrated to the U.S. from Kuwait when they were forced to leave due to the Gulf War. Akula majored in neurobiology at Washington University in St. Louis and worked in a pediatric neurology clinic at St. Louis Children's Hospital, developing a passion for investigating rare diseases and caring for families afflicted with these conditions.
An MD/PhD candidate, Akula received the 2017-2019 Harvard Stem Cell Institute Medical Scientist Training Fellowship. In the laboratory of Christopher A. Walsh, the Bullard Professor of Pediatrics and Neurobiology at Boston Children's Hospital, Akula is conducting research on rare genetic diseases of cortical malformation to understand how specific genes influence normal human brain development. Outside of his scientific work, he is an advocate for effective education and increasing educational access for first-generation and low-income students. He is involved in work evaluating and redesigning the MD/PhD curriculum and student training at HMS.
Mark Aurel Nagy was born in Budapest to a Chinese mother and Hungarian father. Nagy and his siblings spent summers abroad under the care of extended family members while his parents worked full-time to make ends meet.
Nagy found himself drawn to the complexity of the brain when he was an undergrad at Brown University. As a student in the Harvard-MIT Program in Health Sciences and Technology, Nagy completed a PhD in neuroscience in the lab of Michael Greenberg, the Nathan Marsh Pusey Professor of Neurobiology in the Blavatnik Institute at HMS. His dissertation work, published in the journals Nature Neuroscience and Neuron, employed next-generation sequencing-based assays to understand how sensory experience shapes neuronal function. He is completing his MD training and developing a company that leverages approaches to engineer better viral vectors for gene therapy of neurological disorders. His work was supported by the National Institutes of Health Medical Scientist Training Program Fellowship. As a practicing physician-scientist, Nagy hopes to make lasting improvements to patient care through scientific advancement, and as a gay person of color, he hopes to increase visibility for underrepresented minorities in the sciences and medicine.
Born in Seoul, South Korea, at the height of the Asian financial crisis, Jin K. Park grew up as an undocumented immigrant in Flushing, Queens, in New York City. He and his parents—a restaurant line cook and a beauty salon worker—had limited access to health care, which gave him a conviction that health care should be a right in the U.S.
Jin is a first-year MD/PhD student in the Harvard-MIT Program in Health Sciences and Technology. He earned an AB in molecular and cellular biology from Harvard College, where he worked in a lab using genome engineering tools to improve the persistence and cytotoxicity of CD8 T cells in a mouse model of lung adenocarcinoma.
Jin taught English and American civics to Boston-area Chinese immigrants preparing for their naturalization exam through the Phillips Brooks House Association's Chinatown Citizenship program, eventually becoming program director. Being a recipient of the Deferred Action for Childhood Arrivals program has played a pivotal role in Jin's life. He has provided public testimony to the U.S. House Judiciary Committee in support of legislation for DACA recipients and has contributed as a writer to national news outlets. He is also a plaintiff in litigation being heard in the federal judiciary that counters arguments that seek to end DACA for the more than 700,000 DACA recipients living in America. In 2019, Jin became the first DACA recipient to be selected as a Rhodes Scholar.
Wendy Sun was born in Jinan, China, and immigrated when she was very young to the U.S., where her diet changed from colorful fruits and vegetables to the processed foods that her family could buy with food stamps.
An HMS MD/PhD candidate, Sun discovered that her family's struggle to obtain nutritious foods is painfully common and that unhealthy food choices render people susceptible to obesity, diabetes and heart disease. At Yale University, she spearheaded wellness initiatives, wrote for a campus food and health publication and conducted research on the neural mechanisms of food choice, regulation of craving and behavioral change.
She received a Yale research award and published research on cognitive training to improve eating behaviors. Sun is co-first author on a paper in PNAS and has several first-author manuscripts forthcoming. Her nonacademic writing has been featured in Business Insider, USA Today and Yahoo! News. Sun plans to become a psychiatrist-neuroscientist, aiming to conduct cognitive neuroscience research and translate her scientific findings into new therapies and improve treatments for diet-related diseases.
Born in Memphis, Tennessee, Jason Ku Wang is the son of immigrants who came to the U.S. following China's Cultural Revolution. While his parents worked and studied in the U.S., Jason was sent to live with his grandparents in Wuhan, China, for the first four years of his life. He rejoined his parents in Chicago and then in St. Louis, before settling in Los Angeles. A first-year MD student in the Harvard-MIT Health Sciences and Technology program, Wang developed his early interest in medicine from his father's profession as a rural doctor in China and then his becoming a physician in the U.S.
At Stanford University, Wang discovered a love for computer science and statistics. Interested in studying problems in computational structural biology and data-driven clinical decision making, he focused on the intersection of computation, biology and medicine.
Wang is the author of 12 publications, including six as first author, in peer-reviewed journals such as Nature and the Journal of Biomedical Informatics. During college, Jason completed data and software engineering internships at Facebook and Tableau, cofounded Stanford's inaugural health care hackathon (Health++), and co-created a seminar on artificial intelligence and health care. After Stanford, he spent a year at Tsinghua University in Beijing studying sociotechnical barriers to technology adoption in Chinese hospitals, earning a master's in global affairs as a Schwarzman Scholar and completed a public affairs internship at Johnson & Johnson. Wang hopes to further explore how computational advancements can democratize access to high-quality health care.
Recipients of these fellowships are selected from a large pool of applicants for their potential to make significant contributions to U.S. society, culture or their academic fields. Each fellow will receive $90,000 in funding over two years. See the complete list of fellows from Harvard since the program began 20 years ago.
The 2020 Fellows are all children of immigrants, Deferred Action for Childhood Arrival (DACA) recipients, green card holders or naturalized citizens. Founded by Hungarian immigrants Daisy M. Soros and her late husband Paul Soros, the fellowship program honors continuing generations of immigrant contributions to the United States.
Adapted from Paul and Daisy Soros news release materials.