A Screen Door Opens
Virtual screen finds compounds that could combat SARS-CoV-2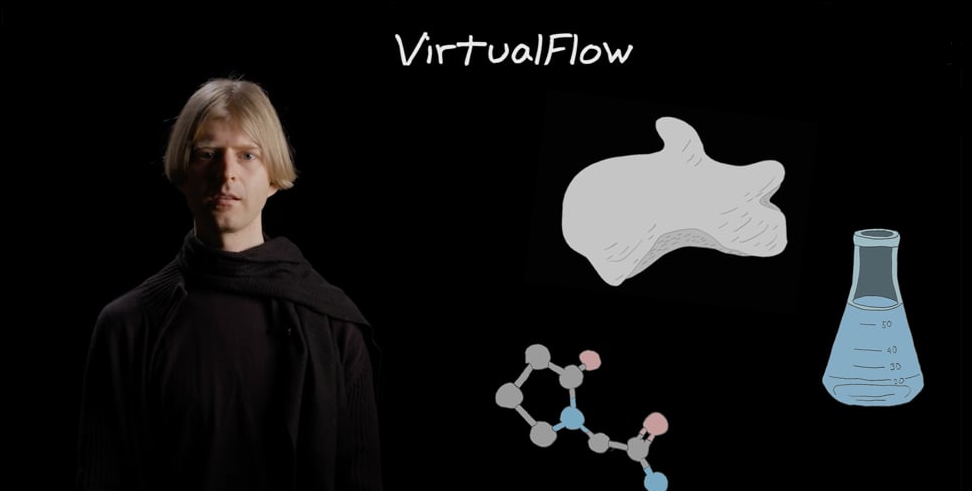 Christoph Gorgulla explains how VirtualFlow works. Video: Rick Groleau
This article is part of Harvard Medical School's continuing coverage of medicine, biomedical research, medical education, and policy related to the SARS-CoV-2 pandemic and the disease COVID-19.
Less than a year ago, Harvard Medical School researchers and international colleagues unveiled a platform called VirtualFlow that could swiftly sift through more than 1 billion chemical compounds and identify those with the greatest promise to become disease-specific treatments, providing researchers with invaluable guidance before they embark on expensive and time-consuming lab experiments and clinical trials.
Propelled by the urgent needs of the pandemic, the team has now pushed VirtualFlow even further, conducting 45 screens of more than 1 billion compounds each and ranking the compounds with the greatest potential for fighting COVID-19—including some that are already approved by the FDA for other diseases.
"This was the largest virtual screening effort ever done," said VirtualFlow co-developer Christoph Gorgulla, research fellow in biological chemistry and molecular pharmacology in the labs of Haribabu Arthanari and Gerhard Wagner in the Blavatnik Institute at HMS.
The results were published in January in the open-access journal iScience.
The team searched for compounds that bind to any of 15 proteins on SARS-CoV-2 or two human proteins, ACE2 and TMPRSS2, known to interact with the virus and enable infection.
Researchers can now explore on an interactive website the 1,000 most promising compounds from each screen and start testing in the lab any ones they choose.
The urgency of the pandemic and the sheer number of candidate compounds inspired the team to release the early results to the scientific community.
"No one group can validate all the compounds as quickly as the pandemic demands," said Gorgulla, who is also an associate of the Department of Physics at Harvard University. "We hope that our colleagues can collectively use our results to identify potent inhibitors of SARS-CoV-2."
In most cases, it will take years to find out whether a compound is safe and effective in humans. For some of the compounds, however, researchers have a head start.
Hundreds of the most promising compounds that VirtualFlow flagged are already FDA approved or being studied in clinical or preclinical trials for other diseases. If researchers find that one of those compounds proves effective against SARS-CoV-2 in lab experiments, the data their colleagues have already collected could save time establishing safety in humans.
Other compounds among VirtualFlow's top hits are currently being assessed in clinical trials for COVID-19, including several drugs in the steroid family. In those cases, researchers could build on the software findings to investigate how those drug candidates work at the molecular level—something that's not always clear even when a drug works well.
It shows what we're capable of computationally during a pandemic.
Hari Arthanari
If you want to stop a moving car, you can hit the brakes, or you can hit the brakes and slash the tires and burn the engine. Ideally, you'd have a multipronged approach.
Hari Arthanari