A Resonant Legacy
Tempany-Afdhal named inaugural Jolesz Professor of Radiology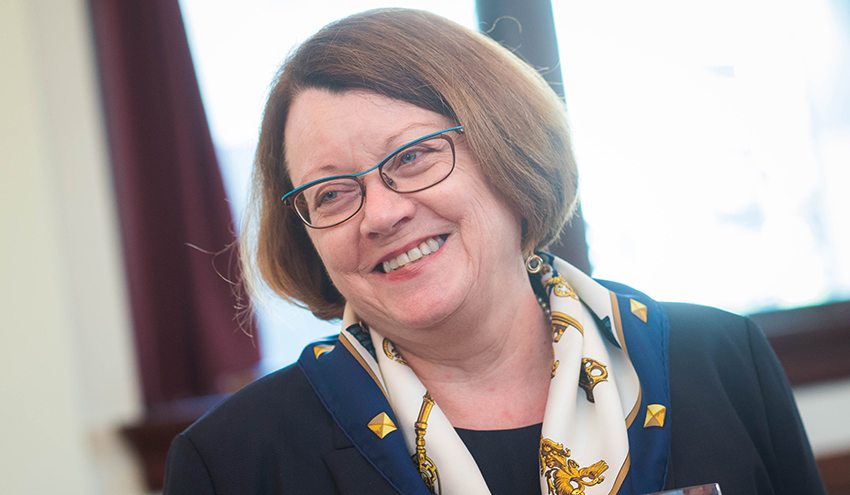 Clare Tempany-Afdhal. Image: Gretchen Ertl
Radiologist Clare Tempany-Afdhal came to the United States from Ireland in 1991 and was promptly recruited to Brigham and Women's Hospital and Harvard Medical School by a team that included Ferenc Jolesz, also known as the father of modern image-guided therapy.
For more than two decades, under Jolesz's mentorship, Tempany-Afdhal worked with colleagues to advance magnetic resonance (MR) imaging technologies for cancer patients. The researchers established the first known MR-guided brachytherapy program for patients with prostate cancer. They ran the first clinical trial of MR-guided focused ultrasound as a noninvasive treatment for uterine fibroids, which expanded worldwide and led to an FDA-approved treatment.
Jolesz died in 2014, but not before Tempany-Afdhal became principal investigator and director of the Ferenc Jolesz National Center of Image Guided Therapy at Brigham and Women's and HMS.
On July 23, 2018, the two researchers' connection grew stronger still: Tempany-Afdhal was installed as the inaugural Ferenc Jolesz, MD Professor in Radiology at HMS and Brigham and Women's.
"Through the establishment of this professorship, Brigham and Women's Hospital and GE are honoring the legacy of Dr. Jolesz while ensuring that HMS, Dr. Tempany-Afdhal, and all future incumbents of this professorship continue to advance research and further progress in the field of radiology," said HMS Dean George Q. Daley at the professorship celebration, held in Gordon Hall at HMS.
Daley called Tempany-Afdhal and Jolesz "two forces of nature" and praised the impact they have had locally and internationally.
At the Jolesz Center, Tempany-Afdhal is medical director of the advanced multimodality image-guided operating (AMIGO) suite, which focuses on innovative image-guided interventions in surgery, radiation oncology and interventional radiology.
Her accomplishments have also included establishing a "body MRI" program at Brigham and Women's with a pioneering focus on detection, diagnosis, treatment and monitoring of prostate cancer. She and her colleagues established the first program for MR-guided transperineal, in-bore prostate cancer biopsy.
The professorship was made possible by Brigham and Women's and General Electric.
Other speakers at the event included Betsy Nabel, president of Brigham Health and professor of medicine at HMS; Giles Boland, the Philip H. Cook Professor of Radiology at HMS and chair of the Department of Radiology at Brigham and Women's; and John Flannery, chairman and chief executive officer of GE.
Colleagues, friends and members of Tempany-Afdhal's family, including her husband and former medical school classmate Nezam Afdhal, HMS professor of medicine, part-time, at Beth Israel Deaconess Medical Center, also attended.