Ready to Bloom
Close to becoming a doctor, DACA recipient's career threatened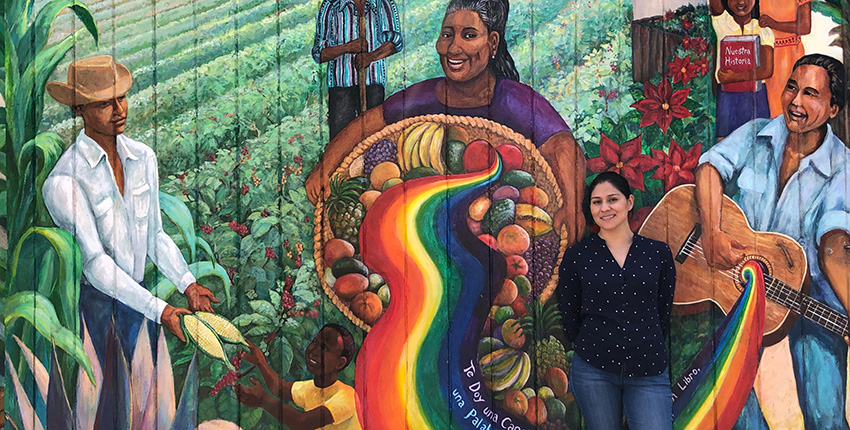 This is one in a series of profiles featuring graduating HMS students.
Graduating Harvard Medical School student Blanca Morales Temich came to the U.S. nearly 30 years ago with her parents, who are undocumented immigrants. She was allowed to remain in the country and attend medical school as a recipient of the Deferred Action for Childhood Arrivals, or DACA, immigration policy.
Harvard Medicine News profiled Morales Temich in Feb. 2018 when DACA, and her ability to remain in the country to complete medical school, were threatened by the Trump administration's move to eliminate the program. The policy was extended, however, and she was able to renew her status.
Now, her status is once again in jeopardy, and Morales Temich is worried that she will not be able participate in her OB/GYN residency at the University of California, San Francisco.
As graduation approaches, HM News followed up with Morales Temich to find out how she is doing amid the coronavirus pandemic, discuss looming DACA deadlines and learn how she chose her specialty and residency location.
HMS: How are you and your loved ones doing during the coronavirus pandemic? Are they safe and well?
My family is in southern California. Everyone, thank goodness, is healthy. My dad is still going into work every day. He's in that position where my parents can't really afford to not have an income coming in, but at the same time, going out every day puts him at risk for exposure. My sister just had a baby, which is exciting, but I'm thinking about them, exposure-wise.
This pandemic has certainly hurt everyone, but I think it highlights the real struggle that documented and undocumented immigrant communities are going through, because we don't have the same safety net opportunities that other individuals do. People like my parents don't have the luxury of working from home. They have to expose themselves, and I think most families are happy to still have a job. It has uncovered the strong workforce that has always been there.
HMS: When we spoke in 2018, you were unsure you could finish your medical degree. So, congratulations—you are on the verge of graduation. However, a new ruling on DACA is expected from the U.S. Supreme Court in mid-June, and even if that decision is postponed, your status is scheduled to expire in October. Fill us in on where you stand now.
This is the closest I have been to becoming a doctor. And still there is this looming indecision, this constant threat as to whether or not that's actually going to become a reality. The rescinding of DACA is threatening my ability to become a doctor, because the next step of the training is actually a job; you're a resident. It's a contract job, and that ability to work, to legally seek employment, is what DACA has given me.
I know this is supposed to be a really happy time, but it's hard for me to believe. You work so hard because you want to be a doctor so bad. And now it's within arm's reach, but still it could be yanked away.
I think this pandemic is putting uncertainty into everyone's life, but that's how I've certainly felt for the majority of my life. Not knowing what is going to happen tomorrow. Not knowing what opportunities are going to be available. Not knowing if I'll be allowed to help out in the best way that I can. And now that I'm so close to actually being a doctor, to being a licensed physician, I don't know if I'm going to get to do that because of the political system.