The Questioning Approach
Jamaji Nwanaji-Enwerem investigates how airborne particles affect biological aging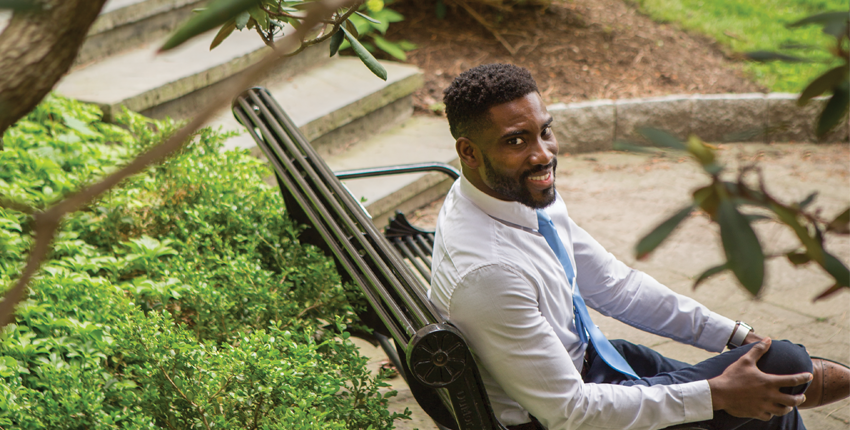 Since he was in middle school, Jamaji Nwanaji-Enwerem, PhD '18, MD '21, has known he wanted to be a physician. The urge to couple that with research, however, was planted in the spring of his senior year in high school, the result of a call from a professor at Morehouse College.
"I was going to attend Morehouse," Nwanaji-Enwerem recallED, "and she told me that Morehouse had a one-month-long summer research program I could participate in if I was interested. Although I couldn't put my finger on exactly what she meant by research, I was interested."
That summer experience proved pivotal. Throughout his undergraduate years, Nwanaji-Enwerem immersed himself in scientific inquiry. As part of the Dr. John H. Hopps, Jr. Research Scholars Program, he worked with science professors during the fall and spring semesters at Morehouse. Then, each summer he went to a different school where he participated in other "truly enriching research experiences."
Of all the sciences, he developed an early interest in genetics. At Harvard, that interest has gained definition in the Program in Biological Sciences and Public Health.
"I had a molecular wet science background," he said. "The program gave that molecular science a home within the realm of public health." In his research at HMS, Nwanaji-Enwerem has investigated how different environmental exposures affect health. His particular focus has been on understanding how exposure to airborne particulates affects biological aging via epigenetic processes.
"I like the way research has taught me to think," he said. "Solutions to problems do not come from something I've memorized but from my struggling with questions and trying to figure out something new, something no one else may have considered before."
This questioning approach is one Nwanaji-Enwerem believes will enhance his work as a physician. "You're always trying to figure out, based on a constellation of symptoms, what disease a patient has," he says. "I think about the possible diagnoses and about the diagnoses that are possible but less likely."
"As an MD-PhD," he said, "I know I'll have a career that will give me the chance to care for individual patients while also allowing me to contribute discoveries that can further benefit medicine and population health."
This profile has been adapted and updated from a Harvard Medicine magazine story.