Protection, Accessibility, Durability
Researchers explore new single-shot COVID vaccine in the lab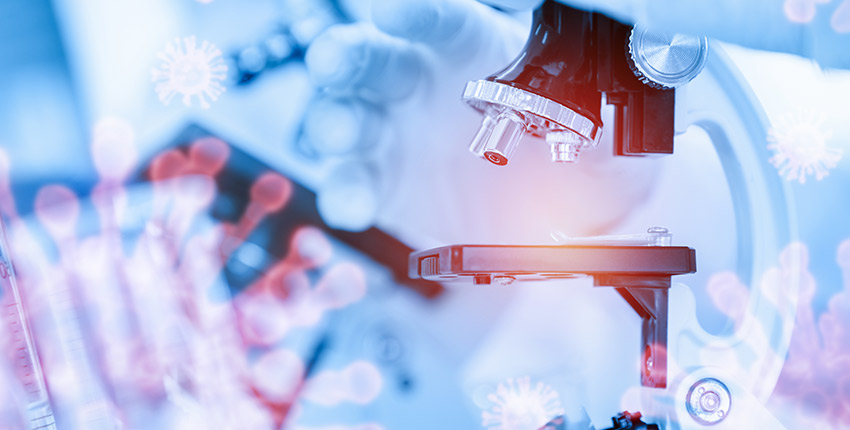 Image: dj_aof/iStock/Getty Images Plus
This article is part of Harvard Medical School's continuing coverage of medicine, biomedical research, medical education, and policy related to the SARS-CoV-2 pandemic and the disease COVID-19.
Many nations and communities are in acute need of COVID-19 vaccines. Producing more doses of approved vaccines—and developing new vaccines that are easy to make and have long shelf lives—are both critical to tamping down the coronavirus pandemic.
An international collaboration including Harvard Medical School scientists at Massachusetts Eye and Ear has just taken a decisive step toward providing a new vaccine.
The team reports that a new gene-based COVID-19 vaccine was highly effective at eliciting neutralizing antibody responses and cellular immunity in animal models after a single dose. Peak immunity appeared to last at least 11 months.
The vaccine uses a unique variation of a common delivery mechanism known as an adeno-associated viral vector, or AAV. Accordingly, the researchers dubbed the vaccine AAVCOVID. One shot provided nonhuman primates near-complete protection against a live SARS-CoV-2 viral challenge, the team reported Sept.8 in Cell Host & Microbe.
In this case, "near-complete protection" meant that when the vaccinated animals received a high dose of SARS-CoV-2 in the upper airway, almost none had any detectable virus levels.
The vaccine appeared to work against different variants of SARS-CoV-2, including the delta variant, in lab dish tests of samples from the animals, although, like current COVID-19 vaccines, it did not protect against these variants as effectively as it protected against the original SARS-CoV-2 strain.
The vaccine can be produced at large scale with current manufacturing processes and is stable at room temperature for up to one month, the researchers said. That means that if the vaccine ultimately proves safe and effective in humans, it would be well suited to reach remote and under-resourced areas.
The study authors hope the work supports a move towards human clinical trials.
"Our findings, bolstered by long-term durability and protection data, show the AAV vaccine platform may address some of the ongoing elements of the health crisis and should warrant further study in clinical trials," said AAVCOVID principal investigator Luk Vandenberghe, HMS professor of ophthalmology and director of the Grousbeck Gene Therapy Center at Mass Eye and Ear.
"More durable and accessible vaccine options are of paramount need as the pandemic persists globally," he said.
Vandenberghe added that the team believes the AAVCOVID platform, based on an AAV that he developed, could inspire the design of vaccines for health threats beyond COVID.
"It is exciting to see the progress in developing this AAV vaccine platform against SARS Co-V-2, and the potential it holds for future vaccine development against other pathogens," said Joan Miller, the David Glendenning Cogan Professor of Ophthalmology at HMS and chief of ophthalmology at Mass Eye and Ear, Massachusetts General Hospital, and Brigham and Women's Hospital. "This is a wonderful example of successful international collaborative research, which is especially critical when addressing a global pandemic like COVID-19."
Nerea Zabaleta Lasarte, HMS research fellow in ophthalmology at Mass Eye and Ear and a postdoctoral research fellow at the Grousbeck Gene Therapy Center, is first author of the study.
AAVCOVID is being developed through an academia-industry consortium of groups within Mass Eye and Ear, Mass General, and the University of Pennsylvania. Novartis Gene Therapies contributes to the consortium.
Funding for this project was provided by the Bill and Melinda Gates Foundation, private donations from the Mass Eye and Ear donor network, the Massachusetts Consortium for Pathogen Readiness (MassCPR), Mark and Lisa Schwartz, George Mason University Fast Grants, the National Institutes of Health (R01AI146779, T32GM007753, and T32AI007245), sponsored research agreements from Albamunity, the U.S. Centers for Disease Control and Prevention (CK000490), and an in-kind donation of AAV manufacturing services and product by Novartis Gene Therapies.
Relevant disclosures can be found in the manuscript.
Read the full news release from Mass Eye and Ear.