The Power of Selflessness
HMS and HSDM Class Day Speaker: Caregivers can change the world
Rajesh Panjabi on Class Day. Image: Steve Gilbert
As last year's deadly Ebola epidemic tore through West Africa, Lorenzo Dorr, a physician assistant in Liberia, left the safety of his own home in a disease-free region of Liberia and traveled 200 miles to serve a community that had been stricken by the deadly disease.
When Rajesh Panjabi, an HMS instructor in medicine at Brigham and Women's Hospital, asked Dorr what inspired his tireless acts of courage, Dorr told Panjabi about his first days caring for people in remote rainforest villages.
Get More Harvard Medicine News
People would summon Dorr in the middle of the night, asking him to travel for hours through jungles, over log bridges, in canoes and on motorbikes, so that he could tend to labor and delivery cases far away from the facility where he worked.
"That prepared me to go the extra mile," Lorenzo told Panjabi, the co-founder and CEO of Last Mile Health, a nonprofit organization that partners with the government of Liberia to provide critical health care services in the country's remote villages.
"I was the only person they had," Dorr said.
Panjabi, HMS and HSDM keynote speaker at 2015 Class Day ceremonies, described the transformative power of selfless caregivers like Dorr in his remarks during the May 28 event.
"Selflessness is contagious," Panjabi said. "Selfless acts give us—caregivers—the power to change the world."
A World of Opportunity
Panjabi began his remarks by acknowledging the impact that the selfless acts of others had on him in his early years, describing a series of kindnesses he received that created a world of opportunity for him when he arrived in North Carolina as a refugee from the 1990 civil war in Liberia.
Panjabi said he celebrated the power that selflessness can have to heal individuals and societies, and to transform the world into a more just place, and he challenged HMS and HSDM graduates to make selflessness a discipline in their own lives.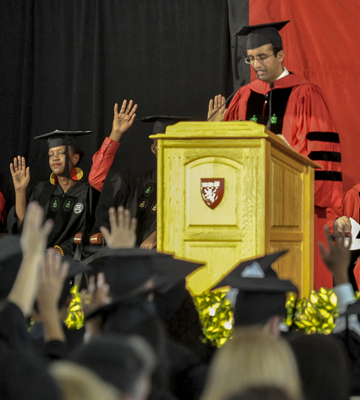 When Panjabi asked the graduates in the audience to raise their hands if they could think of anyone with them at graduation who had performed a selfless act in order to help them along their paths toward becoming caregivers, all of the members of the Class of 2015 raised their hands.
Throughout the course of the celebration, students and faculty shared stories of family and friends, partners and mentors who had sacrificed to help them reach their goals, and they spoke of the sources of strength they discovered in dedicating themselves to service to others.
Critical Care
Last Mile Health, which Panjabi founded in 2007, collaborated with Partners In Health to respond to Liberia's Ebola outbreak in ways that not only provided critical care during the remainder of the outbreak but also strengthened community health systems in the long term.
"When Liberia's war ended a decade ago, I was eager to take part in its rebuilding," he said. "As a 24-year-old medical student, I went home with my wife and a heart full of hope."
Yet, what Panjabi found was utter destruction. The war had left Liberia with just 51 doctors to serve a country of 4 million people, which, he said, would be like all of Boston having roughly eight doctors.
"If you got sick in the city where those few doctors were, you stood a chance," he said. "But if you fell sick in remote villages, your odds were radically different."
A mother or a father with a sick two-year-old would have to throw the child on their back, walk to the river, get in a canoe, paddle across to the other side, and then walk two days to reach the nearest clinic just to get a diagnosis, he said.
Panjabi returned to his homeland in 2007 to found Last Mile Health, which provides employment, training and supplies that enable village health workers to deliver care in the country's hardest to reach areas.
Turning the tide
When Ebola struck Liberia, Lorenzo was among 1,300 primary and community health workers trained by Last Mile Health and its partners at the Liberian Ministry of Health and by groups such as Partners In Health and Doctors Without Borders, to identify sick people, get them treatment, and trace their contacts to prevent further spread, Panjabi said.
At the time, the models of the epidemic were predicting that if nothing more were done, Liberia and West Africa would soon see 20,000 people die every week, Panjabi recalled.
"Not only did the team stop that outbreak, but the work of countless caregivers like Lorenzo—clinicians, mothers, fathers, brothers and sisters—helped fight Ebola all across remote parts of Liberia."
On May 9, the WHO declared Liberia free of Ebola.
For the HMS and HSDM graduates, Panjabi offered an exhortation: "I challenge you to practice selflessness as a discipline," he said.
"Fellow caregivers, I believe selfless acts lie at the center of the caregiver's soul. I believe selfless acts give us the power to change the world. And I believe in you."