A Place to Think
HMS unveils new student study and collaboration center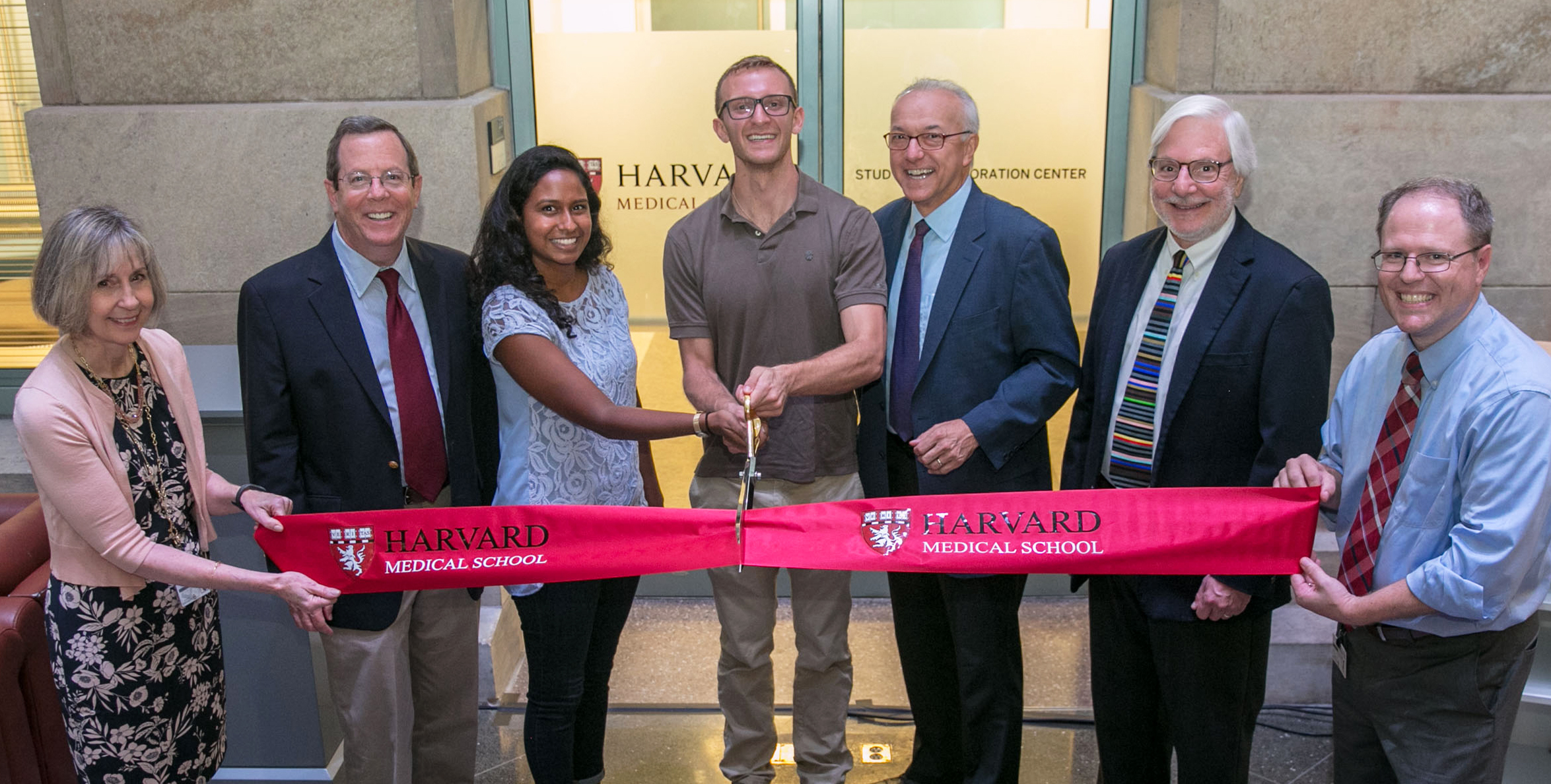 The Tosteson Medical Education Center is no stranger to renovations. Where once high plywood walls covered the west side of the TMEC atrium, there is now a welcoming space for HMS/HSDM students furnished in blues and earth tones.
"This building did not look like this when I was a medical student," remarked HMS Dean George Q. Daley, as students, faculty and staff gathered on the afternoon of Sept. 5 in the TMEC atrium to celebrate the opening.
The new student study and collaboration center is located directly across the atrium from the newly-renovated offices that are now home to four of the five HMS academic societies, the Office of Student Affairs and the Office of Recruitment and Multicultural Affairs.
Spanning 4,700 square feet, the new center features a seating area with an electric fireplace and sofas, as well as study carrels and meeting rooms. The center also houses a multipanel digital display that features images of events and of students, faculty and staff in the HMS medical education programs.
View related photo gallery here.
Second-year MD candidate and HMS student council co-president Derek Soled said he and the other students were previously spread throughout the Longwood medical area and beyond.
The new center "centralizes everything," Soled said, expressing his gratitude by thanking the School's administration for continuously factoring in students' feedback. "This is a testament to the administration's dedication to students ... a good place for a community."
"Many, including students, have contributed to the success of the new center," Daley said in his remarks, thanking especially Jane Neill, associate dean for medical education planning and administration, and Bruce Maclntyre, HMS TMEC renovation project manager, who both oversaw the construction.  
"I'm so excited to be celebrating this," said Edward Hundert, HMS dean for medical education. "I've been hearing from all the students who have been using [the study and collaboration center] and they really love it."
The renovation work has always been about the community, Daley said, adding that the new common area will serve as a convenient and safe space for medical, graduate and dental students to commingle, collaborate and exchange ideas.
David Golan, dean for basic science and graduate education at HMS, recalled that in the past, medical and graduate students almost never ran into each other, citing the lack of a dedicated space at the school as a primary factor.
"It was almost like they were learning in parallel universes," he said. Now, none of the students will have to go out of their way to find a place, Golan said, and they can come together to study and collaborate.
According to Neill, a significant degree of design work, including the artwork, was based on feedback from students received through multiple surveys conducted over the past few years.
Neill said that she hopes to feature student art and exhibits on one large unoccupied wall, noting that the center will present its first exhibit of student art, "Resilient: Narratives of Hope from Boston's Opioid Crisis," sometime in November.
The center is the third phase of renovations undertaken in TMEC, beginning with the Clinical Skills Center in 2013 and the Learning Studio suites, which opened in 2015.
The last phase of this project, new furnishings for the atrium, is slated for completion in January 2019.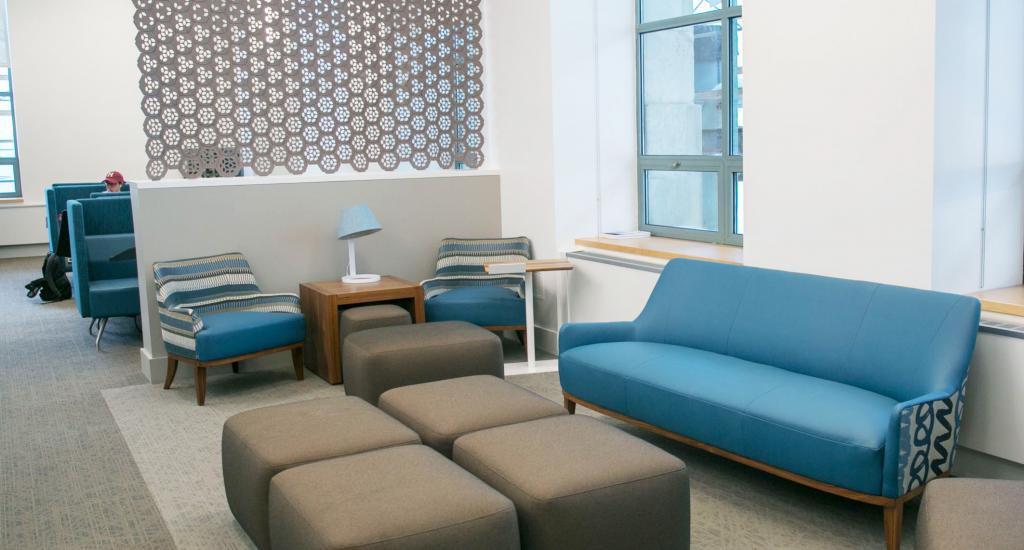 New student study and collaboration center on TMEC's second floor. Image: Bethany Versoy