The Pandemic's Next Chapter?
COVID-19 experts discuss global health equity, relaxing restrictions, the evolution of the contagion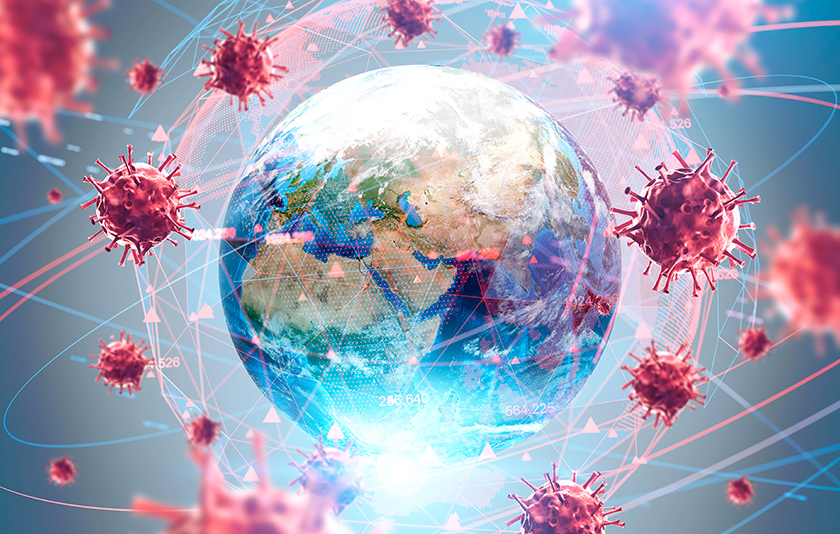 ismagilov/iStock/Getty Images Plus
This article is part of Harvard Medical School's continuing coverage of COVID-19.
Experts from the Harvard Medical School-led Massachusetts Consortium on Pathogen Readiness, or MassCPR, respond to ongoing questions about the COVID-19 pandemic.
Harvard Medicine News: What does this week's "weather report" on the pandemic look like?
Lemieux: Overall, things look good. Cases are dropping down quickly, hospitalizations have peaked, and deaths have also peaked, but I can tell you anecdotally from being on clinical service this week that the hospital is still filled with patients, some of them critically ill. I emphasize this downward trajectory, but also the huge number of hospitalizations. It's been uniformly an omicron epidemic in our region.
What is new, however, is we are seeing the first inklings of the BA.2 subvariant takeover. What this will mean for the pandemic is still unclear. There are some preliminary data showing slightly worse antibody neutralization against BA.2, which is mostly rescued by booster doses. There are also new data showing the effect of BA.2 against monoclonal antibodies. The one monoclonal antibody, sotrovimab, that remained active against BA.1 (omicron) shows, in a preliminary study, a 27-fold drop of activity against BA.2. It is still predicted to have some activity but it's getting perilously close to a threshold where we worry about a reduction in clinical efficacy. In that context, it is welcome news this week to have FDA authorization of a new monoclonal antibody that's expected to have preserved activity.
HMNews: Where do we stand in terms of access to COVID-19 vaccines and therapies globally, and what can we do to promote greater equity?
Bassett: Vaccines are our most important intervention, but we still see a big disconnect between low-income countries, with only about 11 percent of people having received one vaccine dose, compared with high-income and middle-income countries where almost 80 percent of people have had at least one dose.
It's important to think about ways to donate more stock of existing vaccines and ways to increase production capacity and how to support this effort financially and in terms of production and technology transfer for local manufacturing. It's also important to think about how to support local health systems for distributing vaccines to the highest-impact populations, including older people, immunosuppressed individuals, and health care workers.
On the therapy side, with the current armamentarium of medications, there's minimal access to monoclonal antibodies in resource-limited settings. To me, the game changers may be the oral antiviral medications. A bright sign is that both Pfizer and Merck have reached agreements to grant sublicenses for antiviral medications to be made regionally, but even production in high-income countries is going to take some time to scale up to meet demand. Oral antivirals must be given promptly after the onset of infection, so they have to go hand in hand with diagnostic capacity. I am worried that lack of access to treatment on top of lack of access to vaccines is going to exacerbate the global inequality that we are seeing right now.
HMNews: Are there any lessons to be learned from work done on HIV?
Bassett: Looking back on our work in HIV in South Africa since 2004, I think one of the reasons why we were so successful with PEPFAR was that we weren't just thinking about the pills, but we were thinking about services that strengthen the health systems to get these pills to the people who need them. We were also thinking about testing, monitoring, and evaluation to know how we're doing and public campaigns, harnessing the power of community health workers, and the energy that went into lobbying for lower prices and ultimately for generic medications.
All these interventions had a massive effect on HIV but also had spillover effects on diseases besides HIV. Ultimately, pandemic control with vaccines and with medications benefits all of us. If the moral imperative of doing the right thing doesn't appeal to some people, then the idea of using vaccines and treatments to mitigate SARS-CoV-2 replication and lessen the likelihood of new variants emerging should be appealing. We do have to put global equity at the center of the agenda.
HMNews: What criteria should be used to decide when to relax restrictions?
Hanage: I am afraid I have to answer this question with another question: What do you want to achieve? What is your goal? The amount of effort you're going to put in depends on what you want to achieve and on the shifting landscape in terms of people who are immune, the amount of vaccination that's been rolled out, and the efficacy of vaccination in preventing the most severe outcomes, such as hospitalizations and deaths.
While cases were going up, we heard a lot about how it was important to not look at the cases but to look at the hospitalizations and the deaths. This also remains true when cases are coming down because there's a lag between cases and hospitalizations and deaths. We're now seeing more transmission among the older, more vulnerable populations. We've known for a long time there are stark disparities by age in terms of who's most vulnerable, most likely get severe COVID, most likely to be hospitalized, and most likely to die.
The first wave of infection is predominantly among younger folks that then filters into older people. So relaxing restrictions right now is going to prolong the point of high force infection in the community, and these most vulnerable people are going to be at risk. We've heard a lot about European countries removing restrictions. Broadly speaking, the per capita mortality rate in Massachusetts from omicron at its peak is roughly twice what the rate is in some of those European countries. There are a lot of reasons for this, but a large part of the difference is the extent to which we've managed to vaccinate those most at risk. About 90 percent of people 65 years and older have been vaccinated and boosted in the U.K. In the United States, as we all know, it's substantially less than that.
In planning for relaxing restrictions, it'd be important to look at cases as they are coming down and anticipate what the consequences would be of more infections in terms of hospitalizations and deaths. Because relaxing restrictions will lead to more infections, we have to decide how much more we are willing to allow—that's a difficult problem. Frankly, it's not a question for epidemiologists but for elected officials. If they decide what they want, we can help them achieve it.
HMNews: What's the outlook for the pandemic in the near term? Is the worst behind us?
Lemieux: In the near term, to determine what a BA.2 outbreak looks like, we can turn to South Africa, where the beginning of BA.1, or omicron, was marked by extremely rapid, exponential rise and a huge surge in cases. We've seen BA.2 outcompete BA.1 and BA.2 South Africa, but in contrast with BA.1, BA.2 isn't causing a commensurately sized epidemic in terms of case counts, hospitalizations, and deaths. There are probably many reasons, but chief among them is the combination of vaccination and convalescent immunity, which left a lot of immunity in their wake.
We have to hold this notion along with two other thoughts: One is that the situation as it stands now in the United States is really bad. There are a lot of patients in the hospitals, and this level of morbidity and mortality is unacceptable. The other thing we have to keep in mind is that the variants have come out of nowhere in the past and may do so again. We will have to find ways to manage the morbidity and mortality as we reopen society and remain vigilant for variants that will most certainly continue to emerge. I am incredibly optimistic but with those significant caveats.
Luban: I am quite optimistic, but not infinitely so. The vaccine data we've seen in every context is extremely heartening. The level of vaccine protection against hospitalization and death is huge. On the other hand, drug development has been slow. Repurposing of drugs for viral infections is an area people have been working on for quite some time, but one where there hasn't been a lot of success. To make a big dent in a viral infection, you have to tailor the pharmaceutical to the virus. Going forward, we don't know what this virus is capable of, and there have been plenty of surprises. Locally, the numbers are going down, but we still have about 50 infections per 100,000 people in the Boston area. We have to get well into the single digits to contain the ongoing spread of the virus. There has to be a sensible and measured approach to letting our guard down.