Online Learning Goes Pro
New HMX Pro courses bring cutting-edge medical knowledge to professional audiences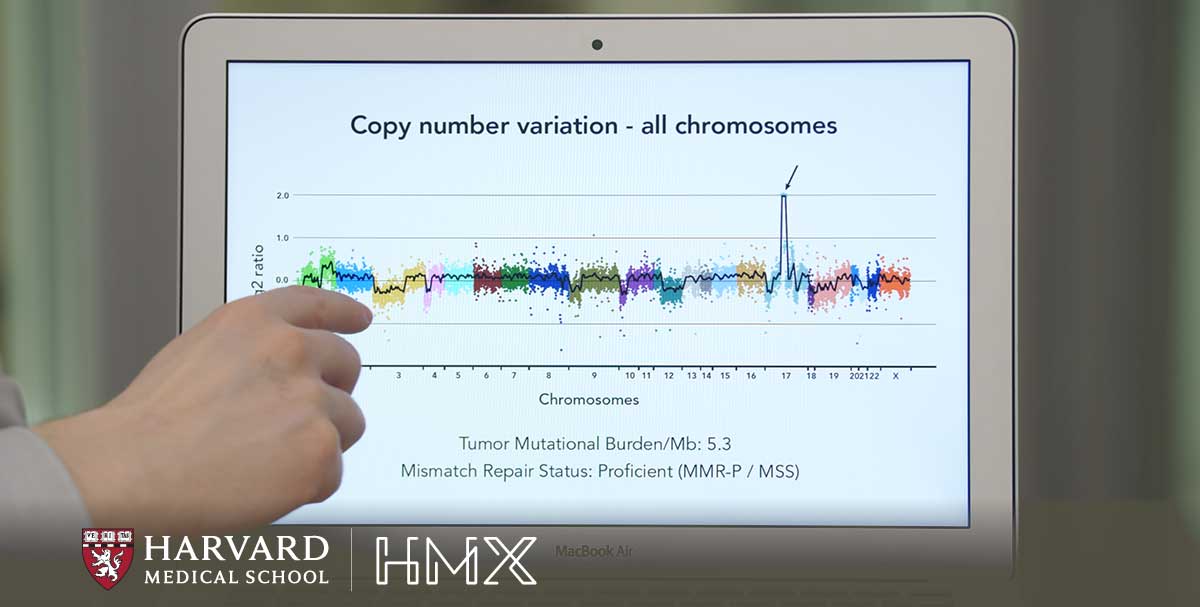 The global health care and life sciences industries are changing rapidly due to advances in research and technology, with worldwide spending projected to surpass $10 trillion in 2022. This rapid growth has major implications for established organizations and emerging startups alike, increasing the need for professionals who understand the science driving the future of health care.
In response to this increasing need for medical science knowledge across a broad range of job roles, Harvard Medical School is launching HMX Pro, a new series of online courses designed for working professionals in health care and in the life sciences that will cover advances in fields like genetics, immunology and pharmacology. HMX launched its initial online programs, HMX Fundamentals, in 2015.
"While delivering HMX courses to learners around the world, we've seen significant interest from professionals in a variety of roles who want to enhance their understanding of medical science to take on new challenges," said Michael Parker, associate dean for online learning at HMS and faculty director of HMX.
The HMX learner community includes science and business professionals from companies such as Celgene, Bristol Myers-Squibb, Janssen, Merck and others. Companies including Google, Novartis and Moderna Therapeutics have offered the courses to groups of their employees to emphasize the role of learning in keeping pace with change.
"HMX gives us the opportunity to meet the need for more medical training and more awareness about medical topics," said Irene Nyavor, program manager at Google, who helped to bring HMX courses to employees.
"I've found all the courses to be tremendously helpful," said Siyan Xu, senior principal biostatistician at Novartis. "They are challenging in a positive way."
The new HMX Pro courses were developed for those who want to get up to speed on emerging topics in medical science for specific projects, applications or research, with learners ranging from scientists taking on new research areas to business leaders who want to better understand their products and more effectively collaborate across disciplines.
The initial courses cover key topics that are transforming health care, including cancer genomics and immuno-oncology.
"Advances in genetics and immunology have significantly changed cancer diagnosis and treatment," said Parker. "Anyone whose work intersects with cancer needs to understand the science driving these cutting-edge applications."
Advanced HMX Pro courses such as cancer genomics and immuno-oncology are intended for learners with some background in the underlying topic; those who require an introduction can opt to take additional HMX courses that provide the key knowledge needed to get the most out of the experience.
As with all HMX courses, the HMX Pro series incorporates the latest advances in learning science to provide an engaging experience led by HMS faculty. Each lesson includes whiteboard-style videos and detailed animations, with concepts reinforced by interactive elements, true-to-life scenarios and real patient cases to enhance learning.
Participants test their understanding through ongoing, rigorous assessments; topical experts are available to answer questions as needed. Each HMX Pro course is intended to take between 10–20 hours to complete. Participants are eligible to earn a certificate from HMS based on their performance in each course.
Applications are currently being accepted for the first HMX Pro course period, which runs April 7 - June 19. In addition, custom programs are available for interested organizations.
For more information about HMX, visit onlinelearning.hms.harvard.edu/hmx.