Mobilizing Against COVID-19
Global task force highlights potential of mobile health technologies in pandemic response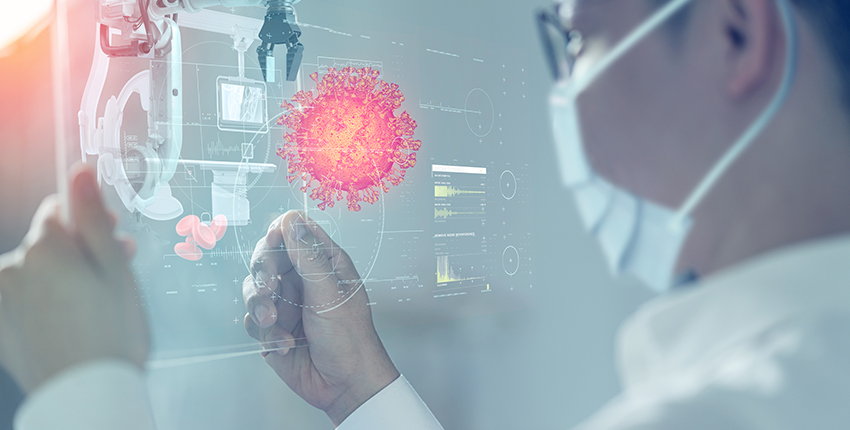 Image: Thinkhubstudio / iStock / Getty Images Plus
This article is part of Harvard Medical School's continuing coverage of medicine, biomedical research, medical education and policy related to the SARS-CoV-2 pandemic and the disease COVID-19.
Existing mobile technologies could be deployed to monitor COVID-19 patients while they are isolated at home—to predict symptom escalation for earlier intervention and to enable early detection of outbreaks in hospitals and other high-risk settings—according to a study published August 7 in the IEEE Open Journal of Engineering in Medicine and Biology.
The research was the work of a 60-person task force of experts from around the world organized by the team at the Motion Analysis Lab at Spaulding Rehabilitation Hospital led by Harvard Medical School scientists.
The aim of the study was to review mobile health (mHealth) technologies and explore their use to monitor and mitigate the effects of the COVID-19 pandemic, the researchers said.
"To be able to activate a diverse group of experts with such a singular focus speaks to the commitment the entire research and science community has in addressing this pandemic," said Paolo Bonato, HMS associate professor of physical medicine and rehabilitation at Spaulding, director of the Motion Analysis Lab, and lead author on the study. "Our goal is to quickly get important findings into the hands of the clinical community so we continue to build effective interventions."
Telehealth usage and mHealth technologies have gained the attention of the public at large, especially during the pandemic. While telehealth has allowed patients to stay connected for ongoing appointments and check-ins, wearable mHealth technologies provide a significant opportunity for data collection., the researchers said.
One potential use for the technology would be to monitor patients with mild symptoms who have tested positive for COVID-19. These patients are typically instructed to self-quarantine at home or undergo monitoring at community treatment centers. However, a portion of them eventually experience an exacerbation, namely the sudden occurrence of severe symptoms, and require hospitalization. In this context, the researchers noted that mHealth technology could enable early detection of such exacerbations, allowing clinicians to deliver necessary interventions in a timely manner thus improving clinical outcomes.
The researchers also found that smartphone applications enabling self-reports and wearable sensors enabling physiological data collection could be used to monitor clinical personnel and detect early signs of an outbreak in health care settings, like hospitals and nursing homes, where the risk of COVID-19 is especially high.
They also noted that early detection of COVID-19 cases could be achieved in communities by building upon prior studies which showed that by using wearable sensors to capture resting heart rate and sleep duration it is possible to predict epidemic trends for illnesses like COVID-19.
"The better data and tracking we can collect using mHealth technologies can help public health experts understand the scope and spread of this virus and, most importantly, hopefully help more people get the care they need earlier," said Bonato, who is also associate faculty at the Wyss Institute for Biologically Inspired Engineering. "Our hope is to build on more studies from here and continue to expand our understanding."
Adapted from a Spaulding news release.