Minimizing Malaria
2015 Alpert Symposium celebrates pioneers in infectious disease research, treatment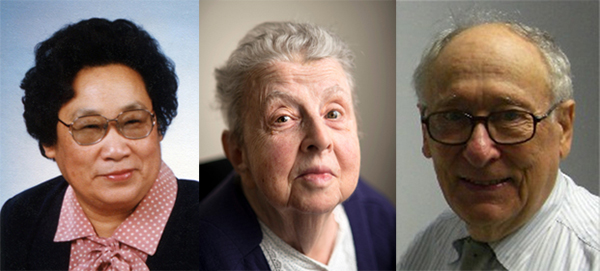 From left: Alpert Prize winners Tu Youyou, Ruth Nussenzweig (image courtesy NYU Langone Medical Center) and Victor Nussenzweig
Basic biomedical research may take decades of meticulous effort to come to fruition, but it can be an enormous pleasure for the scientists who pursue it—even more so if their work leads to improvements in global health.
Speakers reiterated this sentiment at the 2015 Warren Alpert Foundation Prize Symposium, held Oct. 1 in the Joseph B. Martin Conference Center at Harvard Medical School.
The symposium, "Vaccines and Therapeutics in the Developing World: Malaria and Beyond," honored Ruth S. Nussenzweig and Victor Nussenzweig of the NYU Langone Medical Center and Tu Youyou of the China Academy of Chinese Medical Sciences, Beijing, who received this year's prize.
They were recognized for their pioneering discoveries in chemistry and parasitology and their personal commitment to translating these discoveries into effective chemotherapeutic and vaccine-based approaches to control malaria.
On Oct. 5, Tu was named one of three scientists awarded the Nobel Prize in Physiology or Medicine 2015, for her work that led to the development of the malaria drug Artemisinin, which is today the primary drug physicians use to treat people infected by the malaria parasite.
"These three scientists truly exemplify how the slow and painstaking work of basic biology can mean the difference between life and death for millions of men, women and children," Jeffrey S. Flier, dean of the Faculty of Medicine at Harvard University and chair of the Warren Alpert Foundation Prize scientific advisory committee, said at the Alpert Symposium.
"Your work has been transformative and your contributions immeasurable," Flier said.
"This year's Alpert Prize recognizes basic science research that has transformed public health on a global scale, benefiting hundreds of millions of people, including primarily those from resource-poor environments," said symposium co-moderator Dyann Wirth, chair of the Department of Immunology and Infectious Diseases at the Harvard T.H. Chan School of Public Health and a member of the prize committee.
"These are truly life-saving innovations," Wirth added. "As a global health community, we are deeply indebted to Ruth, Victor and Tu Youyou for their perceptiveness, perseverance and passion for solving these problems."
By recognizing Ruth Nussenzweig and Tu Youyou, the only women to receive the prize so far besides Susan Band Horwitz in 2004, the symposium also honored the efforts of female scientists who were leaders in their fields at a time when few women pursued research as a profession.
"They are an inspiration not only to young women in our midst who are pursuing careers in academic science but to all of us who aspire to improve public health every day," said Wirth.
Victor Nussenzweig, the only prize recipient to speak at the event, told the story of how his wife and co-recipient discovered a way to protect against the malaria parasite in mice. Their work led to a vaccine that has passed all clinical trials and is now under regulatory review.
"My contribution is insignificant, really, in comparison to what Ruth discovered," he said.
The scientific symposium portion of the program featured five invited speakers who described recent advances in malaria drug discovery and development as well as progress in reducing the burden of other infectious diseases with similar global impact, such as HIV and tuberculosis.
The program concluded with a talk by Stephen Elledge, the Gregor Mendel Professor of Genetics and of Medicine at HMS and professor of medicine at Brigham and Women's Hospital, who recently received the 2015 Albert Lasker Basic Medical Research Award.
The Alpert Prize recognizes one or more scientists whose scientific achievements have led to the prevention, cure or treatment of human diseases or disorders, or whose research constitutes a seminal scientific finding that holds great promise of ultimately changing our understanding of or our ability to treat disease. Nominations are currently open for the 2016 prize.