Making Healing Affordable
Low-cost wound therapy pumps make lifesaving difference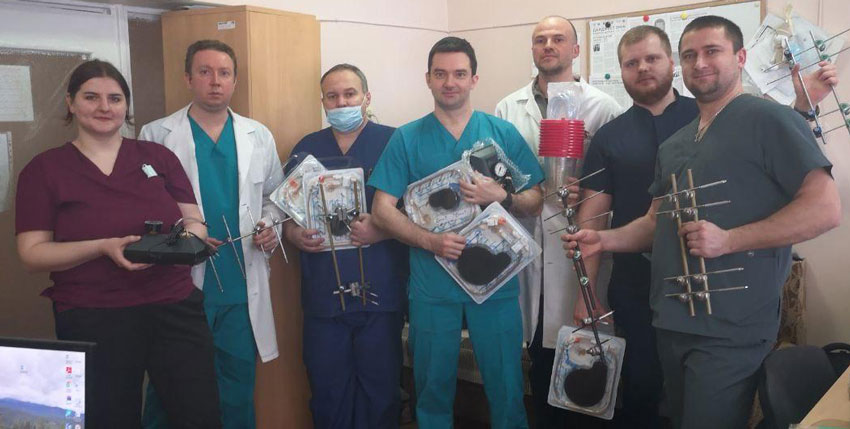 Physicians and health care providers at Dnipro Regional Children's Hospital in Ukraine display wound therapy pumps and other medical equipment sent from the U.S. Image: Courtesy Viktor Rokutov.
The photos Kiran Agarwal-Harding received from a fellow physician at the Dnipro Regional Children's Hospital in Ukraine were heartbreaking. One showed a young boy whose legs had been severely injured in a landmine blast. The child was but one of thousands of casualties in the ongoing Russian attacks on the eastern European nation since Feb. 24.
"He sent me this devastating photo, a 7-year-old boy who had obviously stepped on a land mine and had horrible wounds and burns to both legs," said Agarwal-Harding, an orthopedic surgeon and Harvard Medical School graduate.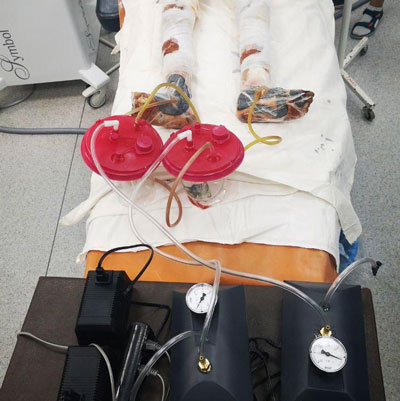 Viktor Rokutov, working in Dnipro, Ukraine's fourth-largest city, sent the photos to show Agarwal-Harding how a shipment of 17 negative-pressure wound therapy pumps from the U.S. were being used to treat patients in Ukraine. The need for the devices was underscored when hospitals in three other Ukrainian cities quickly requested 50 additional pumps.
Agarwal-Harding founded and directs the Harvard Global Orthopaedics Collaborative, which has been working to develop the kind of low-cost negative-pressure wound therapy pumps that were sent to Ukraine and are always in short supply, if available at all, in many underresourced countries around the world.
In addition to their use in saving limbs injured during war, the pumps could help the millions of people globally who sustain severe orthopedic wounds every year but who do not have access to the technology because the pumps are prohibitively expensive. In the U.S., the cost can be as high as $40,000 each, Agarwal-Harding said. But they can save limbs and lives.
"Open fractures are extremely common during wartime, occurring after blast, crush, or gunshot injuries to the arms and legs," he said. "Without modern negative-pressure wound therapy, patients have an increased risk of wound infection. If an infection spreads to the bone, it's called osteomyelitis, an extremely hard problem to solve. So, the tendency in resource-limited settings is to amputate. A lot of patients will lose their limbs because it's just too challenging to attempt limb salvage without the right tools. This is especially devastating when it happens to a child who has their whole life ahead of them."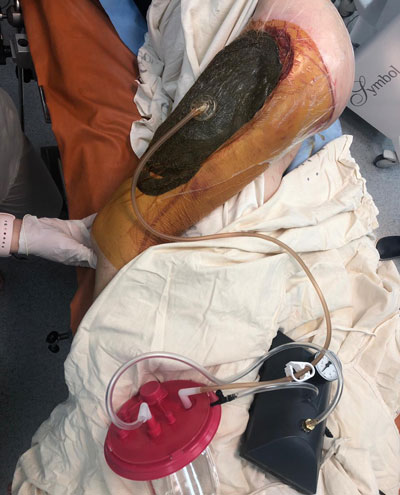 Negative-pressure wound therapy is not new. Orthopedic surgeons in hospitals in high-income countries have routinely used the pumps to manage open fractures and complex wounds for years. The pumps extract fluids by applying a low, gentle, negative pressure suction to wounds. Removing fluids keeps lesions dry, reduces infection risk, and aids healing.
"It's a very effective method of managing complex wounds, keeping them clean," said Agarwal-Harding. "If you have an open fracture, for example, with a large soft-tissue injury, you often can't close the wound to cover the broken bones. Negative-pressure wound therapy keeps the wound clean and protects the bone from infection until you can cover the wound with a soft tissue flap. If you have complex wounds that are infected or contaminated, negative-pressure wound therapy can also help pull out some of that contamination, and it will help the wound start healing from the inside out."
But that healing can happen only if the pumps are available, and making them available is the idea behind the collaborative's project called VATARA, or Vacuum-Assisted Wound Therapy–Affordable for All. The goal is to make basic wound therapy technology affordable for all patients, especially in underresourced settings or during humanitarian crises.
The group developed a prototype pump that costs about $100 to produce. In collaboration with and through the support of Jonathan and Linda Haar of the Darwin Project, they sent eight pumps to Henry Ndasi, a physician at Baptist Hospital Mutengene in Cameroon. A clinical study there indicated good results using the pumps.
Following the 2021 earthquake in Haiti, the group sent 10 pumps to Pierre Marie Woolley, a physician in Port-au-Prince. In fact, it was in Haiti in 2018, Agarwal-Harding said, that physician Christina Dejean first demonstrated her prototype for a low-cost pump called the Turtle VAC. Dejean's prototype was inspired by one that had been developed by physicians working with COAN, a nonprofit surgical mission in Nicaragua.
Dejean's version then inspired VATARA's first prototype, which is now being improved under guidance from VATARA advisers Ara Nazarian, Aron Lechtig, Jonathan Haar, and Andrew Deagon.
Shoot for the stars
"We want every patient who needs it to have it, across the world. Maybe that's ambitious, but I like to say, you shoot for the stars, and if you fall somewhere short of that, that's still slightly better," said Sara Al-Zubi, a third-year HMS student.
Al -Zubi joined the VATARA team last fall after participating in an orthopedic subinternship at Beth Israel Deaconess Medical Center, where Ken Rodriguez, HMS associate professor of orthopedic surgery and chief of orthopedic surgery at Beth Israel Deaconess, connected her with Agarwal-Harding and VATARA.
Al-Zubi, who emigrated to the U.S. from Jordan as a child and whose family came from Ramtha, near the Syrian border, said she was interested in getting involved with a project that could contribute to improving health care on a global scale.
"I have grown up with the impact of war. The city I'm from tripled in size during the Syrian civil war, and there's one hospital. Just growing up in that context has really made this something I have cared about for a long time," she said. "I actually see the VATARA project as a really exciting opportunity to start the path of how do we do this and how do we deliver products that are sustainable and effective and provide the best quality of care?"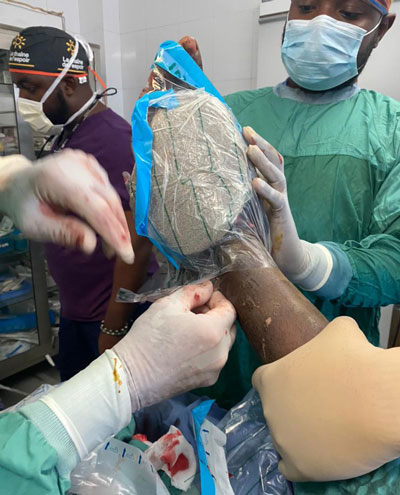 Rodriguez enlisted Al-Zubi, who already had an MBA, to spearhead an entrepreneurial effort to get the affordable wound pump into mass production and distributed in countries where the need is great.
One of her first endeavors was to work with Agarwal-Harding to apply to the Harvard President's Innovation Challenge, which provides award funding for development of promising projects. The VATARA project is now one of 25 finalists.
Rodriguez said connecting students with projects that can advance health equity is an important part of their medical education.
"My vision for the department is not just to provide excellent state-of-the-art orthopedic care. Translational initiatives and global health are also core aspects of our research and educational mission that I would like to promote," he said.
"VATARA came up from a strong tradition in our department of developing, testing, and formulating low-cost devices and orthopedic technologies," he added. "Several of our residents have been involved, including Dr. Agarwal-Harding, who will soon be rejoining us as faculty, and current residents like Aron Lechtig, who came to our residency program after leaving Venezuela. Many of our trainees and faculty have experience working in low-resource settings and understand the difficulties and frustrations of providing care in these settings and securing access to valuable health care technologies."
The vacuum-assisted therapy "has huge applicability right now for places like Ukraine," where surgeons are dealing with open wounds from high-energy trauma, such as that caused by gunshots or blast injuries, Rodriguez said.
Although cities in Ukraine currently under fire likely had better access to more sophisticated pumps before Russia attacked, he said, that's not the case now, and they need more. The VATARA group is scrambling to find a way to rapidly produce and deliver them.
An experienced surgeon, Rodriguez said time is always critical in the case of trauma injuries that can result in loss of limb or life and which can have long-lasting and deadly outcomes.
"It could be a death sentence, or it could be certainly a sentence to poverty, because if you can't walk you may not be able to support your family. So, it's not just you who loses any kind of potential to work, but everyone who depends on you suffers as well. The epidemic of trauma and its socioeconomic implications worldwide is devastating to a degree that most people don't realize," he said.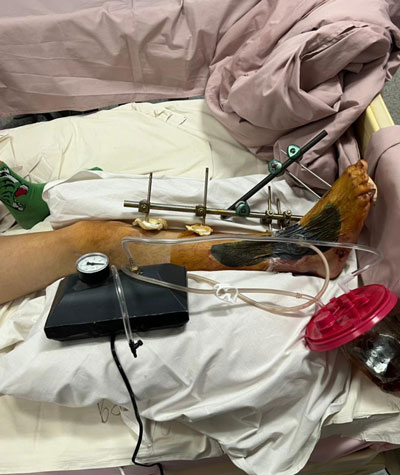 Agarwal-Harding said the group's goal is to make the pump "available to the poorest people in the world and in places where it is most needed, like Ukraine right now."
If they can find a cost-effective way to manufacture and distribute the pump where it's needed, he said, it might even stimulate economies in resource-limited locales. He said he is in regular contact with countries such as Ethiopia, Ghana, Kenya, Malawi, and Zambia, that are asking for the technology.
"We're trying to serve the poor. That's the objective: a social enterprise where any profit we make is going back into making this technology more affordable, and more available, to patients in need all over the world. That's the goal," he said.
The group is also working on a prototype for a low-cost external fixator, a cousin to the wound vac that is also used to manage open fractures. In the case of a blast or crush injury, Agarwal-Harding said, a wound vac helps protect and heal soft tissues, but a fixator creates an external frame that lengthens and stabilizes the limb. Its clamps alone can cost $400 apiece, but the Harvard group is developing a clamp that can be produced for less than $5, he said. Biomechanical testing is underway.
"I think this is what our mission is," said Rodriguez. "Our mission is not just to provide clinical care in the city of Boston. Our mission is to educate future generations of surgeons and traumatologists to take care of trauma everywhere. We have a mission of education. We have a mission of research. We need to use our resources to be able to do good everywhere."