Integrity and Trust
Harvard-MIT global conference explores science of evaluating new medicines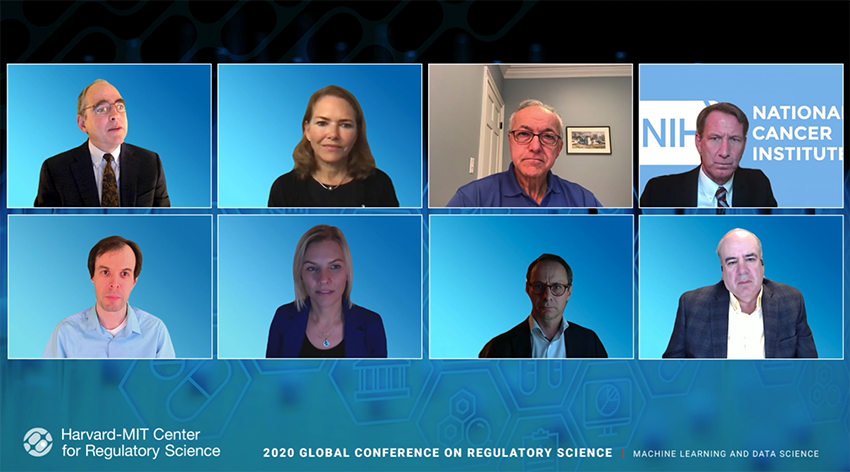 "Even with all the best science, we can't generate the change we hope for if people don't trust it. Even a safe and effective vaccine won't help control the COVID-19 pandemic if people won't take it," said Margaret Hamburg, former commissioner of the FDA.
Hamburg was speaking to scientists and health care leaders from across academia, government and industry who gathered recently to discuss the evaluation and regulation of new medicines at the first annual Global Conference on Regulatory Science, held virtually on Oct. 20 and 21.
While machine learning and data science were the conference themes, fundamental issues of integrity, transparency and patient trust in science were a refrain, the importance of these underlying issues starkly illuminated by the challenges posed by the COVID-19 pandemic, said Hamburg, who gave the keynote address.
"For me, and I suspect or most of you, this is just enormously worrisome," she said. "It's a powerful reminder that integrity and the trust it generates is such an essential foundation of everything else."
Scientific discoveries and technologies with the potential to transform human health emerge almost daily, and regulatory agencies like the FDA and its peers around the world have faced mounting challenges as they strive to keep up with the accelerating pace of innovation—challenges that have been amplified by the urgent need for therapeutics and vaccines for COVID-19.
Building trust among patients, balancing careful testing with timely approvals for potentially life-saving medicines, and other key topics were addressed over the course of the two-day conference, hosted by the Harvard-MIT Center for Regulatory Science (CRS), a partnership between Harvard University, MIT and the FDA that aims to further develop and improve the science of how drugs and other products are evaluated and brought to market.
"Regulatory science is an increasingly compelling opportunity for fundamental innovation and real-world impact in creating safe and effective medicines, diagnostics and devices," said Peter Sorger, the Otto Krayer Professor of Systems Pharmacology at HMS.
"Our goal is to try and improve these processes, make them more efficient, and critically, bring needed innovation to unmet medical needs," said Sorger, who co-directs the CRS with Florence Bourgeois, HMS associate professor of pediatrics at Boston Children's Hospital, and Laura Maliszewski, executive director of the Harvard Program in Therapeutic Science and the Laboratory of Systems Pharmacology.
More than 650 attendees from around the world joined in the virtual discussions, which centered on the theme of how machine learning, data science and new technologies—including telemedicine and wearable devices—are changing drug development, clinical trials, medical care and more.
Speakers and panelists included Norman Sharpless, director of the National Cancer Institute; George Q. Daley, dean of HMS; Amy Abernathy, principle deputy commissioner of the FDA; and a broad range of leaders from academia, hospitals, government and industry.
Shared responsibility
The process of regulating new medicines and biotechnologies begins with scientists themselves, noted Daley.
"Scientists bear the responsibility to participate in a shared governance model that invites transparent and independent oversight," he said, highlighting the Asilomar conference in 1975, when an international group of scientists came together to create voluntary guidelines for the manipulation of DNA, then a novel technology.
This established a precedent for self-regulation by scientists, which then informed subsequent regulation by government agencies.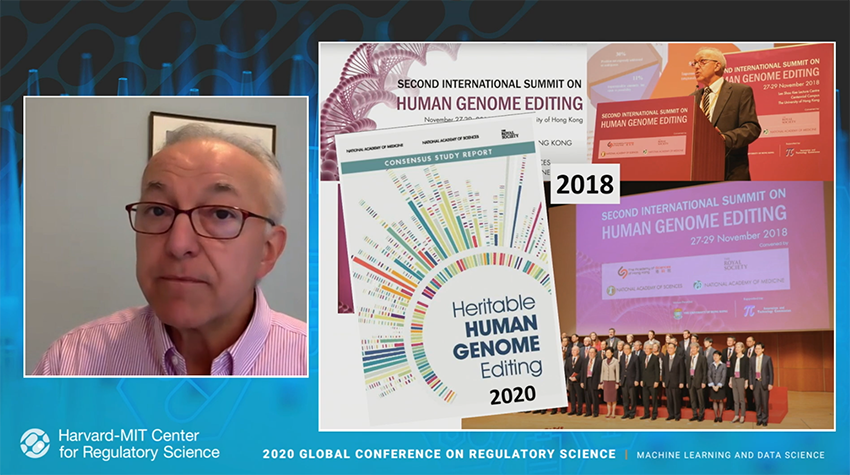 The need for the scientific community to engage in self-governance has only increased in urgency, with the remarkably rapid emergence of CRISPR gene-editing approaches that can make permanent, heritable changes to an individual's DNA. At a meeting in 2015, Daley joined a cohort of scientists, including Jennifer Doudna, now a Nobel laureate, to strongly discourage germline genome editing.
"We knew that this would have to be a prohibition that would be practiced by scientists and clinicians themselves, because the knowledge was emerging so rapidly it wasn't clear that the regulators were going to be ready to catch up," said Daley.
But in 2018, a rogue scientist illicitly edited the genomes of two embryos that were carried to term in China, sparking international controversy. If there is ever to be a possible safe and ethical path forward for emerging technologies such as germline editing, it must be paved by the open cooperation and collaboration of scientists, regulators, and importantly, the public, Daley said.
The payoff for this kind of cooperation can be enormous, and perhaps the best examples can be found in recent successes in the development and approval of new cancer medicines, said Sharpless.
"I predict that 2020 will be the best year thus far for cancer drug approvals," said Sharpless. "That progress has occurred during a time when the FDA has been besieged by a global pandemic."
A historic surge of new cancer medicines has entered the U.S. market in recent years, Sharpless added, a windfall that stems from decades of productive research on cancer biology and therapeutics.
An improved scientific understanding of cancer has led to the development of new medicines that have prompted new approaches to regulation by the FDA. Some cancer drugs demonstrate such efficacy in small-scale clinical trials, he noted, that it can become essentially unethical to withhold them while waiting for large phase III trials to finish.
"This has been a change for the regulatory thinking of the FDA, and I would argue has been a change for the good of the patients," Sharpless said. "It has made agents available to patients at a sooner date and led the pharmaceutical industry to develop cancer drugs knowing that they can get approval at an earlier stage."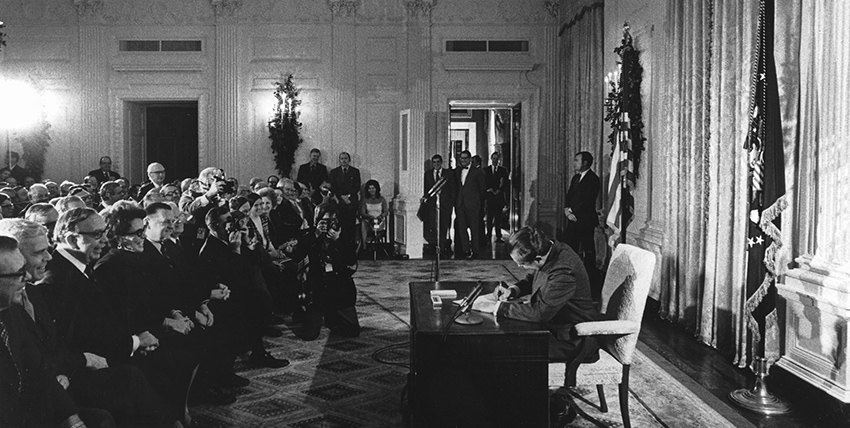 The recent successes of cancer drugs are to be celebrated, but the question of how to replicate these successes in other diseases, such as neurodegeneration and other intractable diseases, remains a pressing concern, he said.
This question was discussed by conference speakers and panelists in many different contexts, particularly the potential of emerging technologies to reshape how clinical trials are conducted in the future.
Real world
A wealth of new technologies, from telemedicine to wearable devices, are allowing physicians and scientists to engage with patients in unprecedented ways. This could have a transformative impact in medicine in many ways, including by augmenting clinical trials, speakers said.
Such technologies could enable more frequent physician-patient interaction and the continuous monitoring of real-world data and evidence—providing far more information than the intermittent site visits that most current trials use to collect data.
In addition, new technologies could help reduce disparities in access to clinical trials, panelists said, and allow for vastly improved patient recruitment, which would help ensure that new medicines are being evaluated on patients who have the best chance of benefiting.
If this potential is to be realized, patients must have confidence that their privacy and data are protected, said conference speakers and panelists.
In many ways, trust in data security and privacy are as important as any innovations in technology itself, panelists noted. This is a key issue for new digital medicine technologies and approaches, they added, and thoughtful and transparent regulation are critical.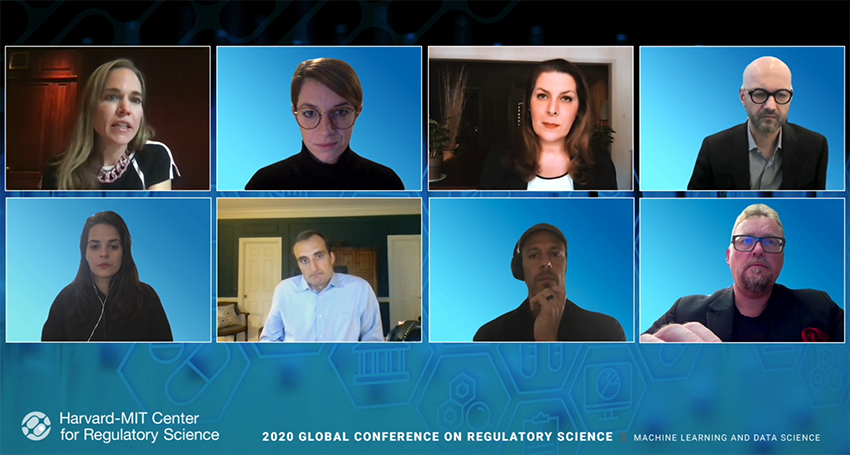 Conference speakers also addressed a wide and diverse range of other issues, including how new technologies, such as artificial intelligence and digital pathology, are transforming clinical care and how large data sources like electronic medical records are linked and mined for insights into improving health.
The rapid growth of these and many other new technologies in health care present myriad complex issues for those tasked with evaluation and regulation, speakers and panelists said. And in many cases, as with genetic engineering, decision-making will require societal discourse.
As such, neutral forums to consider and debate new innovations, policies and regulations—one of the key functions of the CRS and its annual conference—play an increasingly important role in moving the complex discipline of regulatory science forward.
"Central to this process is the ability to effectively collaborate around stakeholders, across academia, industry and regulatory agencies," said Bourgeois.
"This is where the center comes in, serving as a platform to foster interdisciplinary and multi-stakeholder conversation," she said.
"The remarkable discoveries and the acceleration and advances we are seeing in our understanding of diseases and how to treat them—these will most benefit patients if we have an efficient, rigorous and adaptable approach to the evaluation of the many rapidly emerging biotechnologies," Bourgeois said.