Hospitals Prep for COVID-19
Emergency preparedness chief on how health care systems are responding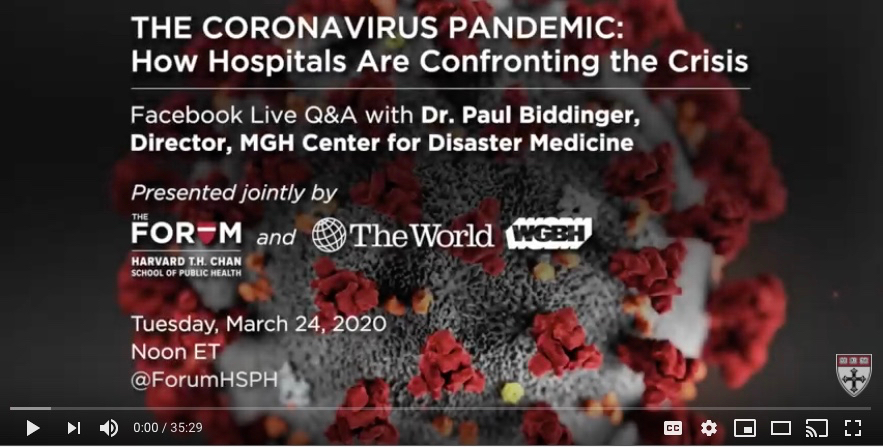 In this Facebook Live Q&A, Paul Biddinger, Director of the MGH Center for Disaster Medicine and Chief of the Division of Emergency Preparedness, describes the challenges ahead for U.S. hospitals. Image: Alissa Eckert, MS; Dan Higgins, MAM/CDC PHIL
This article is the latest in Harvard Medical School's continuing coverage of medicine, biomedical research, medical education and policy related to the SARS-CoV-2 pandemic and the disease COVID-19.
As the number of COVID-19 cases in the U.S. continues to climb, an already strained health care system is taking extraordinary measures to respond, with local hospital officials making preparations for an uncertain future.
"When you ask me what I'm most concerned about, it's what's still coming," said Paul Biddinger, associate professor of emergency medicine at Harvard Medical School and Director of the Massachusetts General Hospital Center for Disaster Medicine.
Biddinger joined Public Radio International's "The World" via videoconference this week to participate in a Facebook Live Q&A as part of the Harvard T.H. Chan School of Public Health's Coronavirus Pandemic Series.
Biddinger answered questions from community members, clinicians and public health professionals who participated in the teleconference through social media and email. 
While physicians, nurses and other hospital staff are preparing for an expected surge in COVID-19 patients, Biddinger said, critical safety equipment is still in short supply, and hospitals in areas of the country not yet hit by the biggest waves of the illness are already near capacity.
On the positive side, he said that the pandemic has also triggered unprecedented scientific data sharing and great waves of community support, with universities and academic medical centers collaborating to rapidly develop potential solutions to clinical and supply chain problems and with individuals and community groups offering to help in any way they can.
Many hospitals have begun to limit care to only the most urgent and essential services so they can free up space and staff to respond to the pandemic, Biddinger said. He noted that Mass General typically runs above 90 percent occupancy and has been holding at 60 percent for the past week because of these planned reductions in care.
"That still means that we're two-thirds full with necessary medical care," he said, including regular medical needs such as childbirth, strokes and urgent cancer treatments, which cannot be rescheduled or postponed.
One participant asked whether any of the options proposed for ramping up production of essential personal protective equipment for hospital staff could have an impact anytime soon.
"Soon is the right word," Biddinger said, noting that his colleagues in Boston anticipate that the peak wave of patients is expected to hit the city in three to five weeks.
"If there are ways to get us appropriate equipment, we absolutely need it," he said. "Any solution that's going to take months is not going to be able to help us in time."