Heart of Justice
HMS dean addresses graduates on the inalienable human right to health care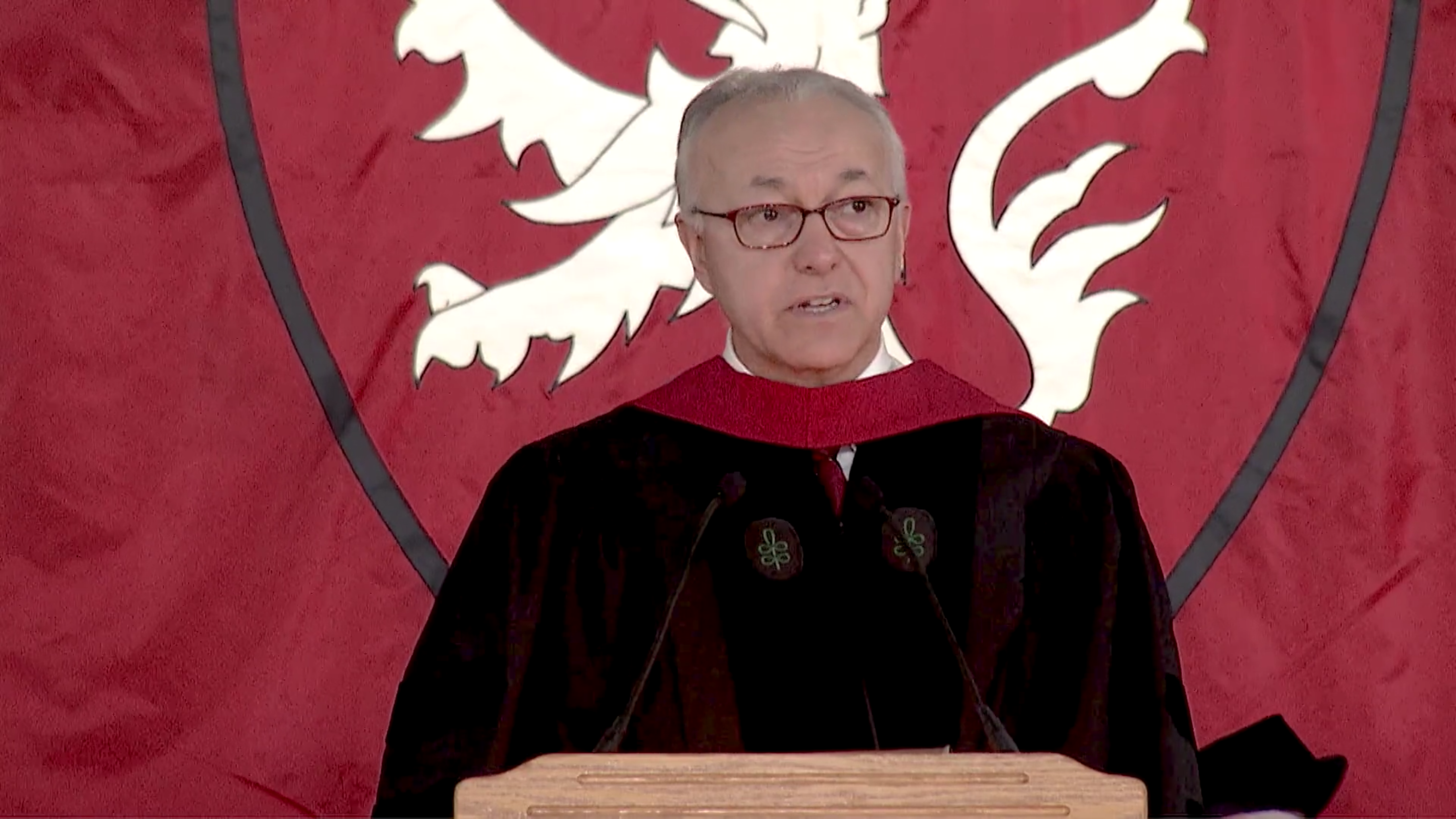 Good afternoon!
I am thrilled to witness this gathering today of family, friends, mentors. We are here to celebrate you, the Class of 2018.

I will address my words directly to our exceptional HMS graduates. Today is the last day I stand in front of you as your dean, and the first day I stand with you as your fellow physician.
Read more about HMS/HSDM Commencement and Class Day here.

That makes me incredibly proud. And enormously hopeful as well.
Throughout your careers as physicians, you will treat thousands of patients with conditions both common and rare. You will relieve suffering for many. Despite your earnest efforts, some will die.
Some of you will make life-saving discoveries. You will develop new medicines for illnesses presently incurable. You will train the next generation of physicians, direct research labs, launch companies. You will employ your gifts to make others healthier and to make the world a more hospitable and healthier place.
Today you and your family are pondering the exciting opportunities you have rightfully earned as a graduate of Harvard Medical School.
But I encourage you also to ponder this uncomfortable truth: American health care offers the triumphs of modern medicine to many, yet leaves millions wanting for even basic health care. Recent news reported that 19 million Americans lack insurance coverage, and a significant but unknown number lack any access to meaningful health care.
This is appalling.

Consider this: What if you become a brilliant cardiac surgeon, and you have to turn away an immigrant family whose cyanotic newborn infant has a surgically treatable heart malformation but no legal status and no insurance coverage?
Dr. Atul Gawande, one of our most eloquent faculty members, recently asked in a most compelling article in The New Yorker: "Is health care a right?"
What do you think?
Is health care one of the inalienable human rights asserted in the Declaration of Independence, one of those rights granted by our creator, a right our government is charged to protect?
Is health care a means by which a just government ensures that its citizens enjoy "life, liberty, and the pursuit of happiness?"
Or has health care in the U.S. become a privilege, accessible only to those with the resources to afford it?
As a practicing physician, you will confront this question with disturbing regularity.
This will no longer be a Pathways classroom discussion meant to provoke analysis and debate. This issue of health care as an inalienable right will acquire flesh-and-blood dimensions; it will have a name, an age, a medical record number and a medial history that will include pain and disability.
"Resist becoming numb to injustice. Pay heed to painful feelings. Confront inconvenient truths."
At first, these encounters will rattle you to the core. But gradually—I warn you—you'll be at risk of becoming desensitized. My advice to you—Don't.
You will be at risk of becoming comfortably numb to injustices you see in your practice, in health care, around the world. My advice to you—Don't.

You will be tempted to rationalize away inconvenient truths and reach for the safety blanket of moral relativism. My advice to you—Don't.
Health disparities, income inequality, bigotry, racism, discrimination, xenophobia; you will encounter these on your hospital rounds, in the operating room, in your labs and in your community.

These are maladies that ail modern society and modern medicine. Today, I implore you as physicians to seek to cure these ills; as surgeons, to excise them. Treating these ills requires no less urgency than pneumonia or cancer.
As you go forth into the world, I urge you to remember the core values of Harvard Medical School. These core values embody our reason for being—as clinicians, as scientists, as citizens.
Serving humanity, conducting oneself with integrity and accountability, striving for excellence through lifelong learning and growth, embracing and championing diversity, practicing inclusiveness, not elitism—these are but a few of the core values that we have worked to instill in you at Harvard Medical School.
I urge you….
Remain vigilant about biases you encounter. Remain vigilant about biases that impede your patients' access to care, biases that taint their outcomes.
I urge you….
Respect and seek counsel from those who are different from you. Just as diversity propels biologic evolution, so it enriches us as clinicians, as scientists, as people.
I urge you….
Resist becoming numb to injustice. Pay heed to painful feelings. Confront inconvenient truths.
Today I urge you: Yes, use your talents to discover new treatments for Alzheimer's, for diabetes, for cancer.

Today I also urge you: Use your formidable medical skills to diagnose and treat the darker pathologies, those insidious behaviors that drive a wedge between races, ethnicities and religions. These are ailments every bit as worthy of your incisive medical attention.
Today I urge you to diagnose and to treat them.
Martin Luther King Jr. once said, "of all the forms of inequality, injustice in health care is the most shocking and inhumane."
His words ring true today, more than half a century later.

The inequalities he spoke of are often subtle, at times less obvious than they were then, yet they surround us, and are insidious.
Perhaps one or more of you will pursue research that unravels the origins of the virulent pathologies that lead to health care inequalities. And it is my fervent hope that what you find will light the path to cure.
Quixotically naïve? Perhaps.

But remember, achieving equality in health care is at the heart of fairness and social justice. In my mind—and I hope in yours—it is an inalienable human right.
As our newest Harvard Medical School physicians, as you advance our mission to alleviate human suffering, remember: this is the next frontier.
This is the mission I call upon you—members of the HMS Class of 2018—to pursue.
Congratulations! I applaud each and every one of you on this great achievement in your life.
Adapted from a speech given by HMS Dean George Q. Daley on Class Day, May 24, 2018.