Grace C. Huang Named New Faculty Affairs Dean
BIDMC physician recognized for faculty development leadership
A longtime leader in faculty development at Beth Israel Deaconess Medical Center, Grace C. Huang, will be Harvard Medical School's next dean for faculty affairs, the School announced on Apr. 29.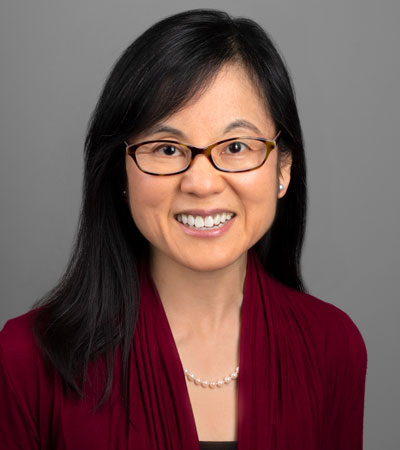 Huang, an associate professor of medicine at HMS and a hospitalist at Beth Israel Deaconess, currently serves as vice chair for career development and mentoring in the hospital's Department of Medicine. She is also director of the Office of Academic Careers and Faculty Development, as well as co-director of the Beth Israel Deaconess Academy. 
"Given her impressive past experience in faculty development as well as her leadership and scholarship, we believe Dr. Huang is optimally suited for this role," said HMS Dean George Q. Daley and Dean Anne Becker,  dean for Academic and Clinical Affairs, in a joint letter to the HMS community. 
"She is widely recognized for her leadership in faculty development, with a particular focus on publishing in medical education and scholarly writing, and is thoughtful about how to optimally recruit, develop, support, and promote our diverse faculty. She is a leader who fully embraces the importance of advancing the HMS mission," they wrote. 
Huang said she is looking forward to assuming her new responsibilities.
"I wholeheartedly believe that faculty are the lifeblood of an academic institution. My passion and mission are to help individuals reach their highest potential, not purely for the sake of promotion but for the higher cause of achieving professional vitality," she said. "Having personally benefited from the training, mentorship, and support from HMS faculty for more than 20 years, I am humbled and awed by the privilege to serve Harvard Medical School in this respect."
At Beth Israel Deaconess, Huang also serves as director of the Rabkin Fellowship in Medical Education, a program for HMS faculty designed to help develop the skills needed to launch or advance academic careers in medical education or academic leadership. She is also the editor-in-chief of MedEdPORTAL, a journal of the Association of American Medical Colleges. 
As dean for faculty affairs, Huang will be responsible for the strategic leadership, oversight, planning, and implementation for the academic welfare of the Faculty of Medicine, including all aspects of the faculty promotions and appointments process.  She will lead the Office for Faculty Affairs.
Huang will also oversee the academic activities, recruitment, faculty development, academic advancement, and career satisfaction of our diverse faculty and serve as a key advisor to faculty, department heads, and affiliated hospital leadership on these topics.  
Huang earned undergraduate degrees in English and biological sciences from Stanford University and her MD from Washington University in Saint Louis. She completed her internship and residency at Beth Israel Deaconess. She joined the HMS faculty in 2003 and has been associate professor since 2013.
Huang will assume responsibilities that have been held on an interim basis by Jules Dienstag, the Carl W. Walter Professor of Medicine at HMS, assisted by Carol Bates and Bethany Westlund, associate deans for faculty affairs. 
Daley and Becker thanked the search committee, led by Shelly Greenfield, professor of psychiatry and chief academic officer at McLean Hospital. 
Huang will officially assume her new position on July 1, 2021.