Distinctive Features
Study shows striking differences in lung injury between deceased COVID-19 and flu patients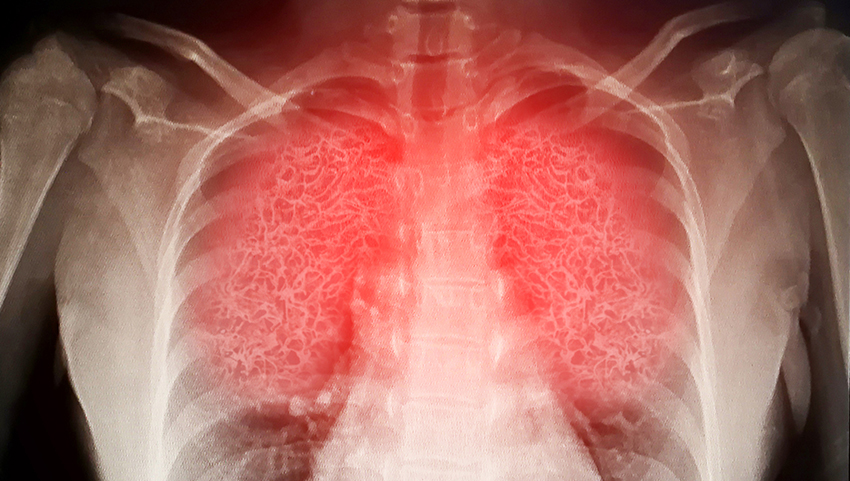 This article is part of Harvard Medical School's continuing coverage of medicine, biomedical research, medical education and policy related to the SARS-CoV-2 pandemic and the disease COVID-19.
One of the hallmarks of severe cases of COVID-19 is acute respiratory distress syndrome (ARDS), a rapid, widespread inflammation of the lungs that can lead to respiratory failure and death. But how exactly does ARDS affect the lungs of COVID-19 patients? Researchers continue to look for answers in an effort to design new treatments and clinical trials to avert this life-threatening complication.
Newly published research detailing the post-mortem features of seven patients who died of COVID-19 provides critical insights, including evidence of extensive damage to the lining of the blood vessels, abnormal blood vessel growth in the lungs and widespread blood clotting.
The study, published in The New England Journal of Medicine, was led by Steven Mentzer, HMS professor of surgery at Brigham and Women's Hospital, and done in collaboration with a team of international researchers.
To tease out the features specific to COVID-19 lung injury, the researchers compared seven lungs obtained from patients who died of COVID-19 with a group of seven autopsied lungs obtained from patients who died of ARDS caused by infection with the influenza A virus (H1N1) as well as with 10 age-matched uninfected control lungs.
While the lungs shared some common features, there were distinctive patterns in the blood vessels of the lungs of patients who had died of COVID-19.
Tissue analysis showed that infection with SARS-CoV-2, the virus that causes COVID-19, caused severe damage to the endothelial cells that line blood vessels and triggered widespread blood clotting.
The investigators found significant new blood vessel growth in the lungs of patients with COVID-19, likely a result of the body's response to the virus. This finding was unexpected, the authors wrote, and requires further research to understand the clinical course of COVID-19.
The team also identified signs of a distinctive pattern of vascular disease progression in some cases of COVID-19 compared with patterns seen in equally severe influenza virus infection.
The findings highlight these key takeaways:
While caused by a respiratory virus, COVID-19 manifests as a vascular disease that leads to severe injuries to blood vessels throughout the lungs. The damage to vascular cells may help explain why serious blood clotting has been observed in many patients.

The substantial new blood vessel growth seen in the lungs of COVID-19 patients occurs primarily through a mechanism known as intussusceptive angiogenesis—the splitting of existing blood vessels to form new ones—perhaps as a repair response to blood clotting and blood vessel damage, according to the authors.
Damaged blood vessels may also underlie other problems, such as COVID toe, multisystem inflammatory syndrome in children (MIS-C), stroke and other seemingly unrelated problems seen with COVID-19.
These findings show the need for more research on angiogenesis and the vascular effects of COVID-19.
The study was supported by the National Institutes of Health (HL94567 and HL134229), the Botnar Research Centre for Child Health, the European Research Council and Deutsche Forschungsgemeinschaft (Project Z2).
Adapted from a Brigham and Women's news release.
Image: Getty Images