COVID-19 Connections
Harvard Catalyst collaborations a key to pandemic progress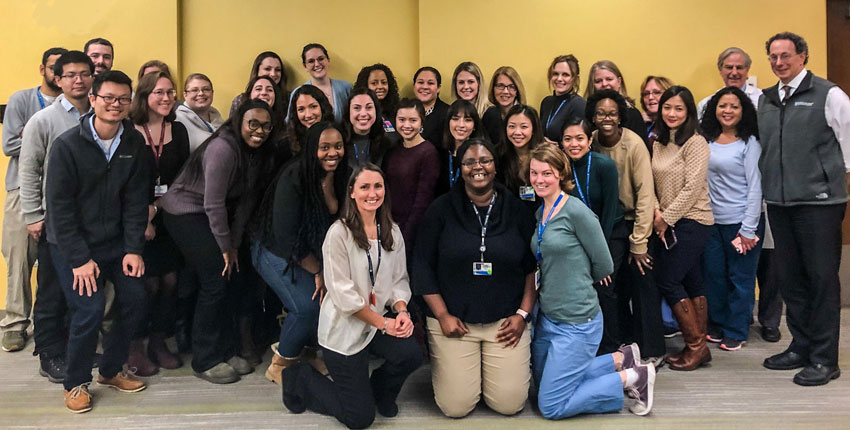 Connector Program's Translational Navigation Team pre-pandemic at Brigham and Women's Hospital. Image: Harvard Catalyst
The Harvard Catalyst Connector program and its translational navigation teams have played an integral role on the research front within the Harvard Medical School community over the past five months, assisting HMS researchers who were required to rapidly ramp down lab work and then safely restart research projects a few months later, while also working with those who quickly initiated projects related to COVID-19.
"Many investigators wanted to do everything necessary to study the new illness, but there was no staff, because everything was shut down to all but essential health care workers," explained Lindsey Baden, faculty lead of the Harvard Catalyst Connector program, as well as director of clinical research in the Division of Infectious Diseases at Brigham and Women's Hospital and director of infectious diseases at Dana-Farber Cancer Institute.
"We were able, through Harvard Catalyst and through our clinical research centers, which provide the infrastructure that we support at four of our hospitals, to pivot immediately and provide the support investigators needed," Baden said.
From 2008 through 2018, Harvard Catalyst provided funding for the clinical research centers (CRCs) at Brigham and Women's, Massachusetts General Hospital, Beth Israel Deaconess Medical Center and Boston Children's Hospital, through a grant from the NIH's National Center for Advancing Translational Sciences.
In 2018, Harvard Catalyst transitioned its CRC program support from being a predominantly "dedicated physical unit" to a service-based model; that is, research support without walls.
This model of activity-based research facilitation provides support for a greater variety of clinical research, including consultation and experiential education.
The new program, called Connector, assists clinical investigators with study design, protocol development, opportunities to collaborate, Institutional Review Board review preparation, data gathering and analysis and dissemination of results.
For the past two years, the Connector program has supported hundreds of clinical research and collaboration activities, especially for new investigators and investigator-initiated studies.
The program's translational navigation teams at each hospital, led by medical research officers, help with study development and start-up support, as well as medical oversight for procedures and tests such as blood draws and specimen collection.
"These teams were well-positioned to quickly pivot to the urgent work needed to define the biology of COVID-19, to characterize the immune response to it, and test new therapies," said Baden, who is also associate professor of medicine at Harvard Medical School.
Across the hospitals, investigators are studying many avenues to therapeutics, including antivirals, anticoagulants, immunotherapies, cytokine control, kinase inhibitors and plasma therapy. They are studying new diagnostic tools and, now, vaccine options.
"Throughout the COVID pandemic, the clinical research staff have been boots on the ground, putting in thousands of hours, seven days a week," Baden said. "Our staff worked harder in March, April and May than they've ever worked before. We've been meeting daily with investigators, providing hands-on support in the wards, collecting samples, giving treatments that had never been given before."
It is remarkable, he added, to have staff trained in clinical research available to support COVID-19 associated studies within days of their creation. "The nurses and research assistants are clearly heroes of this response and have enabled the studies to be conducted."
Behind the scenes
During the HMS stay-at-home mandate this spring, only COVID-19 related studies or existing studies of therapeutics for life-threatening diseases continued.
"I had to pause, or find options to continue, about 100 non-COVID-related studies," said Yemi Talabi Oates, the administrative director at the CRC at Brigham and Women's.
Working from home, she and the administrative directors at the other hospital CRCs considered such options as virtual visits for patients participating in their research studies or delivery of experimental medications by mail or by cooperating pharmacies.
Most of their CRC staff got redeployed to other areas of their hospitals. Research nurses were sent to clinical floors to assist nurses on COVID-19 floors or in the emergency department.
Staff were tasked to coordinate and help collect samples key to understanding the virus and its effect on the body—such as blood, urine, stool, respiratory secretions and saliva—and get the patient consents required for COVID-19 studies.
Technicians who had been doing sleep studies ended up helping with respiratory testing.
At all four CRC sites, leadership worked with their respective hospital supervisors to offer infrastructure and staff where it was needed most. They were part of the strategizing and prioritization of COVID-related study proposals and involved in the planning and staffing many of them.
"Everybody pulled together," said Michelle Beck, administrative director at Beth Israel Deaconess. "We had the staff and the space to do the research, the investigators had the ideas, and we all sorted out together how we would make it happen."
Already accustomed to working with dozens of investigators on ongoing studies in their CRCs, they move quickly to support the launch of the new studies.
"The organization and infrastructure already established through Connector has been vital to how quickly we were able to jump in and support others," said Lynelle Cortellini, administrative director at Mass General.
"Connector really does connect people," added Talabi-Oates. "We have researchers who have been working with collaborators across the hospitals, who leveraged each other's expertise and resources."
The Connector infrastructure also includes several cross-institutional working groups at multiple levels of research leadership, all led by Noelle Huntington, director of the Harvard Catalyst Connector program and HMS assistant professor of pediatrics at Boston Children's.
"At our standing meetings of these cross-institutional groups, we could share ideas and plans around, for example, ramping down or transitioning existing studies, safely consenting COVID patients, and creating a safe environment for reopening clinical research and bringing in non-COVID research participants," Huntington said.
Though there were many studies happening across all the hospitals, translational navigation team staff actively worked on more than 50 individual studies together, about half of which were investigator-initiated.
"Some translational navigation team members were also involved in the scientific and feasibility review of hundreds of studies proposed by faculty across the institutions," Huntington added.
Because research labs began reopening in early June, CRC administrative directors have had to plan how to conduct their research operations safely for staff and patients.
They are staggering staff working on-site, and reorganizing spaces to limit the number of people in rooms. They're establishing break rooms where staff can take off masks for a few minutes and they are seeking remote sites as alternatives to having patients come to their centers. They are also involved in various phases of vaccine studies.
The synergy of collaborations
Baden credits Harvard Catalyst for "a pre-positioned connectivity" among Harvard-affiliated institutions that enabled a rapid acceleration of local collaborative projects.
It also contributed to broader responses to the crisis, he said, citing the Massachusetts Consortium on Pathogen Readiness (MassCPR), a collaborative research effort initiated by HMS with China's Guangzhou Institute of Respiratory Diseases, which includes research efforts across Massachusetts. Baden is on the MassCPR steering committee.
Catalyst's SMART IRB program has also facilitated 97 COVID-19 studies across the country, including collaborations among Harvard-affiliated institutions as well as MassCPR collaborations with investigators at UMass, Boston Medical Center and New England Medical Center, he said.
SMART IRB is a platform supported by Harvard Catalyst that significantly streamlines IRB review and approval for multisite studies by having one institution review and the others cede review.
"These and other efforts are complementary and naturally synergistic," Baden said. "We as a community have substantially contributed to progress that is being made against COVID."
Baden, who has been a vaccine investigator for 20 years, is co-PI of the just-launched phase 3 clinical trial of the NIH-backed Moderna vaccine in 30,000 people. The Brigham and Women's CRC, which Baden directs, will be the only site in New England of the 87 sites in the trial.
Another vaccine approach—developed in the lab of Dan Barouch at Beth Israel Deaconess, in collaboration with Johnson & Johnson's Janssen Pharmaceuticals—is about to start a phase 2 trial.
"We've got the infrastructure, the expertise, and the know-how," Baden said, "to pivot immediately to these and other vaccine studies and contribute at full speed."