Dermatology Innovator
Rachael Clark installed as Shing-Yiu Yip and Cecilia M. Hepp Associate Professor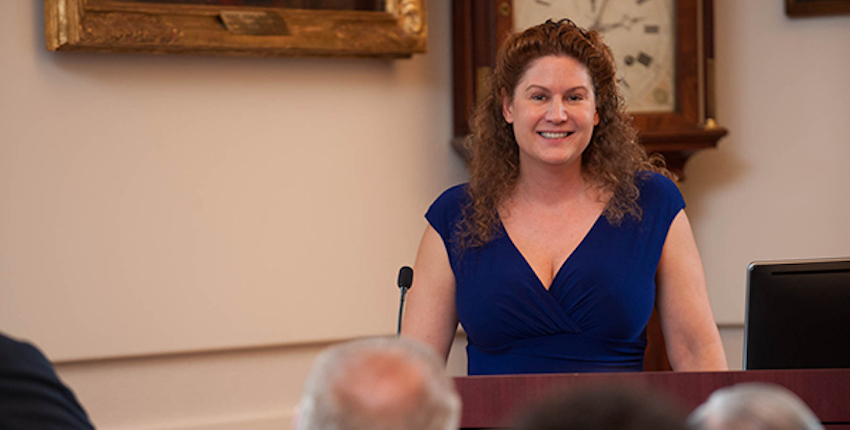 Professorship incumbent Rachael Clark. Image: Suzanne Camarata
Harvard Medical School and Brigham and Women's Hospital dermatology innovator Rachael Clark was celebrated as the inaugural Shing-Yiu Yip and Cecilia M. Hepp Associate Professor of Dermatology in an April 21 ceremony.
An HMS graduate, clinician, researcher and teacher, Clark is regarded as a leader in combating human skin disease. Her research focuses on T cells in normal human skin, skin cancers and inflammatory diseases.
Clark's scientific discoveries include distinguishing two subtypes of cutaneous T-cell lymphoma, which has helped explain why some patients have different clinical presentations and prognoses. She also revealed that healthy skin contains twice as many memory T cells—which provide rapid, local immune response—as the entire bloodstream.
Clark directs the Human Skin Disease Resource Center at Brigham and Women's, which was established to help transition skin research from animals to humans.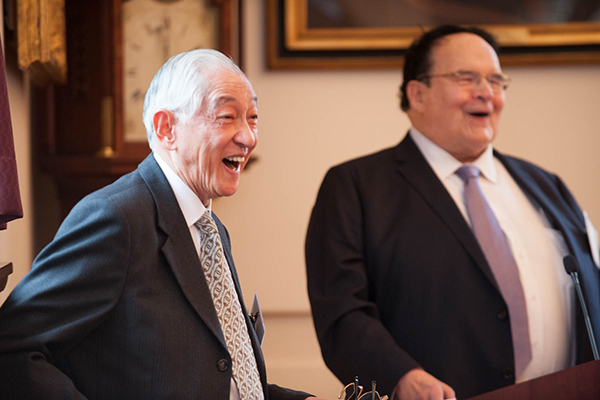 The primary donor of the professorship is Shing-Yiu Yip, an HMS-trained dermatologist based in Hong Kong.
The professorship will ultimately be named in honor of Yip and Martin Mihm, director of the Mihm Cutaneous Pathology Consultative Service and the Melanoma Program in Dermatology at Brigham and Women's and associate director of the Center for Melanoma Oncology at Dana-Farber/Brigham and Women's Cancer Center.
The professorship is "a wonderful tribute to their enduring friendship," which dates back to when Mihm and Yip were dermatology residents at Massachusetts General Hospital in the 1960s, said HMS Dean George Q. Daley.
Until Mihm retires, the title will honor his mother, Cecilia Hepp.
"Through this professorship, Dr. Yip is ensuring that Brigham and Women's Hospital, HMS, Dr. Clark and all future incumbents of this professorship continue to advance research and further develop novel therapies for treating skin diseases, while honoring Dr. Clark's commitment to the field," Daley said.