Deck the Halls
New campus artwork brings scientific achievements to life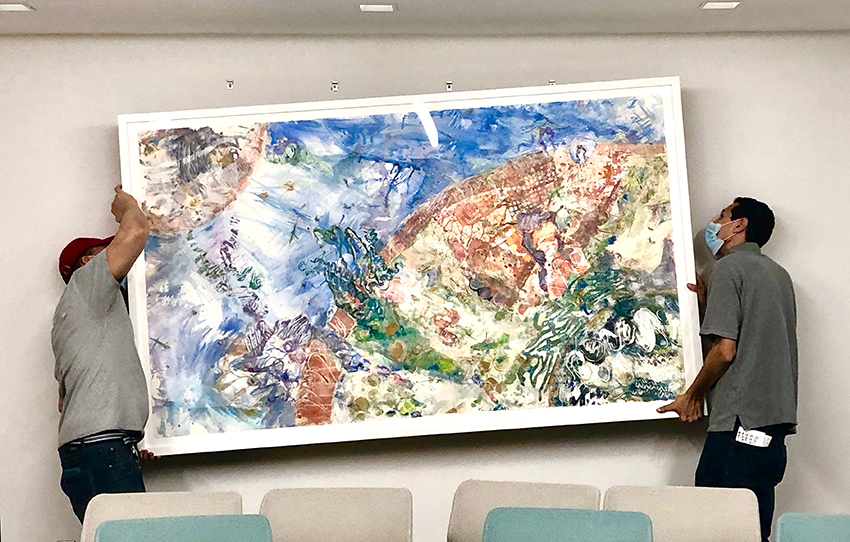 "Signaling" gets installed in the Folin-Wu Room at HMS on Dec. 6, 2021. Image: Erin Palazzolo Loparo
It began with a desire to liven up the walls in the rooms where members of the Harvard Medical School Department of Biological Chemistry and Molecular Pharmacology work, eat, and meet.
Two years and a pandemic later, the idea blossomed into a trio of abstract artworks evoking some of the department's most notable scientific discoveries over the decades.
Adding even more meaning to the pieces that now hang in two conference rooms is that they were created by the spouse of a BCMP researcher in collaboration with faculty and staff.
Artist Erin Palazzolo Loparo's work caught department chair Stephen Blacklow's eye when her husband, Joseph Loparo, professor of biological chemistry and molecular pharmacology in the Blavatnik Institute at HMS, included in a seminar presentation an illustration she'd made that was inspired by his work on DNA repair.
"It was representational and beautiful," Blacklow recalled. "Our team thought it would be terrific if Erin were willing to design a similar art installation for the department."
"We are delighted that she accepted," he said, "and that, after the installation had to be delayed because of COVID, her work is now on display for all to enjoy."
The mixed media pieces conjure three areas that BCMP has historically focused on and made significant contributions to: DNA replication, transcription, and translation; viral entry; and cell signaling.
Related stories
The Art of Medicine
Harvard Medicine magazine
Art historians tell us of the strong connections between painters and physicians. This issue of Harvard Medicine is devoted to exploring art and medicine.