A Conversation with Christine Mitchell
Founding executive director of HMS center reflects on state of bioethics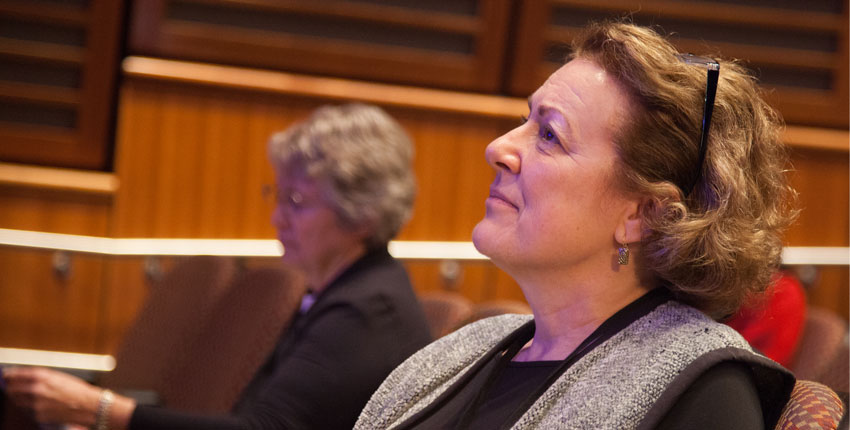 Christine Mitchell retired from the HMS Center for Bioethics in September. Image: Gordon Jack Shultz
Christine Mitchell, lecturer on global health and social medicine at Harvard Medical School, retired in September after eight years as founding executive director of the HMS Center for Bioethics. Mitchell also founded the clinical ethics program at Boston Children's Hospital and led its Ethics Advisory Committee for more than 30 years. She has shaped the field of bioethics at Harvard and beyond.
Mitchell talks here about her time at the center, how the field has changed during her career, and where she sees it going in the future.
HMS: When you think back on your time at the center, what are you most proud of?
Mitchell: I'm really pleased about not only getting the Master of Science in Bioethics program up and running so quickly and successfully, but also of our deep commitment to the hospitals affiliated with Harvard Medical School and their ethics programs. That work can fly under the radar, but it's a piece of what we do that I'm very proud of. The center is broader than its graduate and midcareer educational programs. It also includes ongoing professional education in ethics for practitioners. These are the people doing the work of bioethics in the field.
HMS: How has the field changed during your career?
Mitchell: The ethics training that we offer through the center didn't exist when I was starting my career. In the time I've been here, bioethics has become professionalized much more broadly. When those of us who teach in, and lead the development of, this program were trying to learn ethics, we had to study it in other places and then bring it into our work.
Science. Medicine. Humanity.
Harvard Medicine magazine delivered to your inbox