Complication Constellation
Study illuminates post-COVID-19 multisystem inflammatory syndrome in children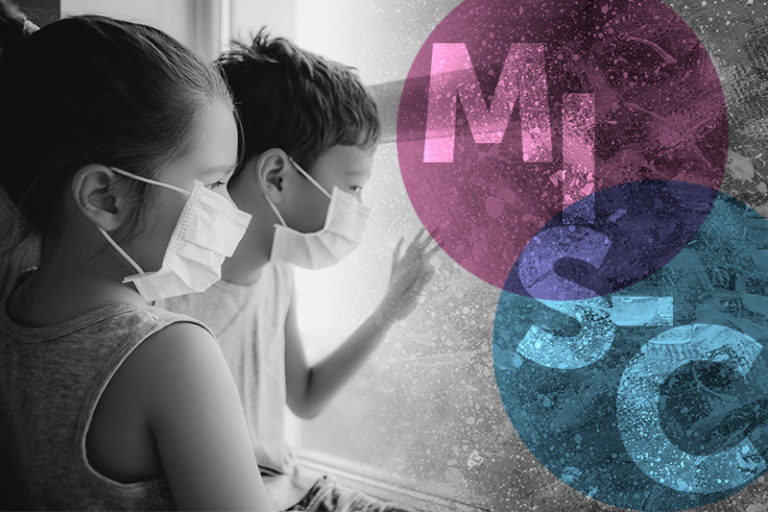 The largest case series of MIS-C to date refines previous descriptions and highlights cardiovascular complications. Image: Adobe Stock/Sebastian Stankiewicz/Boston Children's
This article is part of Harvard Medical School's continuing coverage of medicine, biomedical research, medical education and policy related to the SARS-CoV-2 pandemic and the disease COVID-19.
Doctors and researchers at Harvard Medical School, Boston Children's Hospital and other institutions launched the national Overcoming COVID-19 in April to track 800 children, teens and young adults hospitalized with COVID-19 at more than 35 sites across the U.S.
The team aimed to illuminate why some children and young people become extremely ill from SARS-CoV-2 while others are largely spared. Among the complications being investigated is the mysterious multisystem inflammatory syndrome in children, or MIS-C.
On June 29 in the New England Journal of Medicine, the team provided a fuller picture of this potentially life-threatening syndrome.
The report describes 186 children and adolescents diagnosed with MIS-C from March 15 to May 20, 2020—the largest published case series to date. In all, 53 pediatric hospitals from 26 states reported cases.
The report refines previous descriptions of MIS-C and highlights cardiovascular complications.
The work adds essential insights to what is known about COVID-19 in children.
The study continues to track U.S. cases as COVID-19 unfolds.
Cardiovascular symptoms
MIS-C has varied symptoms that can affect different organs and systems in the body, such as the heart, blood and blood vessels, gastrointestinal system, kidneys, skin and mucous membranes, nervous system and respiratory system. The syndrome appears so far to be rare, and most children recover with careful observation and treatment.
The new study documents a high rate of cardiovascular symptoms in MIS-C—affecting 80 percent of patients—and involvement of the coronary arteries, which can lead to deadly aneurysms.
The proportion with involvement of the coronary arteries was 8 percent, said the study's lead investigator, Adrienne Randolph, HMS professor of anaesthesia and of pediatrics at Boston Children's. That included patients who did not meet many of the criteria for Kawasaki disease, she said.
Kawasaki is a rare syndrome causing blood vessel inflammation that has been described as part of MIS-C.
"Our findings point out the need for serial echocardiograms to monitor the heart and coronary arteries of children with MIS-C," said Randolph. "They also prove how important real-time surveillance is during a pandemic."
MIS-C demographics
Nearly 90 percent of patients were hospitalized after April 16, generally following a local peak in COVID-19 cases, the study found. This fits the pattern of a delayed, post-COVID-19 syndrome.
There were 70 percent of patients who tested positive for the virus or antibodies to it. The rest had a documented exposure to someone with COVID-19.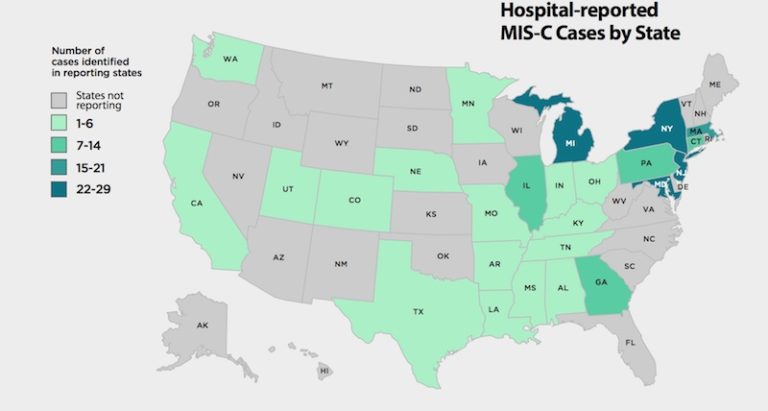 Fully 73 percent of patients were previously healthy. Their median age was 8.3 years, and there were slightly more males (62 percent). Among the patients, twenty-five percent reported that they were Black, 31 percent identified as Hispanic or Latinx, 19 percent identified as white and 27 percent were "other" or of unknown race.
Patients with MIS-C spent an average of one week in the hospital, and 79 percent needed intensive care. Four children (2 percent) died, two of whom were previously healthy.
Defining MIS-C
Inflammation and fever were defining features of MIS-C. All patients had fever, lasting a median of six days, and 92 percent had four or more biomarkers indicating inflammation.
Multiple organs were affected, with 71 percent of patients having involvement of four or more organ systems:
80 percent had cardiovascular involvement, including heart arrhythmias, weakened heartbeats, inflammation around the heart and need for CPR. Cardiovascular involvement was most common in older children and young adults. About 8 percent of all patients had documented coronary artery aneurysms, and 48 percent needed treatment to improve heart function and blood pressure.

76 percent had blood abnormalities—including abnormal blood cell counts, deep vein thrombosis and pulmonary embolism—with 47 percent receiving treatment to prevent clots.

74 percent had involvement of the mucous membranes and skin, affecting the mouth, eyes, hands and feet.

70 percent had respiratory symptoms, 20 percent needed mechanical ventilation and another 17 percent received noninvasive ventilation.
More than a third of patients had features that overlap with Kawasaki disease, but the investigators noted that 60 percent would not have met criteria for Kawasaki disease or even incomplete Kawasaki disease.
Future plans
The Overcoming COVID-19 study will continue to track children and youth hospitalized with COVID-19, aiming for a total of 1,000 patients at more than 70 pediatric centers.
About half of the patients will have detailed, prospective observation and periodic collection of respiratory and blood samples. These will be used to investigate a variety of parameters, including markers of immune response and inflammation and the effects of various treatments used for COVID-19.
"We need to understand the full spectrum of COVID-19 and MIS-C in children and young adults," said Randolph. "We need to know why certain children and adults are so susceptible while others are not and what their long-term outcomes are."
Manish Patel of the Centers for Disease Control and Prevention is co-senior investigator on the study. Leora Feldstein and Erica Billig Rose of CDC are co-first authors.
The study was funded by the CDC under a contract to Boston Children's (75D30120C07725).
Adapted from a post on Discoveries, the Boston Children's research and clinical innovation portal.