A Community of Researchers
Boot camp program welcomes aspiring physician-scientists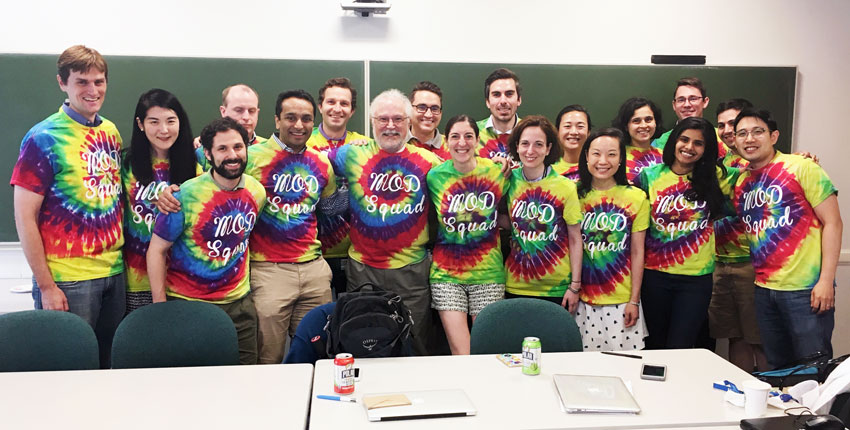 Participants in the 2019 boot camp with Thomas Michel. Image: Courtesy Thomas Michel
Six years ago, when Deepak Atri last worked in a research lab, few knew much about CRISPR-Cas9. But returning to research this past July at Brigham and Women's Hospital, where he had just finished clinical training as a fellow in cardiovascular medicine, Atri needed to get up to speed fast on the gene-editing tool. He now uses it every day in Rajat Gupta's lab at Brigham and Women's.
"In medical training, we're accustomed to rocky transitions," Atri said of his recent reintegration into research.
That transition was eased, he said, by the Models of Disease (MoD) Boot Camp he attended during the summer. The boot camp is sponsored by Harvard Catalyst and Brigham and Women's.
The boot camp is the brainchild of Thomas Michel, a cardiologist and cardiovascular researcher at Brigham and Women's, who designed the course almost 10 years ago to help aspiring physician-scientists like Atri transition back to the lab and "the path to discovery" after clinical training.
Michel, an HMS professor of medicine and biochemistry, is also on the Leadership Council of the Harvard/MIT MD-PhD Program and is a former dean for education at HMS.
"These clinical fellows are returning to labs to pursue basic and translational research after a long clinical hiatus, only to find different questions being asked, different problems identified, and with new tools," Michel explained. "It's a daunting task to go from being an expert in clinical disease to starting over as a research trainee once again."
And in 2020 that transition happened amid a pandemic.
Clinical fellows from across the HMS teaching hospitals who were accepted to the boot camp program attended the course virtually every morning for three weeks in July as they started in new positions in labs. They were updated on new research across disciplines, including CRISPR-Cas9, research ethics, the interface between industry and academia, alternative career trajectories and ways to balance work-life.
They presented on research papers that have inspired their research interests. They heard inspirational talks from Harvard luminaries like HMS Dean George Daley; Mark Zeidel, chair of medicine at Beth Israel Deaconess Medical Center; Joseph Loscalzo, chair of medicine at Brigham and Women's; Zuzana Tothova, oncologist and assistant professor of medicine at Dana-Farber Cancer Institute and Jonathan Seidman, professor of genetics at HMS, among many others.
Some of the discussions were led by prior graduates of the boot camp, who returned as mentors.
Networking and mentorship are hallmarks of the program, even though the boot camp was mostly online this year. Some networking occurred during informal, socially distanced lunches on the Quad, and in breakout rooms after zoom presentations.
Most of this year's 16 fellows likely wouldn't have crossed paths without this program, being based at different hospitals in Boston or at the Broad Institute, or pursuing research in different subspecialties of medicine. But now they are part of a wider community of researchers.
Because Michel felt so strongly about the importance of continuing this research community, he formed a MoD alumni organization and dubbed it the MoD Squad. Though most fellows never heard of the television show "Mod Squad" from the 1960s, they have been game to wear the tie-dye MoD Squad T-shirts presented at boot camp graduation.
New generation
This year was special, Michel said, because for the first time, two former boot camp alums, now with their own labs, have their own postdoctoral research fellows attending the boot camp.
"It's the circle of life," he said. "And I think it's a sign that we're creating a community that transcends the different teaching hospitals and transcends the subspecialties to train the next generation of basic and translational physician-scientists, who are paying it forward to train the next generation."
Gupta is a boot camp alumnus who attended the course in 2012 and is now in his second year leading his own lab at Brigham and Women's.
For the past five years, Gupta has returned annually to give a talk on CRISPR-Cas9, its history, significance and the pathbreaking work he's doing with it. His lab is trying to link human genetic findings to the risk of vascular disease, and one of its tools is CRISPR-Cas9 editing.
"It has been really important to have this community of people as I have built my research lab," Gupta said. "Having colleagues at different stages of their careers, mentors like Dr. Michel, and peer mentors going through the same trials and tribulations has really helped support my enthusiasm for research."
Gupta said he's benefited from collaborations with other members of the MoD Squad. He ends every CRISPR-Cas9 boot camp talk by offering to personally help anyone interested in the logistics of how to get started using it in their labs.
"A number of people have taken me up on that, which, as well as helping them, has introduced me to how other groups are thinking about using this technology," he said.
Boot camp also prepared him for writing grants, he said, which is a big part of his work now. The program has a session every year with a mock NIH study section that includes senior faculty pretending to review grants.
"And now I have a community of people I can always call and ask about how their grant-writing is going or what grants they're applying for," he added.
As a result of Harvard Catalyst's goal to make it easier for aspiring clinical and translational researchers to advance their careers and make discoveries that benefit patients, there is also an array of postgraduate educational programming, resources and training available.
Michel also leads other Harvard Catalyst training programs that focus on times of transition for those pursuing translational research careers. He is PI for the Harvard Catalyst TL1 Training Grant, which helps fund the Leder Human Biology and Translational Medicine Program, an enrichment program for PhD students interested in the fundamentals of human biology and disease. Michel co-directs the LHB Program with Connie Cepko, HMS Bullard Professor of Genetics and Neuroscience.
More committed
This year's MoD Squad graduates plan to get together for a class reunion next year, virtually if necessary.
"It would be interesting to share what we've accomplished and all we've learned from our missteps," said Atri.
Atri is still developing his vision for an independent lab. But, like others in the MoD Squad, he's certain that he wants to both see patients clinically and be in the lab, using one experience to inform the other.
Pandemic or not, "People remained completely committed to pursuing discovery in basic and translational biomedicine," Michel explained. "The urgent need for biomedical discovery has only been underscored by the pandemic."