Beyond Clinical Uncertainty
Andreas Howard Mitchell on the nonmedical side of medicine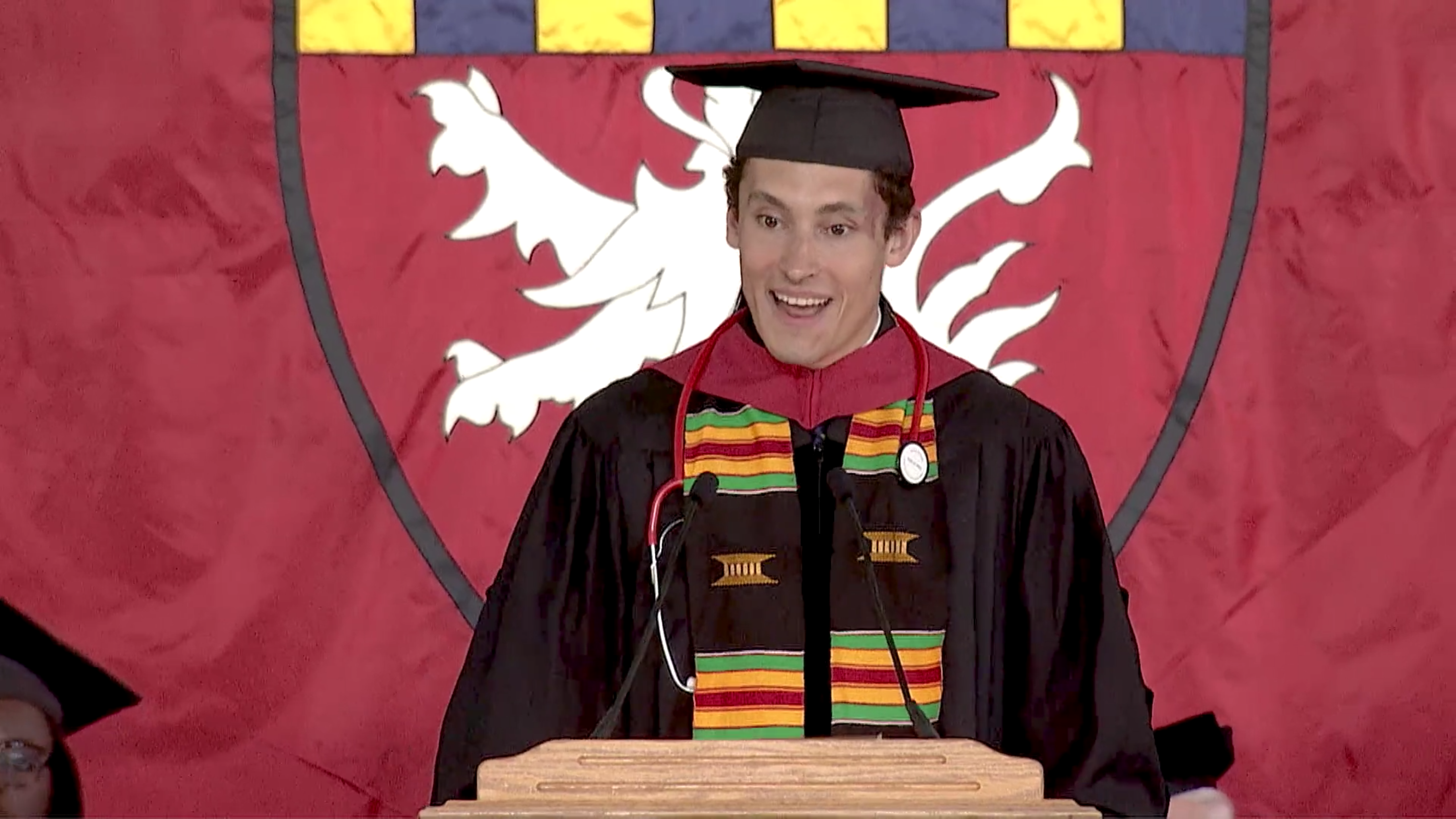 Hello to everyone here today, especially my graduating classmates. We made it!
While we get to wear the caps and gowns, this is by no means our achievement alone. At HMS, we've been uplifted by outstanding teachers, mentors, and advisors, the most supportive student affairs and ORMA teams that anyone could ask for, dedicated administrators and an unbelievable group of people working to make sure our buildings are clean, secure, well-maintained and with technology I'm still trying to figure out how to use. Let's show them our thanks.
We also owe so much to our mentors who guided us, to our friends and partners who cared for us after tough days at the hospital, and, finally, to our amazing family members, many of whom have cared for us since our earliest days and to whom we feel more gratitude than we can possibly express. Let's show our thanks to all these individuals who made this achievement possible.
Read more about HMS/HSDM Commencement and Class Day here.
Now, our friends and family can attest to how much we've learned since starting medical school. I remember coming home for my first Thanksgiving break, having barely finished our course on molecular biology, and being bombarded with medical questions: What's this rash? How can I stop these headaches? Is it normal to have pain down there? Beyond 'that must be hard for you,' it felt like the best I could offer was a monologue on the binding pocket of Gleevec.
"The way to overcome beyond-clinical uncertainty is to stand together."
Back then, I dreamed of what it would feel like to graduate from Harvard Medical School, knowing the answers to all these questions. And while I have started to get the hang of some rashes and headaches, I never imagined the uncertainty I'd still be feeling right now.
I'm actually not talking about clinical uncertainty. Over the last four years, we've learned to combat that by learning medicine. We've seen so many rashes and studied so much dermatology that we now have something intelligent to say when Aunt Linda shows us her forearms.
No, what we're feeling now is something beyond clinical uncertainty. We're wondering whether our shifts will be capped at just 24 hours, or more like 36. About whether we're headed for as much burnout in our careers as our predecessors. And, outside of medicine, it's hard not to internalize the uncertainty of our country's political climate, and the gnawing unease that comes with working in a hospital when mass shootings seem to be snowballing nationwide. If learning medicine is the way to overcome clinical uncertainty, then what's the key to surmounting this beyond-clinical uncertainty? You can't study your way into a safer, healthier society. In fact, there's almost nothing that you can do alone to change the most entrenched issues affecting us and our patients. Instead, I've learned that the way to overcome beyond-clinical uncertainty is to stand together.
I'd like to share the story of one patient who taught me this principle. To protect his privacy, I'll call him Mr. D. He was a lovely gentleman in his 80s—kind and energetic. He drank protein shakes religiously, determined to fight back against the esophageal cancer that had taken so much weight off him. There was little uncertainty in the management of his cancer—we were doing everything we could. But just as certain was that he needed palliative care to maintain his dignity and comfort near the end of life. He needed to spend time with his family and friends and take steps to maintain meaning and purpose. Had this been an ordinary hospital, I could have helped arrange that for him. But instead, this was the infirmary of a maximum-security prison, where Mr. D was sentenced to spend the rest of his life in an 8-foot by 8-foot cell. I felt uncertain how to offer this patient the care that he needed, because what he needed was not to be in prison.
At the time, it was impossible to offer this to him, because Massachusetts was one of only four states that didn't allow any kind of compassionate release for patients like Mr. D. But, in an act of heroism that Mr. D will never know about, 15 students—many of you are here today—decided to change the law to stand up for my patient. Over a whirlwind several months, we organized dozens of students and physicians to testify for a compassionate release bill, and to our surprise it worked! The law passed, including special language we wrote to cover patients like Mr. D. Something that seemed insurmountable for my patient in September was signed into law by the governor in May. The solution to beyond-clinical uncertainty was to stand together.
Now, I know some of you might be skeptical about conclusions drawn from an n of one, so you should know that there are countless examples of organizing victories in the medical community. At the trainee level, residents across Boston just organized to access a state database that will help them care for patients with opioid addiction. And, at the attending level, many of us know that Doctors for America brought 15,000 physicians together to advocate for health reform, an effort so successful that their leader was named surgeon general.
The average person in these groups made no extraordinary contribution, but the shared output was tremendous. Organized, small acts of everyday heroism, like what 15 of you did for Mr. D., have changed the landscape of our society. I'm reminded of what Max Ehrmann wrote in his beloved poem Desiderata: 'Many persons strive for high ideals / And everywhere life is full of heroism.' In five years here, I have known no greater privilege than to meet everyday heroes everywhere I've looked—at HMS, across Boston and around the globe. As we leave here, let us continue to take small steps in unison that can have heroic outcomes for our patients and our communities.
Thank you.
Adapted from a speech given by HMS graduate Andreas Howard Mitchell on May 24, 2018.