The Best of Both Worlds
First-year HMS, HSDM students living worlds away learn remotely
This article is part of Harvard Medical School's continuing coverage of medicine, biomedical research, medical education and policy related to the SARS-CoV-2 pandemic and the disease COVID-19.
While all first-year students at Harvard Medical School and Harvard School of Dental Medicine are learning remotely this semester because of the COVID-19 pandemic, some are attending classes from their homes overseas.
Disparate time zones have created logistical challenges, so Harvard Medicine News checked in with several students midway through the semester to see how their studies are going and how they are managing these challenges.
Roxanna Haghighat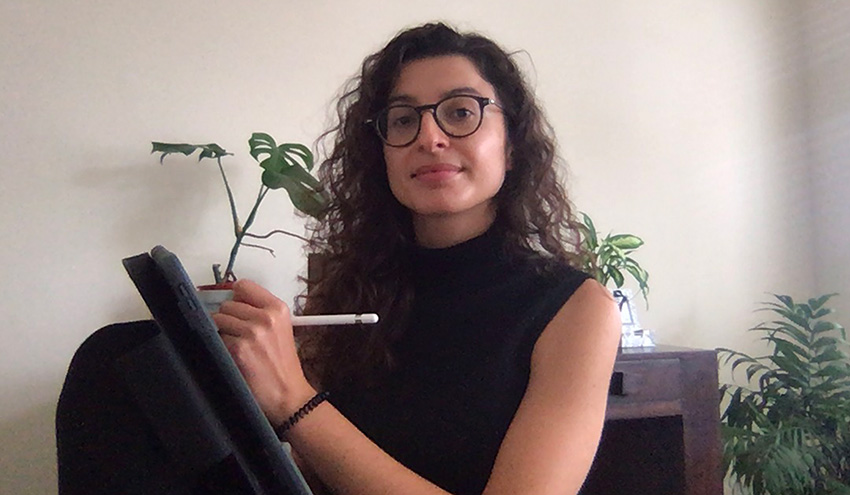 HMS student Roxanna Haghighat lives in Oxford, England, which puts her five hours ahead of Boston time. She attends her Foundations classes from 3:30 to 5:30 p.m. and from 7 to 9 p.m., rising at 8:30 a.m. to exercise and prepare for her classes. She fits in interest group talks and other meetings during the evening break and after classes.
HMNews: How are you managing distance learning during your first semester and what are some of your unique challenges?
Haghighat: Fortunately, I've not had many challenges with regard to internet access or privacy.
I've definitely had to readjust my study schedule to become more of a morning person. This schedule can make days feel long but, as we've progressed through the Foundations coursework, it definitely feels like a more natural and easy rhythm has developed. The greatest challenge is probably in attending social events that are planned for evenings EST, as this ends up being quite late in the U.K. 
The day ends up being quite full, but I try to save some time after class in the late evening for catching up with family in the U.S. and with friends, just to keep the day balanced. Given that my post-class time ends up being too late for local friends in Oxford, I usually end up doing my (socially distanced!) in-person socializing on weekends.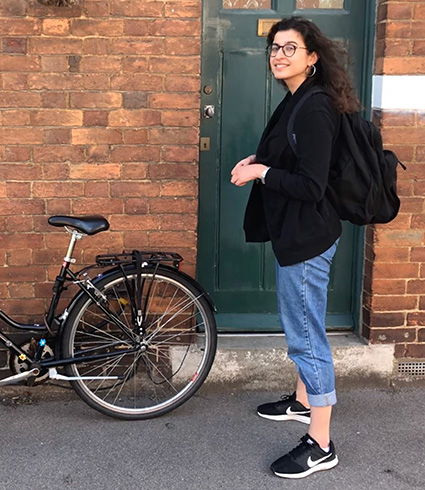 HMNews: Who has helped support you and how?
Haghighat: In some ways, distance learning has been a strange gift from the universe to allow me to enjoy a few extra months here, after I submitted my PhD thesis in late summer. I've been really fortunate to be able to form a small social bubble with a few friends here in Oxford, which keeps the weeks grounded and definitely offers a social support network that's critical in these times. Like many people of my generation, I've also definitely become a fan of houseplants—currently taking care of 14 little green ones that I try to always keep present while studying or in class.
My HMS classmates and faculty have been incredibly understanding about the time difference and have been flexible in working around hours that are more feasible for me. I think having CBCL [case-based collaborative learning] be such an integral part of the HMS curriculum has really made this shift to distance learning much smoother than I had anticipated.
Because the courses center on collaboration and learning from peers, it's easy to form connections through class without needing to set aside a huge amount of time outside of coursework. In a more traditional classroom model, where distance learning might involve listening to lectures, I imagine this social cohesion would be much harder to build over Zoom. 
HMNews: How do you think your class is doing as a whole and how is the pandemic experience shaping your class?
Haghighat: I've been really pleasantly surprised by how seamless the coursework has been so far! It's really a testament to the faculty—and my fellow classmates—that everyone in class seems so engaged. 
It's clear that, as a whole, we're looking forward to all being in the same city eventually—but I think there is a real sense of community and support for each other that's been born out of the pandemic. Every class, there's an outpouring of support and cheering each other on in the Zoom comments—something that would be harder to express (and potentially seem less urgent to vocalize) in person. 
HMNews: What are you looking forward to most when you arrive on campus?
Haghighat: I'm looking forward to hopefully being able to engage with patients in real life and to beginning to familiarize myself with the Harvard hospitals and the staff within them. Although I'm definitely appreciating the time we have to learn from the comfort of our homes, I'm looking forward to the learning that really comes from being physically present with the patients and in the clinics.
Dahee Chung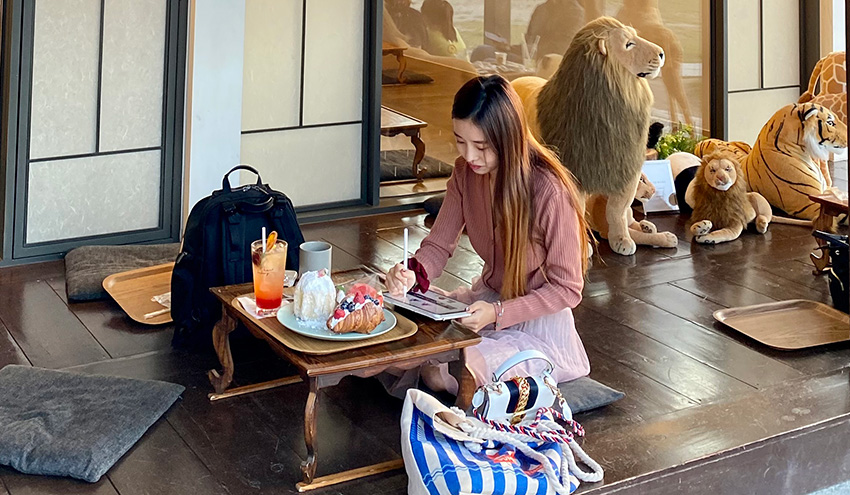 Living in Seoul, South Korea, for the fall semester puts HSDM student Dahee Chung 13 hours ahead of the U.S. Eastern time zone. She attends classes from 11:30 p.m. to  5 a.m. Korea time.
She said she heads to bed right after class. In the afternoon, she works out, doing Pilates and golfing, and then begins preparing for class. On most days, she studies while visiting her grandmother, who has been ill. Afterwards, she has dinner with her family before heading back online to attend classes.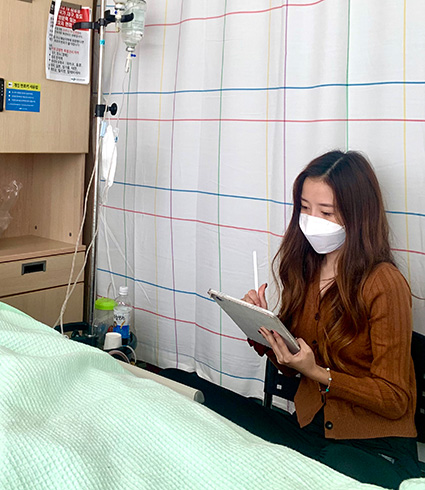 HMNews: How are you managing distance learning during your first semester and what are some of your unique challenges?
Chung: Changing my sleeping schedule to attend synchronous classes and exams in Korea has been a struggle for me as I have to completely switch my day and night.
A month ago, my grandma was diagnosed with cancer. She has been hospitalized and had surgeries since then, and because of COVID-19, no more than one person can accompany a patient in the hospital, so my mom and I are rotating to accompany her at the hospital.
Spending most of my time at the hospital, I have to do class prep during the day and attend classes at night. Although it has been difficult for me, both emotionally and physically, this situation gave me more motivation to learn more about the materials and become a better health care professional in the future. Being in this unexpected circumstance also made me think positively that maybe because of this virtual setting, I happen to be at home and can spend more time with family during this hard time.
HMNews: Who has helped support you and how?
Chung: When I had an individual meeting with Dr. John Flanagan, the lead faculty of Peabody Society, he encouraged me a lot with my special circumstances with thoughtful words. HMS classmates in my society, as well as the Practice of Medicine group, also supported me by checking in with me frequently. My local family and friends also understand my special situation, so that they sent me lots of presents to support my flipped day-night schedule, such as sleeping oil and masks, curtains and massage pillows.
HMNews: How have you been able to build a sense of class and community with your classmates?
Chung: I have been able to build a sense of class and community through Slack/Zoom messages and individual lunch Zoom meetings. Because of my weird time zone, I couldn't join other students often for study group sessions and social activities. However, I had many individual one-on-one calls with other friends during lunch time in Boston, which is 1 to 3 a.m. my time. These calls help me to stay awake while getting to know many classmates.
Furthermore, I also found community in different clubs I joined. For example, as a vice president of the Harvard chapter of APAMSA [Asian Pacific American Medical Student Association] and a Harvard Graduate School Council representative for HSDM, I have to join exec meetings, and my fellow exec members try hard to accommodate my sleep schedule. I appreciate these wonderful people who genuinely care about me as a person.
HMNews: How do you think your class is doing as a whole and how is the pandemic experience shaping your class?
Chung: Although we haven't met each other yet, I can already feel the community and I hope we can bond more quickly when we eventually meet each other in person. Academically, thanks to much support and considerations from faculty, I believe it has been very similar to the normal, in-person classes, including CBCL sessions with breakout groups. This pandemic experience has surely shaped us to think more about what community means and our responsibility as future health care professionals.
HMNews: What are you looking forward to most when you arrive on campus?
Chung: I am looking forward to meeting all of my amazing classmates and faculty in the beautiful city of Boston. Also, I am looking forward to in-person anatomy labs and Practice of Medicine patient clinics.
Chloé Zana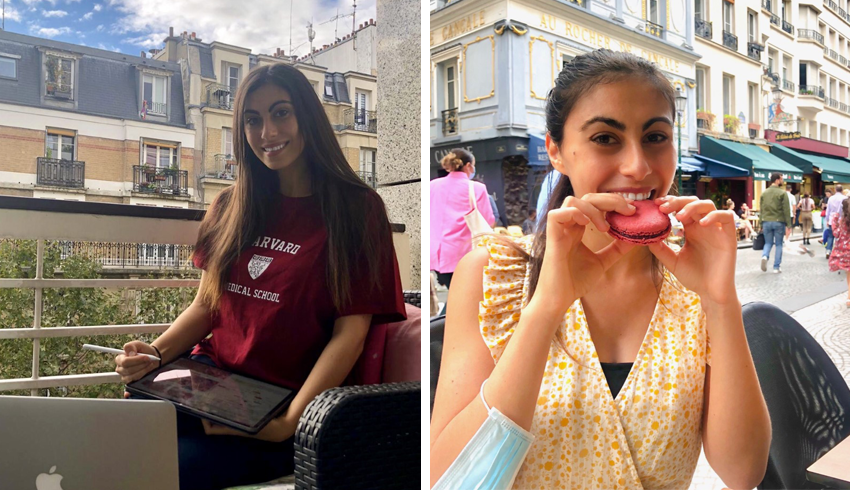 HSDM student Chloé Zana is living at home in Paris, France, and tries to keep the same sleep schedule as her family, so she's up early—off for an early run along the Seine River (mask on!), perhaps grabbing a pastry. She is six hours ahead of Boston time and attends classes from 4:30 to 10 p.m. with a break in the middle, which allows her to have dinner with her family. Then, she spends a few hours studying before going to sleep.
HMNews: How are you managing distance learning during your first semester and what are some of your unique challenges?
Zana: When I decided to spend my first semester of medical school in Europe, I was expecting a lot of challenges: time difference, not having the same schedule as my family, staying motivated. So far, however, the pros of being home have outweighed the cons! I feel very lucky to be able to see my family every day, re-explore my beautiful hometown and still get a top-notch education. Being home surrounded by those I love, I try to cultivate a feeling of gratefulness.
The biggest challenge right now is to be able to focus during a global pandemic. It is heartbreaking to see how the virus is affecting the most vulnerable populations and how it is exposing disparities in health care. In a way, my motivation to study has changed: It now stems from the desire to improve access to medical care.
HMNews: How do you think your class is doing as a whole and how is the pandemic experience shaping your class?
Zana: When I got the email about our fall semester being online, I was downhearted, because HMS' close-knit community was one of the reasons I chose Harvard. Despite the distance, however, I feel so much closer to my classmates than I was expecting. As one of only 35 HSDM students, I chat and Zoom with my dental classmates almost every day.
Moreover, people in my academic society, Peabody, have gone above and beyond to create a sense of community. We have very active group chats, game nights, socials. Even though I am not able to join study groups because they usually happen when I'm asleep, I feel very close to my classmates.
Andrew Chang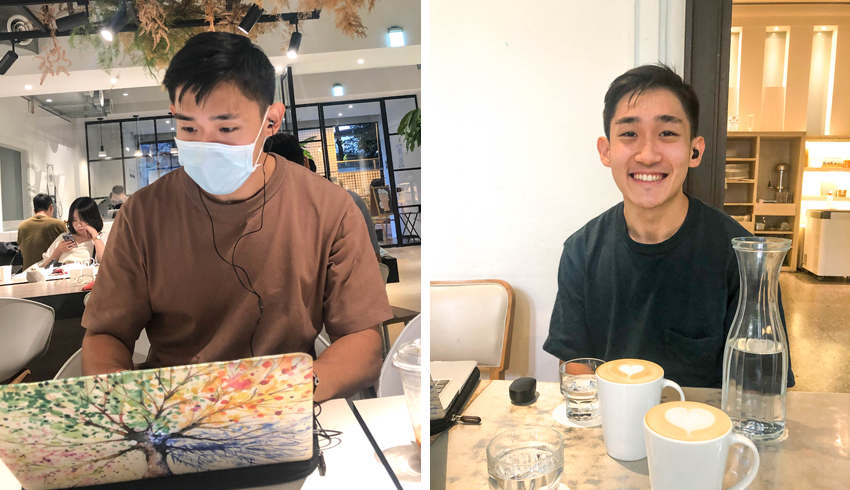 Virtual graduate school studies aren't anything new to medical student Andrew Chang. From January to July 2019 he completed an online a master's program at Tsinghua University. For his work at HMS, Chang starts his day at noon because he is 12 hours ahead of Boston time. In the afternoon, he likes to review materials and prep for upcoming classes in cafés, where he has met students who are also studying remotely from Taiwan, including a new friend, Stephanie Cheng, who is a Harvard undergrad. He reserves the evenings for exercise and rest, and then attends classes from 10:30 p.m. to  4 a.m.
HMNews: How are you managing distance learning during your first semester and what are some of your unique challenges?
Chang: It was a difficult decision to remain in Taiwan and perform my first-year medical school studies in a different time zone. My intention was to stay close to my family members and care for them as the pandemic progressed. The greatest challenge of the time difference is connecting with my peers.
Though this is true for many of us who are experiencing constant Zoom fatigue, the time zone difference makes my attendance at events more challenging. I don't attend most socials and/or study groups as they typically occur in the late afternoon or at night in Boston, when I sleep. I also don't participate in any student organizations, as most of their meetings would occur later in the day. I find it difficult to stay motivated when I feel like I'm always studying alone. Many of my peers are experiencing this as well.
HMNews: Who has helped support you and how?
Chang: I feel incredibly grateful for the support of HMS faculty members. In particular, Castle Society's Dr. Jennifer Potter has been an incredible source of mental and motivational support in these difficult times, and Dr. Henrike Besche has been a masterful inspiration in building an inclusive and meaningful educational curriculum for all HMS students. 
HMNews: What are you looking forward to most when you arrive on campus?
Chang: I am energized by the prospect of better connecting with the HMS community come January. I am so incredibly excited to get to meet my classmates and find the strength to continue bettering the health of our world in solidarity with my classmates and faculty members.
Interviews were conducted via email and have been edited for length and clarity.