The Advocate
MD-PhD student takes on lung cancer, tobacco industry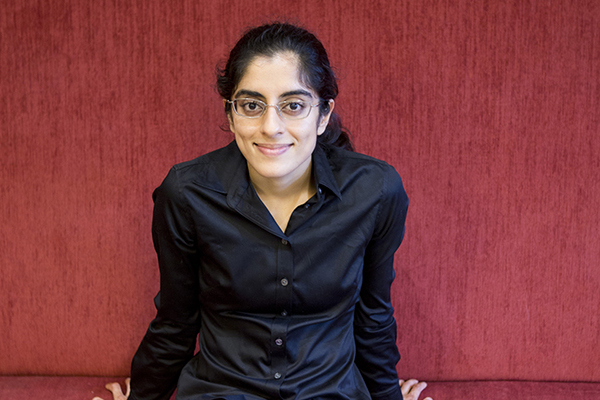 Sana Raoof. Image: John Soares
This profile was featured in Imagine, the 2015-2016 HMS Dean's Report. It is one in a series of profiles featuring graduating HMS students.
When she was 14, Sana Raoof joined her high school debate team.
By the time she graduated, she had been named top high school speaker in New York and won the state's debate championships twice. Raoof went on to represent Harvard College at the World Universities Debating Championships in Botswana in 2011.
Raoof loved logic, rhetoric and philosophy, but for her, debate was a means to an end: She was preparing for a career where she would take on the U.S. tobacco industry.
Read more about HMS students here
"Debate was practice for fighting battles that I think are significant for society," she said. "I don't think it's cute anymore for me to just go somewhere and argue with someone. Seven years is enough practice. Now I'm trying to put it to use."
A fourth-year MD-PhD student in the Harvard-MIT Health Sciences and Technology program, Raoof, 25, is working to reduce the burden of lung cancer in the U.S. Her multipronged attack includes advocating for greater tobacco restrictions, teaching high school students about the different biochemical effects that tobacco and exercise have on the body, and conducting basic biomedical research on lung cancer.
Her efforts so far have earned her a 2014 Paul and Daisy Soros Fellowship for New Americans and a 2015 Excellence in Public Health Award from the U.S. Public Health Service.
Immigrant mentality
When Raoof's mother, a radiologist, and father, a pulmonologist, graduated from medical school in India, three generations of her family moved to Long Island under one roof. Raoof's grandparents quit their jobs so they could stay home to educate Raoof and her brother while her parents completed their residency training.
Years later, receiving the Soros Fellowship made Raoof realize just how much of her personality stemmed from her immigrant roots.
"I grew up with the idea that in America there is justice," she recalled. Anti-tobacco advocacy satisfies her desire to rectify injustices, she said. "I feel like I'm chasing after bad guys."
Raoof also was raised "with the expectation that you need to work extremely hard, and pray a lot on top of it, in order to get where you need to be," she said.
Encouraged by her family, Raoof completed a summer project at MIT while she was still in high school. In it, she described how mathematical knot theory could help solve biomedical problems. She then built on that work, winning the Intel International Science and Engineering Fair in 2008 and the Taiwan International Science Fair in 2009.
Her work ethic is reflected in her hobbies as well. She was a champion runner in high school and college and she still works out a few hours each day.
"I really like that running is not a team sport. I like that you can work as hard as you want and you can see objective results," she said.
Despite her accomplishments, "coming to Harvard made me feel like the dumbest person in the world," she said. "I definitely feel like I need to compensate for my brain with hard work."
Homing in on cancer
Raoof knew early on that she wanted to pursue an MD-PhD, but she wasn't sure what to focus on. When her mother was diagnosed with breast cancer in 2006, Raoof, then 16, decided to pursue molecular oncology. (Her mother has since been cured.)
Instead of studying breast cancer, however, she was drawn to lung cancer.
"I feel like I have a duty to work in cancer," she said. "Some you can manage like a chronic disease, but less than 15 percent of all lung cancer patients survive for five years."
Plus, she said, "I realized that since I was already sure I was going to spend my life railing against tobacco companies, it would just fit together so well if I was also working on lung cancer."
Raoof is currently studying resistance to targeted therapies for non-small cell lung cancer, which occurs predominantly in nonsmokers, in the lab of Jeffrey Engelman, the HMS Laurel Schwartz Associate Professor of Medicine at Massachusetts General Hospital.
She envisions one day starting her own lab where she can investigate new lung cancer treatments.
On the road
Raoof believes that while research is the best way to tackle lung cancer in nonsmokers, lung cancer in smokers is best prevented through policy changes.
She has worked to convince local and state politicians on Long Island and in the greater Boston area to raise the legal age to buy tobacco from 18 to 21 and to ban smoking in cars with children riding in them.
Recently, she began reaching out on a national level. She said she wants to connect with U.S. Surgeon General Vivek Murthy, a former HMS instructor in medicine and himself a Soros Fellow.
For Raoof, that kind of work feels more fulfilling than when she published a meta-analysis earlier this year of secondhand smoke exposure in cars.
"It's just not satisfying because probably only some academics will read that," she said. "It's not going to touch anyone's life."
Education might, though. When Raoof was 19, she designed a class about how running and smoking alter the biochemistry of the cardiovascular system. She taught it more than 50 times at elementary schools around Boston and Long Island. Other schools adopted it after she presented it to the American College of Chest Physicians.
"I really like the idea that something I'm doing is going to improve someone's life," she said. "If there were only a couple of kids who decided 'it's bad for my heart to smoke,' or 'if I smoke then I will probably marry a smoker and my kids will have a greater chance of being smokers themselves,' and they actually make the decision not to smoke because of that, that's just incredibly gratifying for me to think about."