7 Honored for Exceptional Service
Annual dean's award recognizes faculty, staff, students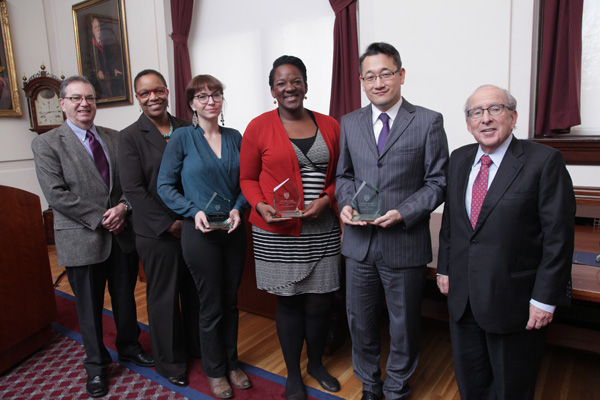 From left, Jeffrey S. Flier, Joan Reede, Haley E. Ramsey, Obiageli N. Ukadike, Soo-Woo Kim and Bruce Donoff celebrate winners of the Dean's Community Service Award. Awardees not pictured: Alison Brookes, Sydnee Chavis, Shaheen Lakhan and Juliana Morris. Image: Jeff Thiebauth
A group of Harvard Medical School faculty, students and staff were recognized for exemplary service to local, national or international communities this year at the annual Dean's Community Service awards ceremony on Nov. 16, with a special award conferred on an HMS student by the United States Public Health Service.
Seven individuals were honored, including two members of the medical and dental school faculties, two hospital-based trainees, two HMS students and one member of the HMS staff.
Among them was Obiageli Ukadike, the online learning manager at Harvard Catalyst|The Harvard Clinical and Translational Science Center, who received the staff award.
"I am so grateful for the support from Harvard," said Ukadike. "It allows me to spend three weeks a year in Ghana working with the children. I can assure you this money will go far and make a difference to the children."
The Dean's Community Service Award was established in 1999. HMS donates $1,000 to the community organizations represented by each of the awardees.
Ukadike was recognized for her work with The WaWa Project, an organization she co-founded.  She said she believes in the power of education and has worked to ensure access to basic education for children in Ghana who are physically disabled.
Alison Brookes, an instructor in medicine at Massachusetts General Hospital, was recognized for her work with The Lynn Shelter Association, where she serves homeless individuals across Boston's North Shore in Lynn.
Soo-Woo Kim, instructor in oral medicine, infection and immunity at the Harvard School of Dental Medicine, was honored for his work with Dentists for Humanity, a Haiti-based organization that provides basic dental and preventive oral care to underserved populations in the island nation.
Two trainees recognized for their service were Shaheen Lakhan, clinical fellow in anesthesia at Mass General, and Haley Ramsey, research fellow in pediatrics at Boston Children's Hospital.
Lakhan, who founded and serves as executive director of the Global Neuroscience Initiative Foundation, an organization that works to promote patient welfare by providing neurological services. She is also dedicated to reducing the stigma associated with neurological disorders.
Ramsey was recognized for her work with Birthday Wishes, an organization that provides children in transition from homelessness with opportunities to celebrate their birthdays.
Ramsey said she felt, "every encounter with a child is a divine appointment," and emphasized the importance of allowing children to be children, even if just for a moment.
Both students who were honored this year were unable to attend the awards ceremony because they are completing out-of-state residencies. Sydnee Chavis, HSDM '15, was recognized for founding Improving Special Care, Access and Patient Equality (iSCAPE), a dental clinic for patients with special needs, particularly those with intellectual and developmental disabilities.
The iSCAPE clinic is run by student volunteers and focuses on community outreach to individuals who have limited access to dental care.
During her final two years in medical school, Juliana Morris, HMS '15, volunteered with Matahari: Eye of the Day, a social justice women's organization that works to create a world free of exploitation, discrimination and violence. Morris's work focused on providing support and advocacy for working women, primarily domestic workers.
A special 2015 Excellence in Public Health Award was given to Sana Raoof, HMS '19. Raoof was recognized by the U.S. Public Health Service for her work on tobacco-related disease education and prevention.
She currently is promoting a law that would ban smoking in cars where children are passengers; she is focusing this effort on Boston and New York City. Raoof is also promoting Tobacco Free Generation, a program that proposes to ban the sale of tobacco to anyone born after 2000.