News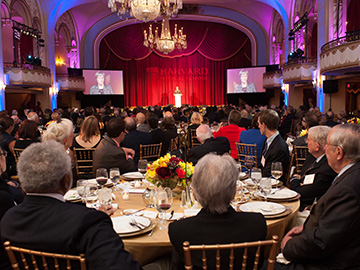 Diseases that still have no cure. A critical shortage of primary care practitioners. Health disparities at home and abroad. Questions about the most basic biological processes that remain unanswered.
Harvard Medical School researchers, trainees and students have no lack of potentially transformative ideas to tackle these and other challenges in health care and basic biomedical science.
What is in ever-shrinking supply, however, is funding.
"There isn't a day when I don't see a proposal on my desk that promises to illuminate our understanding of some fundamental process or even save lives," said Jeffrey S. Flier, dean of the Faculty of Medicine at Harvard University and the Caroline Shields Walker Professor of Medicine at HMS. "Except for one thing: It probably won't get funded."
Against that backdrop, on Nov. 13 HMS officially launched a $750 million fundraising campaign that will empower its mission to alleviate human suffering caused by disease.
"Even at Harvard, this pulsing ecosystem of energized people able to educate, innovate and discover, we cannot fund everything we should—and must," Flier said at the kickoff celebration and gala dinner at the Boston Park Plaza hotel.
"Through this campaign, we will use our most effective tools—education, discovery, service and leadership—to address the greatest health care challenges of our time," he added.
The World Is Waiting: The Campaign for Harvard Medicine is part of the $6.5 billion Harvard Campaign, which launched last fall.
"Tonight, what a privilege it is to glimpse the vast dimensions of medicine at Harvard: the physicians and the teachers and the discoverers, some 20,000 faculty and students and nearly 10,000 alumni whose new ideas stretch minds and change lives across the world every day, from labs and teaching hospitals in Boston to rural clinics in Liberia," said Drew Gilpin Faust, president of Harvard University and the Lincoln Professor of History.
"Together we can stretch our minds with new ideas, fill the world with new hope, alleviate suffering and improve human lives," said Faust.
The Campaign supports four priorities:
Education: Training the next generation of leaders in science and medicine by increasing student financial aid, enhancing learning environments and expanding external education initiatives
 
Discovery: Illuminating the cause of disease and advancing lifesaving cures by increasing support for biomedical informatics, genetics, neuroscience, systems biology and the Harvard Program in Therapeutic Science
 
Service: Building health equity and transforming health systems in the U.S. and around the world by expanding the work of our global health, health care policy and primary care teams
 
Leadership: Incubating innovation and change to improve human health through flexible funding that can be applied when and where it is needed most
"The major medical challenges of our time require deep domain expertise and broad, cross-domain understanding. You get both at Harvard Medical School," said Campaign chair Joshua Boger, member of the HMS Board of Fellows and founder and former CEO of Vertex Pharmaceuticals.
"Only bold institutions—willing to do things differently, willing to build on strengths and willing to take risks and create new paths—will meet expectations deserving of even more support," he added.
Boger announced that HMS has already raised $375 million during the prelaunch phase of the Campaign, representing gifts and pledges from more than 5,000 friends, alumni, faculty and staff. The Campaign will conclude in June 2018.
Honorary Campaign co-chair Ellen Gordon introduced the premiere of a seven-minute video, The World Is Waiting. HMS Board of Fellows members speaking at the event included former U.S. Senator William Frist, HMS '78 and chair of the Board of Fellows; Freda Lewis-Hall, chief medical officer of Pfizer, Inc.; and honorary Campaign co-chair Jack Connors.
An estimated 350 attendees explored student- and faculty-run interactive exhibits and enjoyed musical performances by the Longwood Symphony Orchestra accompanied by the Harvard Trio, featuring Harvard alumni Yo-Yo Ma, Lynn Chang and Richard Kogan HMS '81.
During the program, Flier described the "magical moment" when, as a young researcher at the National Institutes of Health, he confirmed his hypothesis about why a group of "desperately ill" diabetes patients didn't respond to insulin treatment.
"We train hundreds of young people who are working and hoping for the same kind of magical moment," he said at the event. "We ask you to share that privilege with us. We ask you—our faculty, our funders and people we hope will become our funders—to leave your own legacy.
"Today, in every building, down every hallway, in every lab, I see young medical and research students dreaming what I dreamed. In many cases, all they need is one person with the resources to help. You can be that person."
To learn more, visit hms.harvard.edu/campaign.
Follow
HMS
Stay informed via email on the latest news, research, and media from Harvard Medical School.