World Citizen
Making a difference through public policy changes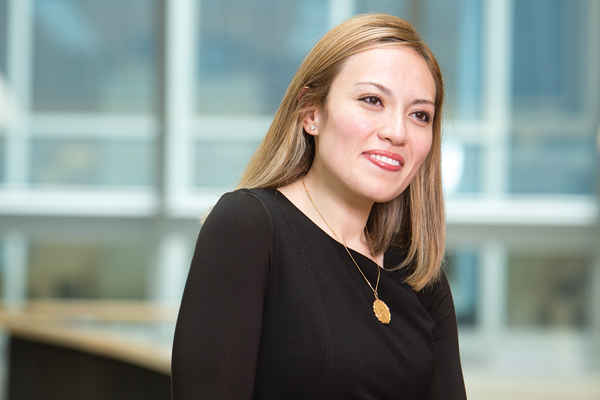 Samia Osman. Image: John Soares
Ever since she was young, Samia Osman, Class of 2017, wanted to be a trauma surgeon.
The MD/MPP (Master's in Public Policy) student at Harvard Medical School and Harvard Kennedy School of Government now hopes to do more: She is pursuing a career in both medicine and public policy.
"I want to be a physician and advocate for millions of people." —Samia Osman
With a concentration in international diplomacy in the MPP program, Osman said she sees many ways to link medicine and policy making. She already has experience as a Fulbright Scholar in Taiwan and as a health consultant for the United Nations Work and Relief Agency in Palestine and Lebanon.
Based on her past United Nations work with Middle Eastern refugees suffering from Post-Traumatic Stress Disorder and depression, and her current work with U.S. veterans returning from war and areas of civil unrest, Osman said she is most interested in working to help communities reconstruct after major conflicts. 
"I want to be there to help build up the health care system again," she said.
Joint venture
Osman said her third-year Principle Clinical Experience helped her confirm her decision to go into trauma surgery. She is applying to surgery residencies and looks forward to developing the skills and dexterity required to become a surgeon.
Combining surgery with public policy is a powerful draw for the Castle Society student because the individual cases she would see first-hand as a surgeon could be products of systematic issues.
Osman said she wants to take care of one patient at a time, but she also wants to try to solve system-wide health care problems, too, for example caring for patients who are the victims of gun violence.
"Since surgeons play a significant role on the frontlines, saving the very lives that are affected, they have the credibility and knowledge to be at the table to tackle these policy issues," Osman said.
Osman believes problem solving and policy changes have to work both ways—bottom up and top down.
"If I want to work in public policy, I have to understand what people are facing," she said.
Getting her feet wet
Although Osman has only just completed her year at the Harvard Kennedy School, she has already begun trying her hand at policy making, putting to use the skills she gained through classes in economics, ethics, analysis and reform.
At HMS, for example, Osman serves on the Committee on Financial Aid for Medical Students, where she was instrumental in the reinstatement of a policy that reimburses health insurance costs to financial aid recipients who are married and have coverage under their spouse's plan. 
Additionally, Osman has served as president of Harvard's American Medical Association chapter; as a student representative to the Massachusetts Medical Society, where she served on the Committee on Women's Medicine; and as student division president of the American Medical Women's Association.
Osman recently authored a medical resolution that was passed by the AMA in support of giving lactation time for postpartum female students during exams.
The resolution was first met with some resistance, but Osman rallied support. The resolution not only passed but was also expanded to include accommodations for women physicians who are nursing when they take recertification exams.
Osman is currently working with another group of students to end the Clinical Skills Step 2 exam, which tests medical students on their ability to interview patients and perform physical examinations. A passing score is required in order to get their license to practice medicine, but the students believe the exam is redundant and poses a financial burden. They have garnered support from every medical school in the country and Osman, who is handling the legislative aspects of the movement, has submitted resolutions to the Mass. Medical Society and the AMA. 
In March, Osman was honored with the 2016 Anne C. Carter Leadership Award from the American Medical Women's Association for her service to the organization and record of outstanding leadership.
Pushing the envelope
To continue to affect policy on a larger scale, Osman said she plans to remain involved with the AMA as a resident. Then, once she is established in a practice, she may run for office on the local level, she said.
At the Kennedy School, Osman was engaged in a program called From Harvard Square to the Oval Office, a year-long program where women are trained in the art of becoming a politician, including such skills as fundraising, networking and interfacing with the public and the media.
Osman was born in Canada, but her mother is originally from Hong Kong, with ancestors from China, Uyghur and Indonesia. Osman's father grew up in Texas, and he is of Egyptian, Sudanese and Turkish descent. Osman herself was raised in Arizona. 
Osman says the easiest explanation of her ethnic background is "just human being."
Eventually, Osman said, she would love to run for governor of Arizona and then become a U.S. senator. From that platform, Osman believes she could affect change for many other citizens in the world.
"I want to be a physician and advocate for millions of people," she said.