Widening Horizons
HMS LGBTQ health elective provides clinical experience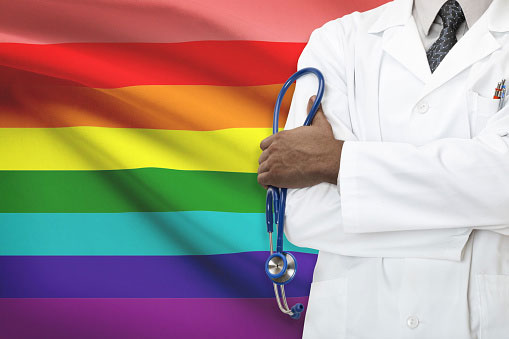 When Neal Baer was attending Harvard Medical School in the 1990s, he says there were only two out gay students in his class and next to nothing was ever mentioned about LGBTQ health.
Baer received his degree in 1996 and became a pediatrician, an adjunct professor of preventive medicine at UCLA's Fielding School of Public Health, and an award-winning television writer and producer, working on successful TV shows such as China Beach and ER. He eventually became executive producer and showrunner of Law & Order: Special Victims Unit and Under the Dome.  
More than 20 years after he graduated, however, Baer returned to HMS in 2016 to speak to medical and LGBTQ (lesbian, gay, bisexual, transgender, queer and questioning) students, and when he asked them how much exposure they had had to LGBTQ health issues in medical school, most still said very little. 
Since then, things have changed considerably. HMS has introduced a new LGBTQ health clinical elective course for medical students. Baer himself has also given HMS $250,000 to establish an endowed scholarship to support MD students interested in LGBTQ health.
According to the CDC, members of the LGBTQ community are at increased risk for a greater number of health threats than their heterosexual peers ...
"I'm really excited that HMS is now filling a gap that's been there for a long time," Baer said recently during a telephone interview. "Now, more than ever, there is a need for a course like this."
According to the CDC, members of the LGBTQ community are at increased risk for a greater number of health threats than their heterosexual peers, and some of these risk disparities are associated with "social and structural inequities, such as the stigma and discrimination that LGBTQ populations experience."
The new elective is a month-long multidisciplinary clinical and scholarly experience that trains HMS students to provide high-quality care to patients who are LGBTQ, gender nonconforming or born with differences of sex development. The course focuses on having the students work with youth, but also provides clinical exposure to and education on working with LGBTQ adults. Different clinical settings include psychiatry, adolescent and young adult medicine, pediatrics, family practice and internal medicine.
"It's critically important that our students learn to take care of diverse populations of patients, and this elective is designed to help one of our most vulnerable populations," said Fidencio Saldaña, HMS dean for students. 
Among the learning goals, students taking the course are asked to demonstrate an ability to elicit sensitive information, recognize individual health risks and challenges, communicate ways to reduce high-risk behaviors and develop strategies to prevent health problems and promote wellness. 
"One of the hardest things about becoming a physician is learning to talk about very important and private issues with people who may be very different from yourself," said Ed Hundert, HMS dean for medical education. "For straight doctors learning to talk with LGBTQ patients, this is a very important competency to develop."
Clinical Focus
Robert Kitts, an HMS assistant professor of psychiatry at Massachusetts General Hospital, was instrumental in launching the course and is one of its former co-directors. What makes the HMS course unusual, he says, is that unlike LGBTQ courses at most medical schools in the U.S., which are primarily classroom based, the HMS course places emphasis on clinical experience.
Kitts said the HMS course was created in response to faculty and students who identified a growing demand for such a clinical elective. 
"Students don't want a month of lectures," Kitts said. "They want actual patients."
Since its inception, between five and 10 students have taken the class.  Neir Eshel, who graduated in 2013,  was one of them. Now a resident at Stanford University Medical Center, Eshel said he and a few other students began lobbying for broader institutional support for LGBTQ students when they arrived at HMS. In addition, he said, they initiated an extracurricular speaker series with guests who could address LGBTQ health topics, and they began to research LGBTQ health issues and holding presentations themselves, often inviting LGBTQ patients to speak. 
The course, he said, was born of many of those efforts. 
"Ultimately, if we are trying to train practitioners who are cognizant of the difficulties that are faced [by LGBTQ patients] then there is nothing better than spending time with patients," Eshel said.
"This course gives people the chance to go to clinics that focus on these issues. It gives you the clinical, one-on-one face time during which you can learn a lot. It's a qualitatively different experience than reading an article. It's much more memorable," he said.
Promoting Health
Jennifer Potter is advisory dean for the William Bosworth Castle Society and HMS professor of medicine at Beth Israel Deaconess Medical Center. Potter has been leading an Association of American Medical Colleges advisory committee whose goal is to support the efforts of academic medicine and the biomedical sciences in promoting the health of people within LGBTQ communities. 
When the committee was formed five years ago, she said, it was asked to consider what could be done by medical schools to offer more courses on LGBTQ health and also to support LGBTQ medical students. This initiative followed a nationwide survey revealing that, on average, most medical schools offered only about five hours of LGBTQ study in a four-year curriculum.
One of the committee's goals has been to explore ways to provide medical students with a broader range of abilities that will help them better respond to diverse patient populations.
"It's a lot about communication, about establishing a rapport with someone who may not trust you from the get-go," said Potter. "Really, it's about teaching students that part of their professional duty is being able to work with all kinds of people. In this profession, you have to figure out how you're going to take care of all kinds of patients."
In 2014, Jessica Halem joined HMS as program director managing the School's first LGBTQ office, which is responsible for enhancing LGBTQ inclusion and fostering a welcoming and affirming community for LGBTQ students, staff, faculty, trainees and fellows at HMS. She said one of the advantages of this course is that it can be tailored to a particular student's area of interest, whether it be surgery, psychiatry or obstetrics and gynecology. 
"We're able to craft a very real clinical experience based on what the student is interested in," she said. "They can touch on all the specialties that LGBTQ care touches on."
"Overall, it's just been a really positive experience.  [Students] just really appreciate it," Kitts said, adding that there has been enthusiasm around expanding the course and including additional HMS affiliates.  
"This elective represents a collaboration for the sake of patients and students," he said.
According to Potter, one of the next goals of the AAMC committee is to find ways to encourage more medical schools to include LGBTQ health information alongside other health-related materials throughout all four years of the medical school curriculum, in addition to offering an elective course.
"Exposure makes all the difference" in preparing students to be better doctors, she said, adding that she does believe significant progress has been made.
"I think there is much more support than there was, but we still have a long way to go," said Potter.