Why Studying the Microbiome Is Like Playing Ultimate Frisbee
Postdoc Liz Jones fosters team mentality in science and sports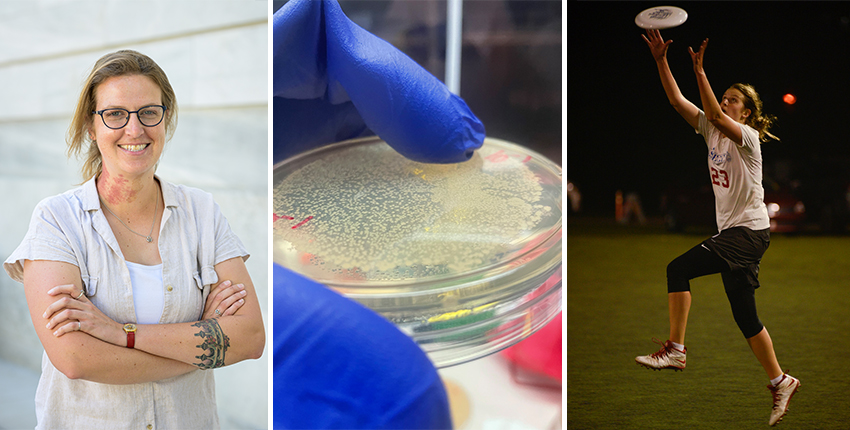 As an organic chemist at Harvard Medical School, Liz Jones loves to study how bonds are made and broken in the molecules in our bodies.
She manipulates those bonds when building molecular probes to study the gut microbiome and developing potential new drugs to treat microbiome-related illnesses.
She also forges bonds among people, both as a scientist and as an Ultimate Frisbee coach.
"I'm super drawn to team environments," said Jones, research fellow in biological chemistry and molecular pharmacology in the Blavatnik Institute at HMS.
"I get a lot of satisfaction from reaching goals and being successful, but it means so much more when you get to share that with people," she said. "The same goes for failures. It feels a lot better to have humans to share that experience with."
The "why" of the world
Science seemed a natural fit for someone with Jones' curiosity about why and how things happen.
Jones said she was drawn to the intersection of chemistry and biology because it's one of the smallest scales people can study.
"I'm sure you could argue that physics is the next scale down, but that was more math than I wanted to do," she joked.
Learning how chemical reactions happen scratches that itch to know. So does revealing how chemistry can impact biological function — finding ways to use chemistry to deepen humanity's understanding of life and to treat disease.
Lyme Wellness Initiative
Actionable information. Practical support.