White Coats for DACA
Students, faculty and staff gather to support protected status for young immigrants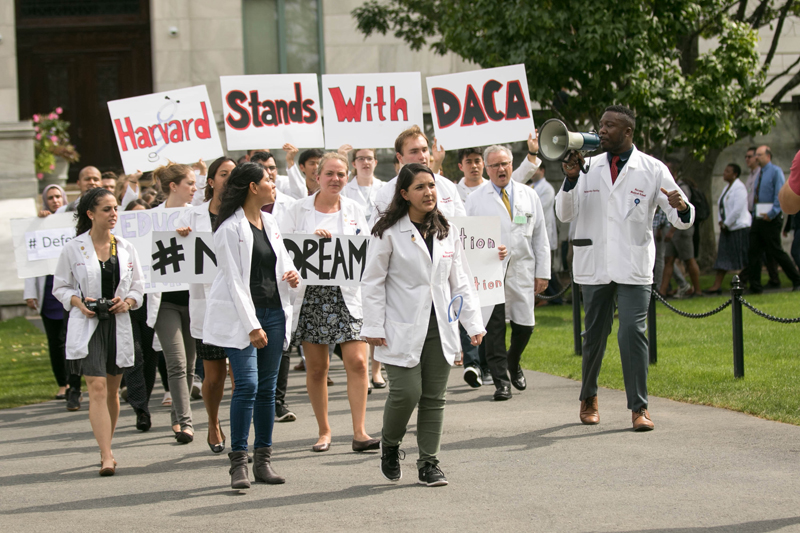 Community members marched on the Quad to show support for DACA. Image: Bethany Versoy.
More than 200 Harvard Medical School students, faculty members and health care professionals gathered on the Quad wearing their white coats, a traditional symbol of the medical profession's dedication to healing, to show support for those who entered the U.S. as children and are now protected under the Deferred Action for Childhood Arrivals (DACA) program.
This event was organized in response to the decision that may rescind the program in six months. Participants from all segments of the HMS community included educators from the School's preclinical, clinical, basic science and social science departments and from HMS' affiliated hospitals.
The Trump administration moved on Sept. 5 to end the DACA program, urging Congress to find a replacement. The program allows almost 800,000 undocumented individuals who entered the United States while they were children to have a Social Security number and temporary protection against deportation. This legal status makes it possible for DACA students to work and pursue higher education.
At the HMS protest, several medical students who said they fall under DACA protected status spoke about their experiences as ambulances, sirens blaring,  passed through the busy Longwood Medical Area, adding a note of urgency to the students' messages.
"My name is Alma Oñate. I am undocumented and unafraid," said one HMS medical student.
Oñate said she was a DACA recipient whose dreams and aspirations have been put on hold by the latest move by the White House. She said she was speaking for all of those who may lose their jobs or their ability to attend school, or who will be afraid to drive their children to appointments for fear of being stopped by police and deported.
"We need to fight for the 800,000 young people—medical students, artists, scientists, engineers and entrepreneurs—who only want to make this country great, whose lives have been put in limbo, and whose dreams have been ripped apart with a single signature," she said.
HMS student Blanca Morales said that, as a young girl in the U.S., she could only dream of becoming a doctor, while she hoped that some shift in immigration policy would allow her to change her immigration status and fulfill her dreams.
Starting in 2012, the protection of DACA gave Morales that opportunity and a sense of stability, but the move to end the program has left her feeling uprooted, she said.
"I am supposed to become adept at interpreting EKGs, lab values and coming up with an exhaustive differential diagnosis for patients," Morales said. "With the end of DACA, I, along with nearly 800,000 others, am left to wonder if we will be deported in six months."
Without DACA status, Morales said, she worries about being eligible to finish medical school, and about the feasibility of going on to a medical residency program in the U.S. to complete her training. She also worries about how she will be able to pay off her daily-compounding loans if she is unable to work as a physician.
"When I received this white coat, I took an oath to act whenever there are injustices and to embrace my duty to advocate for patients," Morales said. "The end of DACA is an injustice to my future patients, because it threatens my ability to treat diabetes, to perform heart surgery or perhaps even cure cancer as a future physician."
Anthony Tucker-Barkley, another HMS medical student, said that he was born in Jamaica but that most of his early memories were from his childhood in New Jersey, where he grew up alongside his American-born friends.
"We attended the same school, pledged allegiance to the same flag, played on the same sports teams, volunteered in the same neighborhoods and had many of the same dreams," Tucker-Barkley said.
Like many of his fellow medical students in the crowd, he said he had dreamed of becoming a doctor so he could make a difference in the lives of people.
"DACA enables us to achieve our dreams of becoming physicians and of helping alleviate human suffering," he said. "We must stand together as an HMS community and make our voices heard, because the health of our future patients depends on it."
In a message to the Harvard community earlier this month, university President Drew Faust strongly denounced the proposed end of the DACA program, saying that ending protections "challenges some of the most foundational values of our nation and American higher education."
HMS Dean George Q. Daley, in a message to the Harvard Medical School community, said that the potential deportation of students currently protected by DACA status was particularly troubling for the medical school, noting that, "Revoking the immigration status of those students and trainees who one day hope to practice medicine or science—thereby improving our world—does a grave disservice to our community and to our nation."
Ahmed Elnaiem, a second-year HMS medical student and one of the event organizers, said he had experienced the turmoil and stress of his family's seven-year process to secure permanent resident status in the wake of 9/11, when travel and immigration from his family's home country was restricted.
When he heard about the decision to repeal DACA, he was heartbroken, he said.
"I knew that the cruelty of this act would reach us here in our classrooms at HMS," Elnaiem said. "I felt our school needed to come together and band together around DACA recipients on campus and make sure they felt supported by the student body, the administration and the HMS community at large."
Elnaiem said that the HMS student body worked together to organize the event. As medical students, he said, they called upon the university and their congressional representatives to advocate for and enact policies that will protect DACA recipients from deportation and to continue to provide support and legal protections to undocumented individuals.
Additionally, Elnaiem said, the students are calling for policies that will enable people currently protected by DACA to continue to work and study in the United States as they had under DACA, and to provide DACA recipients with a path toward citizenship . 
In addition to the rally, students posed for photographs as part of the national #HereToStay and #IStandWithDACA social media campaigns to support DACA recipients.
"We are gathered here because DACA has been rescinded," said HMS Dean for Students Fidencio Saldaña in his opening remarks, "but you can't rescind 800,000 people. They aren't just going to disappear."
Saldaña reaffirmed that Harvard "100 percent denounces" the move to end DACA, and said that the medical school and the University will do everything they can to continue to help make sure that DACA gets replaced with a permanent legislative fix.
"We are 100 percent against this and 100 percent for all of our DACA students here and across the country," he said.
There are many resources available for individuals who may be affected by the pending change, including the Undocumented at Harvard website, which provides links to legal information and other assistance.
Medical students may also reach out to the HMS Office of Student Affairs, PhD students to the GSAS Office of Student Affairs or the HMS Division of Medical Sciences, and master's students to the HMS Office of Graduate Education. Staff or faculty members may contact the Harvard Employee Assistance Program, which offers immediate, free and confidential help.