'We Must Do More'
HMS Dean Daley convenes medical, scientific experts on COVID-19 crisis.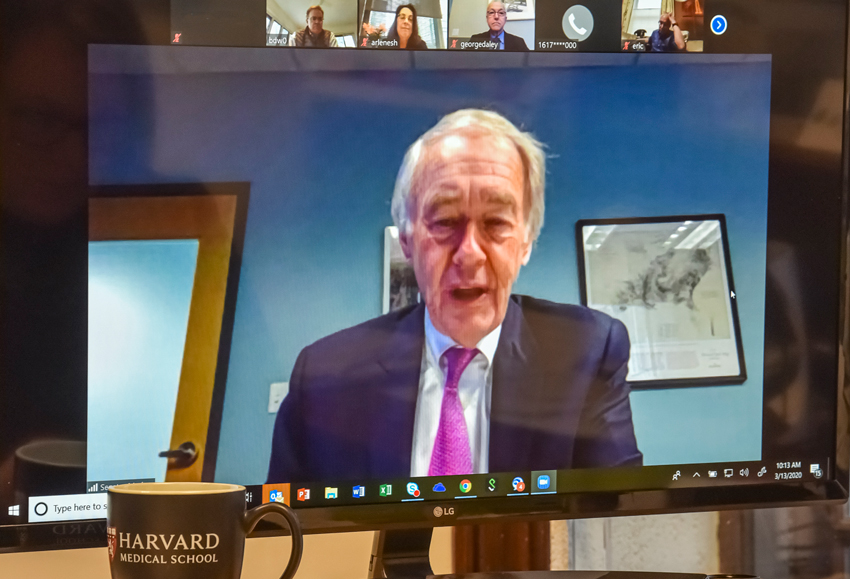 This article is part of Harvard Medical School's continuing coverage of medicine, biomedical research, medical education and policy related to the SARS-CoV-2 pandemic and the disease COVID-19.
Saying the U.S. is facing "one of the most cataclysmic health crises in our history," Harvard Medical School Dean George Q. Daley convened some of the Commonwealth's top health care leaders and scientists via teleconference Friday morning to give U.S. Sen. Edward Markey, a Massachusetts democrat, an update on the impact of the COVID-19 pandemic on the state.
Collectively, they told Markey there is currently a critical need to protect the state's health care workforce so that it can remain healthy enough to care for what is expected to be an overwhelming increase in patients in coming weeks. They also said there is an urgent need to expand testing across the population so that health officials can better understand what the virus is doing and the public can be better protected.
"We need desperately that point-of-care testing that has not been available," said Donna Kelly-Williams, president of the Massachusetts Nurses Association.
They also told Markey there is an immediate need for more personal protection equipment, or PPEs as they are commonly known, such as masks, gloves, and gowns for health care providers, as there currently are not nearly enough to meet expected demands.
Kelly-Williams expressed concerns that hospitals outside of Boston and in less well-resourced areas of the state do not have adequate training or resources to protect first responders, or sufficient separate, critical care areas to handle the expected influx of patients who will test positive for COVID-19. Having separate care capacity prevents the commingling of the patient population with the general population, a move that is critical to slowing further spread of the illness, she said.
"Testing is one of the biggest problems," said Peter Slavin, president of Massachusetts General Hospital, pointing out that "the U.S. is at the bottom of the list" in terms of its ability to conduct adequate testing.
The ability to adequately conduct widespread testing is thought to have been a key factor in reducing the spread of the virus in countries such as South Korea, where authorities were able to test 4,000 people per million in the population. The current rate in the U.S. is 5 people per million, said Slavin, HMS '84 and professor of health care policy in the Blavatnik Institute at HMS.
Although Centers for Disease Control regulations were relaxed on Friday to allow both Mass General and Brigham and Women's Hospital to conduct more tests—approximately 100 per day at Brigham and Women's, according to Slavin—all the experts agreed that in an ideal scenario health officials would be able to test tens of thousands of people per day.
"We need to scale up massively to address the numbers of people who might be affected," said Pardis Sabeti, professor of immunology and infectious diseases at the Harvard T.H. Chan School of Public Health, adding that to get an accurate handle on the severity of the situation, health officials ideally should test 20 percent of the population. In Massachusetts, with a population close to 7 million people, that would equal 1.4 million people.
Hospitals are also concerned about anticipated shortages in vital equipment such as ventilators, said Paul Biddinger, director of the Mass General Center for Disaster Medicine, adding that many institutions have gone weeks without deliveries of some of the basics, such as new protective hospital garments.
"I think every hospital in the Commonwealth has been trying to source materials from anywhere they can," said Biddinger, who is also HMS associate professor of emergency medicine at Mass General. "Almost never are we able to get the quantities that we would like." He told Markey that he supported the call for a federal disaster declaration that would provide needed Federal Emergency Management Agency [FEMA] funding for additional testing and equipment.
The health care leaders also expressed concerns about whether there will be enough hospital beds across the state to care for the increased number of patients that are expected. Kelly-Williams recommended that the state reconsider any plans to close hospitals, and instead, look to see how it can open more facilities that will be able to handle the overflow.
"At this point, our primary goal is to slow and stop the spread of the virus so it doesn't overwhelm our health care system," said Markey when speaking to media in a teleconference after the briefing, adding that it was imperative that the federal government declare a national emergency to free up more than $42 billion in emergency funding to help communities across the nation respond to the crisis.
"What we need now is a moon shot manufacturing effort to produce personal protective gear," Markey said, adding that an additional moon shot is needed to create the testing capability the nation urgently needs.
"That's the radar that shows where the hot spots are," he said. "Clearly, we must do more."
"We join you in asking for a declaration of the federal emergency," said Steve Walsh, president of the Massachusetts Health and Hospital Association, explaining that the elimination of some federal regulatory burdens that would come with such a declaration would allow authorities to set up testing and care facilities outside of hospitals to handle overflow patients, if necessary.
Markey commended Massachusetts Gov. Charlie Baker for having already declared a state of emergency in the Bay State, and he called for additional, federal legislative action, such as paid sick leave for individuals during periods when they are quarantined and enhanced unemployment insurance for those who become ill. He also said that testing should be free to the public.
Daley said the state's top medical schools, including HMS, Boston University School of Medicine, Tufts University School of Medicine and University of Massachusetts Medical School, have joined together with the region's biomedical community, hospitals and pharmaceutical firms to "collectively take on this threat," joining forces to work on rapidly developing diagnostics, therapeutics, antivirals, and vaccines, and to employ the expertise of top epidemiologists to track and evaluate the pandemic.
"This is really a global crisis. It demands an unprecedented collaboration," Daley said. He added that a $115 million collaboration between Harvard and China's Guangzhou Institute of Respiratory Health, funded by a grant from the China Evergrande Group, is focusing on developing better diagnostics, effective therapeutics, and potentially, a vaccine.
"For any vaccine, there's a long period for testing to see if it's effective," said Bruce Walker, director of the Ragon Institute of MGH, MIT and Harvard; director of the Harvard University Center for AIDS Research; and the Phillip T. and Susan M. Ragon Professor of Medicine at HMS and Mass General. He said Moderna, Inc., a Cambridge-based biotechnology company focused on drug discovery and development, is expected to begin testing a vaccine soon.
Sabeti, whose work has involved the study of four different epidemics, said the lesson to be learned from the COVID-19 pandemic is that, given what we now know about the deadly potential of such diseases, no nation can afford to be unprepared or slow to respond.
"We don't focus on preparedness, we focus on reaction, every single time," she said. "We were held back across the country from doing anything."
"There was a tsunami coming that we could see and that we hoped would go away before it hit us," said Eric Rubin, chair of the Department of Immunology and Infectious Diseases at the Harvard Chan School and editor-in-chief of the New England Journal of Medicine.
Markey said he would convey all that he learned from the Massachusetts health officials back to Washington, where Trump administration officials said later in the day that Donald Trump was expected to invoke the Stafford Act, empowering the Federal Emergency Management Agency to assist state and local governments in responding to the crisis.