'We Have More Work to Do'
Behind the Science: A Conversation with Nancy J. Tarbell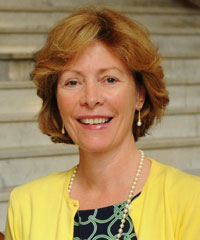 Nancy J. Tarbell, Harvard Medical School's C.C. Wang Professor of Radiation Oncology and Dean for Academic and Clinical Affairs, did not grow up with dreams of becoming a physician.   
Raised in a family of six girls in Hudson, Mass., Tarbell says when she was young it was unusual for girls in her town to consider going to college, much less medical school. 
Today, however, Tarbell, is recognized as an international leader in pediatric radiation oncology, and in September was awarded a gold medal from the American Society for Radiation Oncology (ASTRO). It is the society's highest honor, bestowed on members who have made exceptional contributions to the field of radiation oncology in research, clinical care, teaching and service.
So how did a young woman from Hudson become the first in her family to graduate from college, and evolve from a psychology major at the University of Rhode Island (URI) to a distinguished physician elected to the Institute of Medicine and the National Academy of Sciences, a researcher at the forefront of pediatric radiation oncology with more than 200 scholarly articles to her name, and a senior administrator at HMS?
Tarbell's path took her from URI to a pre-med program at Columbia University and medical school at SUNY Upstate Medical Center in Syracuse. Her interest in radiation oncology led to a residency at Beth Israel Deaconess Medical Center and, eventually, a position at Massachusetts General Hospital as an associate professor. 
By 1999, Tarbell was promoted to full professor, and, in 2005, was honored with the C.C. Wang professorship. In 2008, she became HMS dean for academic and clinical affairs. All the while she was raising three children with husband Jay Loeffler, the Herman and Joan Suit Professor of Radiation Oncology at Mass General.
Tarbell says that in the beginning, at least, the journey began with a little help from a friend. She recently sat down to talk about her career in medicine, her current research passion, her belief in the importance of mentoring, and—for women—the importance of "leaning in."
HMS: What drives you?
Tarbell: Well, we have to go back in time a little bit. I was influenced by a great mentor, Bob Cassady, who took care of children at Boston Children's Hospital. He helped me realize early on that you could make such a difference. I remember, as a medical student, thinking that if you did your job well, you could cure cancer in kids. I saw a young woman who had been treated and cured 25 years earlier of Wilms' tumor. She came in with her two children and I thought, "Wow. What a measure of success." That patient walked into the room, and I knew then that that job would be the most rewarding job in the world. You could cure cancer, and you could make a difference and help people live a normal life.
HMS: Did you always want a career in medicine?
Tarbell: No. I came from a family that was very traditional—girls didn't necessarily to go to college. My parents didn't save for our college education. If we decided to go to college, it was clear we would put ourselves through, and our parents would be supportive. But it was something that we would each have to choose.
And no, I didn't consider medicine until one of my college friends told me about a pre-med program at Columbia. She called the dean there, said she was me, and booked an appointment for me. She'd heard about the program from her brother, and knew it was the right career for me. She later went to law school and became a judge.  She said, "I can't stand the sight of blood and guts. But I know you're meant to be a doctor."
HMS: What do you think she saw in you?
Tarbell: I don't really know, but she did say, "You love science. You talk about it a lot. You're very compassionate. You're people-oriented. I just see you'd be a great doc." And besides, she said, "You know, our generation of women can have careers." Many women from my generation went to college thinking they would get married out of college and have babies and a family. And sure, there were pioneering women who saw it much sooner than I did. The world changed pretty quickly. My mom, Helen, went from being a very conventional mom to writing for Ms. Magazine.
HMS: What did she write about?
Tarbell: Her article appeared in 1972 in Ms. magazine. My mother was a very devout Catholic and one of the first female ushers in our church. "From the Aisle to the Pew," I think was the name of her editorial piece. She had written a weekly bylined piece for the Worcester Telegram and Gazette as a stay-at-home mom. She was a writer, but didn't see herself as a working mom at that time.
HMS: So after your friend convinced you to pursue medicine, when did you realize, "OK, she was right. I love this."
Tarbell: I took organic, inorganic and physics all at the same time, and I did well.  So, that's when it dawned on me that I actually did have an ability here that I didn't recognize, and it did seem really exciting.  And I knew I would love the patient care aspect. That I never doubted. I never looked back and I've always felt incredibly grateful. Maybe part of why I care about mentoring is, in part, because it's amazing that a friend could have ended up, in a way, being a career counselor. That doesn't happen most of the time.
HMS: You grew up in Hudson, Mass.  Did you know (former Massachusetts Gov.) Paul Cellucci?
Tarbell: I went to the prom with him! I think it was his senior prom. He was the quietest guy in the world then, hardly said a word. I don't think I spoke the whole night either. You know, I was so shy.
HMS: Caring for children with brain tumors is a tough job. How do you cope with the emotional part of that?
Tarbell: One thing that helps is being in academics. When you see a child, you know that you're not just treating that child, but you are thinking about how to make a similar situation better for tomorrow's children. When things don't go well, it is painful. You get attached to the families, and you think about them and how you can help; how you can read the science and think about the next application that could make it better for tomorrow's children. And that does help you get through. It helps you to keep a positive attitude and to stay focused. 
HMS: In what ways has your field, and your own work, changed over the years?
Tarbell: At the start, we saw the full spectrum of pediatric cancers that were curable and those that weren't. After about 10 years on the job the cases that were highly curable, those that had drawn me to the field, were starting to show side effects of treatment that we weren't aware of in the beginning.  The focus that now exists on survivorship, and quality of life, we didn't think about back then because we didn't cure most cancers.
But eventually, my 10-year follow-ups were children with brain tumors who weren't living normal lives. The job that had drawn me in as a student had become a very different job. That's when I realized that my predecessor's job was to cure cancer; my job was to figure out how to give the least amount of therapy without decreasing the cure rate. And we were eventually able to apply discoveries in radiology and imaging, and in the great world of physics, to decreasing side effects of cancer treatment.
HMS:  Can you talk a little about how you and other researchers were able to achieve this advance in treatment?
Tarbell: We did a great study on stereotactic radiation, looking at how you can make the radiation conform, or fit, the tumor. When you're giving high doses of radiation to kill cells, you want them to go only to the abnormal cells. It's very different from diagnostic radiology, such as X-rays. So that idea defined the work—delivering more focused radiation to a target. And it really was easy to apply it broadly because we had a coordinated team—adult and pediatric physicians, oncologists and therapists working together
In the 1990s, Mass General received NIH funding for one of the first proton beam centers in the U.S., to build the first prototype machine of its kind that could give radiation with an entrance dose, but no exit dose. My husband, Jay Loeffler, who was an adult brain tumor expert, and I, were jointly recruited to the Mass General. Jay became the head of the new proton beam facility, and my job was to start building a pediatric tumor group to study whether giving less radiation, using focused proton beams, could really decrease side effects. We opened the facility to treat patients in 2002. Since then, we have treated more children than anybody in the world—more than 1,000.
HMS:  How did you meet your husband?
Tarbell: We both trained as radiation oncology residents here at HMS at what used to be the Joint Center for Radiation Therapy. So we got to work together very closely and that was great.
HMS: How does being in the same field play out in your family life?
Tarbell:  The wonderful part was, we each understood what the other one did, but he was treating adults and I was treating children. We talked about work on our commute in, as our windup, and on the way home, as our wind down. And we tried not to talk about it at home.
However, when my son was 16 he said, "Why don't you give me my oral boards in pediatric oncology right now? Why don't you see if I could pass radiation oncology boards?" So I asked him the hardest question I could think of, about medulloblastoma—the cell of origin, how it was treated, what the cure rate was—and he knew the answers.
HMS: Has he gone into medicine?
Tarbell: No! He went into finance. But he teased me about it, and that's when I realized that maybe we brought a little bit of our work home.
HMS: How do you manage to accomplish so much: the research, the patient care, the academics? How do you do it?
Tarbell: Sometimes you do some things better than others. Maybe that's also why I believe so strongly in faculty development programs for young faculty. It's a critical stage. When you're young and you don't have much saved, and you're juggling the childcare issues and the family needs, trying to be a good doc as well as do research. I really understand why we lose people in that pipeline, particularly at that critical assistant professor level, and why some people say, "Look. I am good at being a doc. I'm not going to try to do all these other things. I'm also going to be a mom." That's been part of the reason why gender is still an issue. The good news is, family care is shared so much more.  But it's still a tough struggle for both.  If you can stick with it … in hindsight, I feel very lucky that it did work out as well as it has worked out.  But I would never try to say it was easy.
HMS: Have things improved for women in medicine?
Tarbell: It's very different from how it was in the 1970s when there weren't very many of us. You could feel pretty isolated and you could be treated differently. Most of the time, I think people treated women with respect, but there were still things that happened in the workplace that wouldn't happen now, or would be rare now.
For instance, I remember one of my male classmates saying to me, "Gee, Nance, you know, you're never going to get married, because who would ever want to marry a doctor? I want dinner on the table when I get home. I'm a doctor. I work hard. I can't imagine that you're eligible to get married." He added, "No one's going to want you. Have you thought about that?" And this was a friend who said this.
HMS: Is helping to change attitudes part of the reason mentoring is important to you?
Tarbell: Absolutely. I had some amazing mentors; Sam Hellman, was an important teacher for me. We were doing these removable radioactive implants and he said, "You sit too close to the bed. You're exposing yourself to radiation you don't need." You know, all those little things. That's mentoring. But he wasn't my mentor. He was the chief. I worked with him, and that was his job. He observed the tiniest behaviors, from where you sat on a patient's bed, to how much time you spent with a patient, and he gave you feedback that you could decide to accept or reject, or internalize or not. I think we need to formalize that sort of teaching more, because many of us, even the most well-intentioned, are busier than earlier generations were.
HMS: What do you think of the "lean in" controversy?
Tarbell: If leaning in, at its simplest level, is helping each other, then let's face it: we all need to help each other. That's true for everybody. We need to have a culture where people support each other and have respect for each other. Because that's part of how we do great work in science.
HMS: Of all the things you do, the academics, the research, seeing patients, mentoring, what's your favorite?
Tarbell: It changes over time. There's no question that during my first 20 years I would have said the patients. They always keep you grounded. It's just such a privilege. It's such an amazing relationship, and it's the ultimate reward, knowing you make a difference as you watch children that you treated grow up to be young adults. When it goes well, and they have normal lives, that reward is just enormous.
Later, I started to think I could have a greater, if indirect, impact on patient care by focusing on nurturing the next generation, by mentoring and providing career guidance, and by being involved in recruitment and retention of faculty. But I love that I still see and care for patients. They teach us so much.
HMS: What do you do for fun?
Tarbell: I took up golf six years ago. I don't spend enough time with it to get really good, but I'm trying to be at least consistent. Jay got me the golf clubs. He said he wanted me to be able to come out and play with him. It's a great way to shut off all the other things that are going on.
HMS: What's next on your to-do list?
Tarbell: It would be great to open doors a little bit more on some of the remaining challenges for women, the ones that are subtle, so they're a little bit harder to get at.  I would love to look back at the end of the day and say that we don't need to talk about gender anymore. And the same is true for diversity and inclusion. I think success would be when we don't have to talk about it.  But, let's face it, we have more work to do.