Universal Design
Tim Rogers joins HMS as Disability Services Director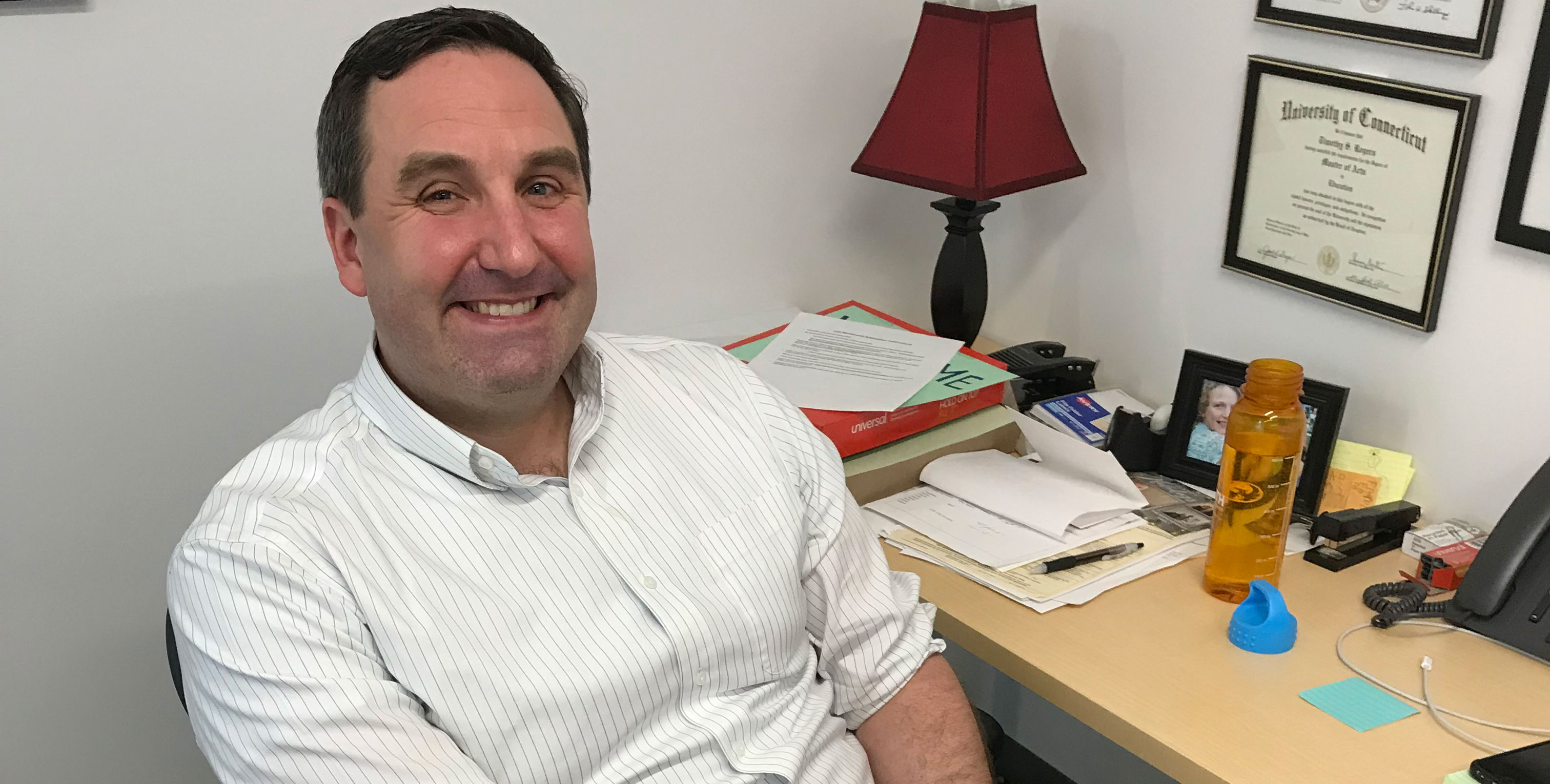 A small container on Timothy Rogers' desk in the Tosteson Medical Education Center holds a dozen business cards with his new title: director of the Office of Disability Services. 
The lettering is printed in neat red and black type and in raised braille lettering.
They are small cards that make a clear statement: Rogers is committed to ensuring that all students in the Harvard medical and dental school communities can succeed.
"Really, any ongoing condition that results in a major life impairment is something that this office needs to work with the students around, to accommodate," Rogers said. 
That means Rogers will be working to ensure access for medical, dental and master's degree students at Harvard Medical School and the Harvard School of Dental Medicine who have sensory impairments, such as blindness or low vision, and those with physical mobility impairments, from a using wheelchair to crutches. 
The disability office will also work to assist students with less apparent disabilities, such as those who have psychiatric or psychological disabilities, like anxiety, depression or bipolar disorder. It will also help students with chronic conditions, such as Crohn's or celiac disease or cardiac or respiratory conditions, or cancer.
A 39-year-old Ohio native, Rogers joined HMS in October after serving in a similar capacity at Simmons College for 11 years. Before that, he handled the same duties for three campuses within the University of Connecticut system, where he earned his master's degree in education.  
The son of an optometrist and a college professor, Rogers said his experiences growing up with a younger brother who had learning disabilities inspired him to work in the field of education in a way where he could help others succeed, just as others had helped his brother succeed.
"What was interesting is he did best in the places where he received the support he needed while still being held to a standard," Rogers said, adding that his brother did not want academic requirements to be changed or diluted solely for him—he wanted to be treated like other students and he wanted to be challenged.
"So, thinking about it, I want to make sure that when I work with students, they do have that access, but when it comes to the mastery of the material, whether inside or outside the classroom, that they achieve that," Rogers said. 
In a medical or dental school, there can be unique conditions around attaining that goal, Rogers said, especially if there are technical standards or specific skills that a student must develop in a clinical setting or with patients. In those instances, Rogers said, he welcomes the opportunity to find creative solutions while still meeting required standards.
"If a student has to suture, and there's a technique for it, and due to the impact of their disability they have to do it a different way, that's fine," he said. "It's great to see it's possible and really get everyone to change their perception around what someone can do." 
Rogers said the Boston Marathon bombing in 2013, devastating as it was, helped to change perceptions and increase understanding around the need to accommodate disabilities within the health care industry.
"There were a lot of health care providers who sustained permanent injury from that, who then went back to work, and it shifted a lot of people's thinking around what individuals can or can't do on the floor, what their fellow co-workers and colleagues can do, and how to make those accommodations," Rogers said. 
Increasing awareness
Increasing awareness across the HMS and HSDM campuses will be one of Rogers' first orders of business. That includes educating the community about what constitutes a disability, working to change perceptions around how faculty and students can best be supported, and creating a more inclusive environment. 
An example would be, for faculty to ask themselves, "When I'm teaching this class, how do I make sure that I'm teaching it in such a way that all my students can access it, even those with disabilities?" Rogers said, especially if those disabilities are not necessarily visible. 
He also wants to make sure everyone becomes aware that the disability office exists and that they know what kinds of services it provides and how it operates; for example, that it can also assist students who have temporary impairments, such as an unexpected or surgical injuries. 
Rogers sees the office offering a major service by providing referrals and resources on how students can get assistance when it's needed. Part of that will entail creating a robust online presence. 
All of it, he said, will be guided by a principle called universal design, which holds that when access is improved for the disabled, the entire community benefits. When a wheelchair access ramp is built, for example, faculty with briefcases, parents with strollers, and custodians with carts and equipment also benefit.
"It's one of those things where, by creating access for all, we make sure that it's a welcoming and inclusive environment for everyone," he said. 
Photo: M.R.F. BUCKLEY