In Tune with Students
Yo-Yo Ma tapped as HMS artist-in-residence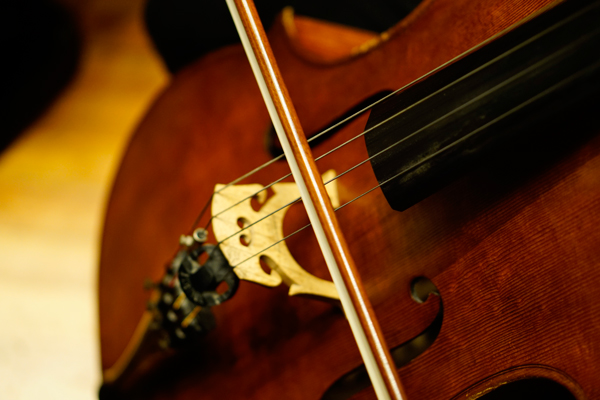 World-renowned cellist and Harvard College alumnus Yo-Yo Ma will be visiting Harvard Medical School as an artist-in-residence April 9 and 10. Ma is the second of three artists-in-residence visiting HMS, with Ma's visit sponsored by Stanford University professor of ophthalmology Michael Marmor and radiation oncologist Jane Marmor, both HMS alumni.
Ma's visit is part of a three-year pilot program by Arts and Humanities Initiative at HMS, an organization dedicated to incorporating the arts into the lives of HMS medical students.
A very high percentage of our students are serious musicians." —Edward Hundert
Ma knows a thing or two about physician-musicians. His sister, Yeou-Cheng Ma, MD '97, is a pediatrician and an accomplished violinist.
"A very high percentage of our students are serious musicians," said Edward Hundert, HMS dean for medical education, "Some of them professional level, and they're here as medical students."
The first artist-in-residence to visit HMS was Leslie Jamison, an American writer and author of the novel The Gin Closet and The Empathy Exams, a collection of essays.
Lisa Wong, assistant professor of pediatrics and co-director of the Arts and Humanities Initiative at HMS, said that students who have participated in this program enjoyed their experience, and she has high hopes for Ma's visit.
"Yo-Yo's more of a universal name and person, and his ideas go so far beyond music," Wong said of her longtime friend. "That, I'm sure, will get a different response."
Hundert said he expects that the experience will be just as exciting for Ma as it will be for the HMS community.
"I think it's going to be a thrill for him because [it will be] a chance for him to hear some new ideas," Hundert said.
Wong said Ma's schedule is not yet final, but it will include lunch with students, an informal performance at an HMS affiliate hospital, meetings with faculty and a panel discussion with first-year students.
Wong said Ma's visit will likely focus on the first-year HMS students.
First-year student Melody Huang said she is hoping to hear about Ma's experiences with social activism. She recently took a course in injustices in medicine and hopes that Ma might be able to share some of his own experiences with injustice.
"A lot of the course was pointing out the issues that existed. Even just as an individual provider, if I see someone facing discrimination as a patient, or if one of my peers is facing discrimination, I wouldn't know how to deal with that," Huang said. "I wonder if he felt similarly as a musician," adding that she is interested in learning what she can do "to address these hugely important topics that seem out of my reach."
Wong said Ma's office has suggested a follow-up with these first years in 2021, when they will be graduating, to see what impact Ma's visit had on their education.
"That's the interesting thing about arts and humanities infusing into curriculum: how does it impact and how does it deeply change the student?" Wong noted.
Hundert, who first met Ma in September 2017, said he looks forward to the interactions between Ma and the HMS students.
"We always joke about what makes Harvard special, but this is a good example of it," Hundert said. "You come here to get your MD degree and you end up spending time with Yo-Yo Ma."