Transforming Practices
A new study shows how an HMS initiative has been improving primary care for thousands across Boston.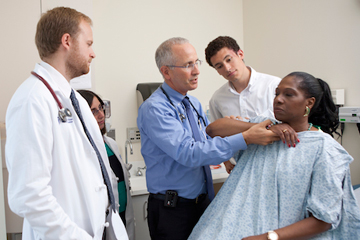 A new paper in Academic Medicine shows that a Harvard Medical School team-based primary care initiative at 19 local practices resulted in substantial improvement across all identified areas of transformation.
This novel, two-year learning collaborative, launched by the Harvard Medical School Center for Primary Care, consists of hospital- and community-based primary care teaching practices that serve more than 260,000 patients and train more than 450 residents in the greater Boston area.
In 2012, in response to a rapidly changing health care landscape, the Center for Primary Care, in partnership with local academic medical centers, established an academic innovations collaborative (AIC) to spur practice transformation across 6 Harvard-affiliated entities: Beth Israel Deaconess Medical Center, Brigham and Women's Hospital, Cambridge Health Alliance, Boston Children's Hospital, Massachusetts General Hospital and Mount Auburn Hospital.
The center built a collaborative structure and learning model in concert with Qualis Health and the Institute for Healthcare Improvement that has made a demonstrable change in the ways that practices function and engage patients and trainees in transformation.
"In two years we have successfully created a dynamic learning community that promotes team-based care and has fundamentally transformed care at 19 complex academic medical practices that serve diverse patients populations in the greater Boston area," said Andrew Ellner, co-director of the Center for Primary Care and HMS assistant professor of medicine at Brigham and Women's.
"This level of collaboration across hospital systems is unprecedented in our community and holds tremendous promise for the future," Ellner said.
Through the AIC, practices made substantial (more than 25 percent) and statistically significant improvement in scores across all areas of practice function on the validated Patient-Centered Medical Home Assessment tool including:
Team-based primary care

Leadership engagement

Quality improvement

Evidence-based care

Patient engagement

Access

Care coordination 
Important factors for success included leadership development, practice-level resources, and engaging patients and trainees.
"Lately, some health experts have been debating whether the patient-centered medical home is 'the answer' to the challenges primary care faces. Our work suggests that the AIC model of change shows promise as a path for academic medical centers to catalyze health system transformation through primary care improvement," said Asaf Bitton, faculty lead for transformation strategy and design in the academic innovations collaborative and assistant professor of medicine at Brigham and Women's.
In addition to next steps for further evaluating the impact of practice transformation on quality measures and costs, expansion of the AIC model will require support from academic medical centers and payers, and the application of similar approaches on a broader scale in other medical training environments.
"The work of the AIC is not done. We are now entering a second phase, in partnership with CRICO/Risk Management Foundation of the Harvard Medical Institutions, in which we will focus on expanding team-based care to further optimize patient safety and care," said Ellner. "We look forward to learning how a novel collaborative of this nature can help us provide the highest possible standard of primary care."
About the Center for Primary Care
The HMS Center for Primary Care was launched on October 28, 2010. The center's mission is to improve the health of our communities through transformation in primary care practice and education. Learn more at: https://primarycare.hms.harvard.edu/