News
Tradition in a World of Change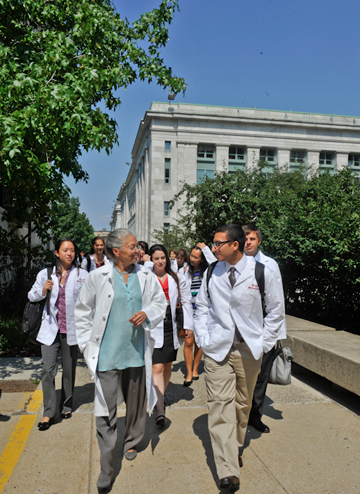 The world in which Harvard Medical School's newest students will pursue medical careers may be transformed in ways that are unimaginable today, but Dean Jeffrey S. Flier told members of the HMS Class of 2017 that they are well-equipped to shape the future of medicine.
"The ground is changing underneath our feet," Flier told the 202 students gathered for welcoming remarks in the Walter Amphitheater on Aug. 20, as the entering students began classes.
"Medical science and medical practice are undergoing profound changes around us, and these will continue to accelerate through your training years. This is a time when physicians and scientists, including our newest ones, will be called upon to demonstrate leadership if society is to tackle some of its toughest problems. I'm confident you are all up to the challenge," Flier said.
Flier and other speakers encouraged the students to embrace — and influence — change, but first they had a history lesson from Jules Dienstag, dean for medical education at HMS. Dienstag traced a timeline of Harvard Medical School, from the days when lectures were delivered in Greek, Latin and Hebrew to anyone who could pay a fee, up until today, when the students sitting before him represented 3.8 percent of the 5,779 applicants seeking admission to HMS.
Just as the medical school occupied many locations before settling in the marble buildings that now frame the Quad, its philosophy of medical education has also evolved, Dienstag said. He invited students to participate in new pedagogic models being developed to emphasize team-based learning, and to help provide leadership in medical education for generations to come. Students this fall will be part of the first class to have access to the new Clinical Skills Center.
"We are very excited about who you will become," Dienstag said. "We know you have already been leaders before coming here. We have high expectations of you."
The students — 91 women and 76 men hailing from 32 states, 9 countries and 72 undergraduate institutions — listened to seven speakers before having their first patient encounters. Before doing so, they branched off into the five student societies where they donned the white coats that signify their status as doctors in training. A formal ceremony with their parents in attendance will be held on August 29.
As they prepare to begin their medical educations, Flier underscored the need for new solutions to pressing problems in medicine, despite the explosion of knowledge in such medically relevant fields as regenerative biology, genomics, neuroscience and systems biology.
"There is a curious irony here," Flier said. "In many fields, including my own field of diabetes and metabolism, even as we learn more about the molecular pathways of disease, the prevalence of diseases like diabetes and obesity continues to increase. We need better insights into the cause of disease and a better system for translating fundamental discoveries into safe and effective therapies for patients."
Bruce Donoff, dean of the Harvard School of Dental Medicine, reminded students that dentistry is an important branch of medicine. The 35 dental students, selected from 1,100 applicants, will study side by side with medical students for two years before entering clinical tracks.
" 'Interprofessional education' is the new buzzword, but we have been living it for years," Donoff said.
Donoff also urged his audience to consider dentists as a solution to a critical problem in health care in the United States: the shortage of primary care physicians.
Bringing primary care to people where they are is the mission of the Family Van, launched 17 years ago by Nancy Oriol, HMS dean for students. A specialist in anesthesiology and obstetrics, she told the new students that she saw an unmet need for health care in the shadows of world-class medicine.
"Even in a world of miracles, disparities still exist," she said, describing gaps in infant mortality between patients in Boston and their wealthier suburban neighbors.
Oriol's prescription for change calls for partnerships between patients and doctors, mirroring teamwork elsewhere in medicine, from the operating room where she works with surgeons and nurses who pause together to communicate, to the collaborations between scientists making basic science discoveries and the clinicians providing bedside care. Intensive care units now cross specialty barriers when they include pharmacists, nutritionists and even family members in decision-making, she said.
"These are the frontiers of 21st century medicine," Oriol said. "It's an awesome time to be here."
Alvin Poussaint, HMS faculty associate dean for student affairs, told the students they are embarking on a challenging journey in a complicated emotional world. He recalled his first experiences as a Cornell medical student visiting a morgue for the first time and feeling anger after a young patient died in surgery.
"The challenges are not just academic," he said. "The message is, 'Talk it out.' These are things you have to understand to be a more effective physician."
Sang Park, director of predoctoral education at the Harvard School of Dental Medicine, also advised students not to keep all their thoughts to themselves.
"Never be afraid. Be challenging and never hesitate to ask the simple question, 'Why?'" she said.
Before heading to Brigham and Women's Hospital for the patient clinic, the students met in their societies to put on their white coats, a tangible tradition amid a changing world.
"Donning a white coat signifies a remarkable transition in your lives," Dienstag said in parting. "Wearing a white coat—a healer's cloak—bestows a mantle of privilege into the life of a patient."
Eliza Menninger, president of the Aesculapian Club and assistant professor of psychiatry at McLean Hospital, said it was the club's privilege to provide a coat to each student.
"Wear it with pride, with humility and with compassion for your patients," she said.
Follow
HMS
Stay informed via email on the latest news, research, and media from Harvard Medical School.