Through the Storm
Despite physical distancing, HMS Quad scientists ramp up efforts to combat COVID-19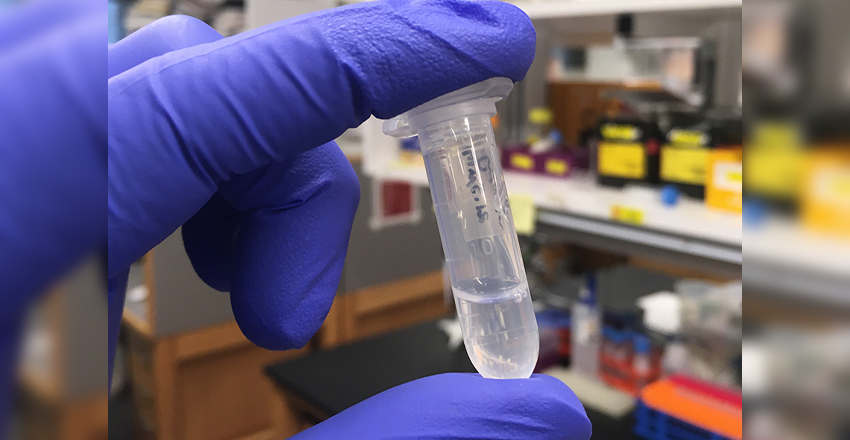 Conor McMahon holds up a tube containing SARS-CoV-2 spike protein.
This article is part of Harvard Medical School's continuing coverage of medicine, biomedical research, medical education and policy related to the SARS-CoV-2 pandemic and the disease COVID-19.
On experiment days in the age of physical distancing, postdoctoral fellow Conor McMahon walks an hour each way to the Harvard Medical School Quadrangle.
When he arrives at the lab, he is the sole occupant of a space once bustling with the activity of students, technicians and postdocs under the guidance of his mentor, Andrew Kruse, associate professor of biological chemistry and molecular pharmacology in the Blavatnik Institute at HMS.
Alone at his bench, McMahon dons a pair of headphones, plays some music and, well into the evening, conducts experiments that he hopes will someday help combat the pandemic that has transformed the day-to-day lives of billions across the world.
"I'm mainly working by myself, but it's not just experiments. There's no support staff, so I also have to do instrument maintenance, I have to wash glassware, I have to unpack boxes," McMahon said. "I think that's actually been the hardest thing. You start to appreciate how much everybody else contributes to your projects."
Every new case of COVID-19 intensifies the need to better understand the novel coronavirus, SARS-CoV-2, and how to treat the disease that it causes. Researchers and physician-scientists at Harvard and its affiliated hospitals and research institutes have rallied to the cause, playing central roles in everything from frontline clinical care and epidemiological modeling to vaccine and therapeutic development.
Researchers like McMahon, who are based in the basic and social science departments on the HMS Quad, are no exception. Around a month ago, when it became apparent that unprecedented physical distancing measures were needed to protect communities across the country, laboratories on the Quad began to ramp down activities.
Roughly two dozen research groups and a handful of core facilities, however, were granted exemptions for projects with promise in addressing important aspects of COVID-19 or for providing crucial expertise and technological support for those efforts.
McMahon and Kruse are spearheading one such project, which aims to discover a way to neutralize and disable SARS-CoV-2. For years, the Kruse lab has focused on developing a method to mass-produce antibody fragments called nanobodies. Derived from camelids, the family of mammals that include camels and llamas, nanobodies have unique biomedical applications due to their small size.
No Llamas Required, featuring Conor McMahon. Video: Stephanie Dutchen and Sam Peasley
Brian Rabe describes the rationale for his project