Targeting Solutions
Students host hackathon to find answers to global surgery problems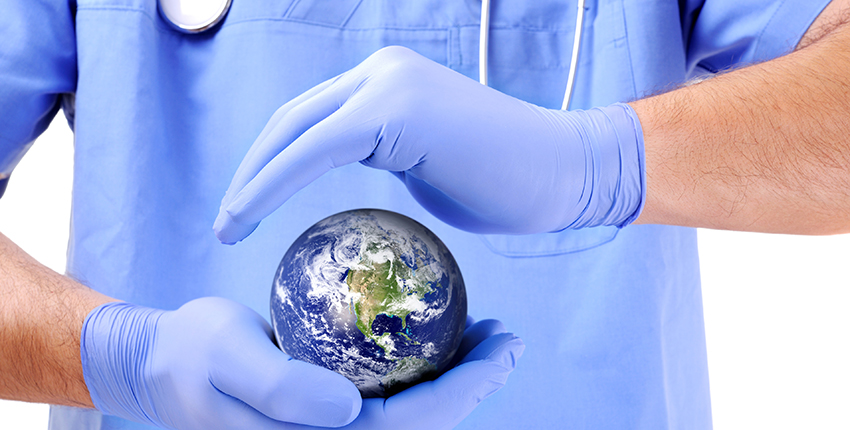 One common misconception the public has about global surgery is that it only involves surgery.  Global surgery is more than that—it is also about anesthesiology, obstetrics and gynecology, and nursing, according to Blake Alkire, HMS instructor in otolaryngology at Massachusetts Eye and Ear.
Alkire opened the inaugural 2018 Northeast Global Surgery Hackathon on Sept. 7 with a keynote address at Harvard Medical School. As he began, a single fact was bolded on the screen behind him.
"More than 5 billion people [worldwide] do not have access to surgery," it read.
The goal of this year's hackathon, said organizer and HMS Global Surgery Student Alliance (GSSA) student officer Blake Hauser, was to bring people of various backgrounds together to innovate creative solutions to the challenges typically encountered in global surgery settings.
While hacking is typically thought of in a technological context, Salim Afshar, an instructor at the Harvard School of Dental Medicine, an oral and maxillofacial surgeon at Boston Children's Hospital and one of the Harvard Program in Global Surgery and Social Change faculty who served as a team mentor and judge at the hackathon, pointed out that solving problems in global surgery do not always require hi-tech solutions.
"It's an exercise," he said. "An exercise in creating innovative solutions."
The first day of the event was dedicated to identifying areas for innovation in global surgery.
Projects ranged in technological complexity and specificity—addressing issues from the organization of medical supply donations to the low-cost prevention of pressure ulcers to early screening for breast cancer in Ghana. Teams strategized and innovated late into the night, occasionally consulting with mentors to refine their ideas and presentations.
Nicole Le, a Yale MPH student and hackathon participant, said that she was excited and motivated to work with her team because of the opportunity to bring about real change with their projects.
"There are a lot of global surgery problems that could easily be solved if like-minded people, funding, and awareness came together to work on them," Le said. "We can do more."
After seven teams presented, the judges deliberated, weighing the impact and possibility for implementation of each team's project. First place was ultimately awarded to UPP LIFT, a team of Dartmouth medical students who pitched a lost-cost, portable method to reduce pressure ulcers in resource-limited communities.
Student run initiative
The hackathon was organized by the GSSA chapters of Harvard Medical School, Yale School of Medicine, Tufts University School of Medicine and Boston University School of Medicine. The student organizing team included Hauser, Logan Briggs, Rachael Acker and Puhan He—all leaders of the HMS/HSDM GSSA chapter.
It was sponsored by the Coop, the Harvard Program in Global Surgery and Social Change, Brigham and Women's Hospital Departments of Orthopedic Surgery and of Neurosurgery, and Tufts University School of Medicine Office of Multicultural Affairs and Global Health.
The GSSA's roots are at HMS, where third-year student Parisa Fallah launched the alliance during her first year. As an undergraduate, Fallah dedicated her time to global surgery research; upon arriving at HMS, she started organizing fellow medical students and trainees interested in global surgery, weaving together a constellation of students and trainees who are passionate about global surgery advocacy, education and research.
"We set our sights on making a national impact," Fallah said, of the organization's reach.
Today, GSSA has chapters at more than 30 medical schools in the U.S. (including Tufts, Yale, Boston University and Harvard) and is part of a network of similar organizations in moe than 30 countries.
Events like the hackathon, Fallah said, further demonstrate the commitment and dedication that many people—not just clinicians, but also engineers and designers—have for global surgery.
Veeramani is an MD student in the Holmes Society at HMS.
Image: iStock/Moncherie