Taking Action Against Violence
Equity and Social Justice series opens dialogue on violence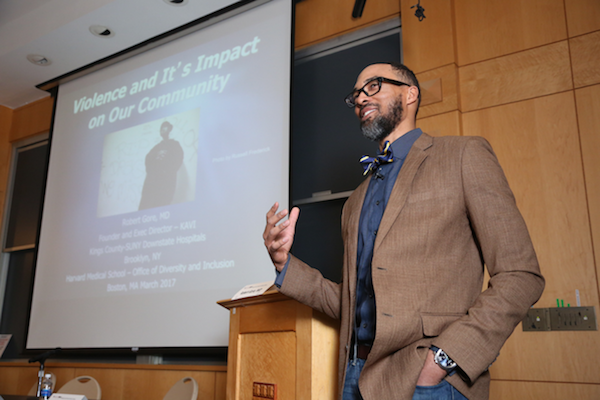 Keynote speaker Robert Gore spoke on actions health care workers can take to reduce and prevent violence in the community. Image: Jeff Thiebauth
On a cloudy December afternoon in 1993, Louis Brown, 15 years old and a straight-A student with aspirations of becoming the first black U.S. president, died in the crossfire of a gang shootout as he walked down a Dorchester street in Boston. He was on his way to a Christmas party being thrown by Teens Against Gang Violence.
"If my child wasn't murdered, I would not be here. But I am here because the city didn't know what to do with me. And because they didn't know what to do with me, I figured out what I needed for myself, for people like my son and his friends," said Louis's mother Clementina Chéry, founder of the Louis D. Brown Peace Institute, who spoke as a panelist as part of the Equity and Social Justice lecture series at Harvard Medical School on March 22.
Titled "Violence and Its impact on Our Community," the event centered on violence as a public health issue and violence prevention as a remedy. It featured a diverse mix of speakers and audience members drawn from medicine, academia, the criminal justice system, community advocacy groups and others, who engaged in an honest and deeply personal dialogue.
"This is a moment where we bring together our strong interest in issues around health disparities, our need to understand the context in which these disparities occur, and then to move to a point of action," said Joan Reede, professor of medicine and dean for diversity inclusion and community partnership at HMS.
"Change can only occur if we find ways to move together," Reede said.
Trust and collaboration were major themes of the evening, which was highlighted by keynote speaker Robert Gore, an emergency medicine physician at Kings County Hospital Center in Brooklyn, New York.
Gore discussed the root causes of violence and identified risk factors that can be targeted for intervention. He said these risk factors range from personal circumstances, such as substance abuse or mental health disorders, to community determinants, such as extreme economic deprivation or a lack of organized activities for youth.
As the first point of contact for many victims, hospitals can play an important role in reducing the recurrence of violence, Gore said. By treating victims with fairness and understanding—without stigma or bias—hospitals and healthcare organizations can work together with community organizations to provide job training, education, social counseling, mental health care and other interventions that are proven to prevent the occurrence of violence.
For medical students, community development needs to be a consistent part of the curriculum, not just an occasional activity, he added.
Gore also spoke about his own background growing up in Brooklyn and experiencing the violence that is often inescapable in many communities.
"The first time I got jumped, I was 10 years old. It terrified me to the point that I started carrying razor blades and screwdrivers to school," Gore said. "I just wanted to be safe. Luckily, I never had to pull out anything. But imagine if I did. This would be a very different story that we're having here right now."
His experiences, as well as those of his family and friends, led Gore to establish the Kings Against Violence Initiative (KAVI), a program that works with schools, communities and hospitals. Through KAVI, Gore and his team provide youth, parents and educators access to mentoring, counseling and workshops aimed to help reduce or prevent violence.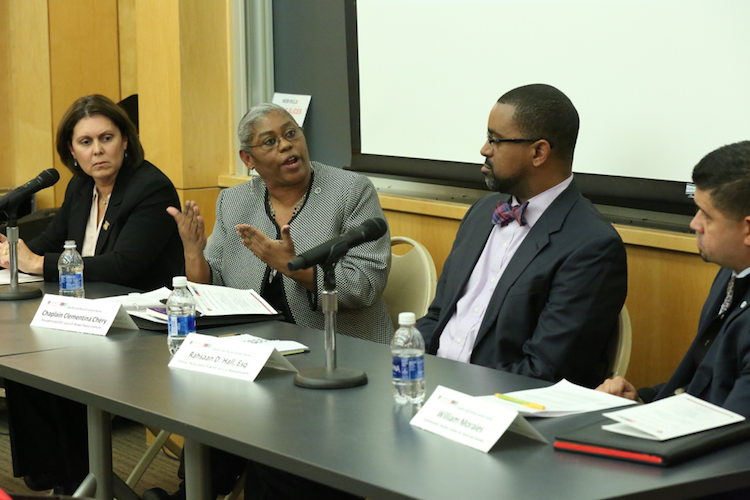 Equity and Social Justice panelists, from left: Norma Ayala, Clementina Chéry, Rahsaan Hall, William Morales. Image: Jeff Thiebauth
After the keynote, a panel took questions and answers and included the following:
Norma Ayala, deputy superintendent, Boston Police Department
Chaplain Clementina Chéry, founder, president and CEO, Louis D. Brown Peace Institute
Rahsaan Hall, director, Racial Justice Program, ACLU of Massachusetts
William Morales, commissioner, Boston Centers for Youth and Families
Marked by a passionate dialogue between audience members and panelists, including many stories of personal experiences with violence, topics of discussion ranged from how systemic and institutional racism impact communities to how to build trust between communities and police.
Chéry, for example, shared how the Louis D. Brown Peace Institute offers services, based on academic research, that support the survivors and families of homicide victims—particularly if their loved one was "known to police" or had a criminal history, a group that has had little support from government organizations.
"We continue to blame single mothers, poor people, young people—but we don't invest in primary prevention. We don't invest in what the research tells us," Chéry said. "How can we expect for anything to change when we don't value individuals and families and invest in the basic dignity of communities?"
"In medicine, we invest all these dollars in coming up with new drugs and treatment plans, but we don't address that if we help people with safer housing and fix sidewalks and we give people fresh fruits and vegetables to eat, they won't necessarily get sick and require those new advances in medical technology," said Alden Landry, HMS assistant professor of emergency medicine at Beth Israel Deaconess Medical Center, who helped organize the event.
In the same way, more investment in violence prevention is necessary to alleviate its impact on individuals and communities. "For those who are in the field, this is a call to action," Landry said.
To learn more about the Equity and Social Justice series and to view future topics and dates, visit: https://mfdp.med.harvard.edu/equity_and_social_justice.