Sweet Spot
HMS Center for Glycoscience to study carbohydrates in health and disease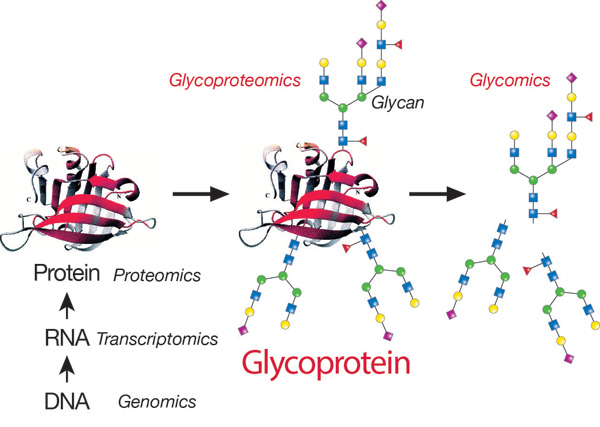 Glycans are everywhere. These sugar-molecule combinations are in and on our cells, connective tissue and bodily fluids. 
Different blood types, for example, result from minor chemical changes within a glycan found in all blood types. Such small variations in a glycan molecule can mean the difference between life and death for patients. 
Other alterations in glycans—whether genetic or environmental—are implicated in cancer, inflammatory diseases, infectious diseases, congenital disorders and autoimmune diseases, among others. Many antibiotics, antiviral drugs and diagnostic markers for cancer are based on carbohydrate derivatives.
Recognizing the profound importance of these chemically linked chains of sugar and seeking to elucidate their role in basic science, clinical medicine and therapeutic development, Harvard Medical School has established a new center devoted to the study of glycans.
The Harvard Medical School Center for Glycoscience, based in the Department of Surgery at Beth Israel Deaconess Medical Center, focuses on the structure, biology, evolution and function of glycans.
The center's mission is to improve human health through basic research, clinical research and education in glycoscience. 
"The establishment of this center will catalyze collaborative efforts by HMS-affiliated scientists and physicians from the Quadrangle and affiliated hospitals to advance research and training in the burgeoning field of glycoscience," said Nancy Tarbell, HMS dean for academic and clinical affairs.
While expertise from many disciplines is needed to understand the role of glycans in health and disease, glycoscience unifies their study under one umbrella.
"The whole point of the study of glycoscience is to advance our understanding of human biology," said Richard Cummings, director of the new center. "This research will help develop new understanding, I believe, of not only the roles of carbohydrates in fundamental biological processes, but also of how they go awry in human diseases and disorders, both genetic and acquired, especially infectious disease."
The co-director of the center is Robert Sackstein, HMS professor of dermatology at Brigham and Women's Hospital. A bone marrow transplant physician, he is a leader in clinically oriented glycoscience research, a field known as translational glycobiology. 
"Besides its role in providing previously unavailable research capabilities and scientific expertise, the center will promote glycoscience education within undergraduate, graduate and medical school curricula, as well as within postdoctoral training," said Sackstein.
Cummings is currently chair of the Consortium for Functional Glycomics, an international group of approximately 600 scientists. He is also director of the National Center for Functional Glycomics. That center, funded by the National Institutes of Health, will continue as a core facility under the rubric of the HMS Center for Glycoscience.
HMS, its affiliated hospitals and institutes, and the wider region's wealth of academic and commercial strength make Boston the natural epicenter for the study and teaching of glycobiology, said Elliot Chaikof, the HMS Johnson and Johnson professor of surgery and head of the Department of Surgery at Beth Israel Deaconess. 
"Glycobiology is such a complex area that one of the opportunities for a center like this is to lower the barriers for people to start talking to each other, to brainstorm, to collaborate," Chaikof said.
"It's really about bringing together people with diverse sets of backgrounds, from clinicians to chemists to engineers. This new HMS center will undoubtedly catalyze collaborations that will yield new insights into the role of glycans in health and disease, as well as new diagnostic tools and glycan-based therapeutics," he said.